There is only one thing that we don't like about travelling, and that is packing and unpacking. This time, we needed to pack two different bags at the same time, one for our trip to South America where we would visit Chile, Easter Island and Argentina and a second suitcase, for Las Vegas, a trip that would begin just 12 hours after our return from Chile.
As they say in Spain, "Nobody can take away something that you have already eaten, danced to or traveled to" and as they say in England: The best decisions start with a "F *** It!", and with these two sayings in mind, we began our adventure.
Day 1 in Santiago de Chile – Visiting the city
Flight and airport
We flew from Madrid on a direct flight, and the price was reasonable despite travelling during Christmas time. Normally, we always look for flights on dates when children are still in school, as airfares more affordable.
After reading, meditating, sleeping, eating, watching movies, and a long list of other things we did on that flight, we finally arrived at Santiago de Chile.
On this trip was the two of us and Rosa, Sonia's mother because aside from visiting Chile, we would also visit our family in Argentina. As we like to bring over typical Spanish sweets and gifts, we spent about 1 hour at the Chilean border and customs showing them all of the food that we were entering into the country and that we had declared on arrival (just in case).
Do you know those little cars from which multiple clowns jump out from? Well, those were the sweets, nuts, chips, fans, wallets, notebooks and all the clothes that the border patrol took out of Rosa's suitcase. Seeing it with our own eyes, we couldn't believe the number of things that could fit in a suitcase. Rosa is something like the Suitcase Master. Let us know in the comments below if you would like to know all her tips and tricks!
The customs officer was so shocked that you could tell that he was about to tell us that we could also buy food in Chile and that we didn't need to bring it all from Spain…
Amongst everything that my mother brought with her, the customs officers were especially interested in some small and soft sweet balls, covered with white powder and wrapped in transparent plastic. It seems that she also had enough time to prepare a typical sweet from our area for our Argentinean family without considering the similarities they have with illegal white powdered substances.
After analyzing these sweets in various ways and with various machines and without being fully convinced that they were not narcotics, they allowed us to begin our visit to Chile.
Right there, at the airport, we booked a transfer that would take us to the hotel for 22,000 CLP Chilean Pesos (about 24€ for 3 of us)
One of the things that caught our attention was the very new banknotes. The designs were very colourful and had so many zeros that they almost made you want to play Monopoly.
We booked the hotel, as always, using Booking.com and we chose the Hotel Nippon. It was nice, clean, very well located, and had friendly staff who helped us on several occasions. In the middle of our visit to Santiago de Chile, we were also going to visit Easter Island, and they allowed us to leave our suitcases at the hotel so that we didn't have to travel with all of the sweets and gifts to Easter Island and, incidentally, save ourselves the embarrassment at customs.
Quinta Normal
We made the first stop to have lunch in a typical bar on Avenida Libertador Bernardo O'Higgins; just a few minutes walk from the hotel. We ordered "Pastel de Choclo", one of the typical Chilean dishes, a very filling dish with minced meat, eggs, olives, chicken and sweet corn (known as Choclo).
After lunch, we went to the Quinta Normal metro station where the Strawberry Tours Free Tour started at 3:30 p.m. As we arrived with time to spare, we visited the Quinta Normal Park, where you can find a large fountain, where the children played, a stream of water and several museums.
There, we visited the National Museum and learned a little more about Chile and even got the chance to admire a whale's skeleton.
Yungay Neighbourhood
The free tour started at 15:30, and the tour guide appeared wearing a Santa hat. This still surprised us because it was almost 40 degrees and the person wearing it was dressed in short sleeves and shorts.
Our first stop was the Museum of Memory (Museo de la Memoria), where all the dictatorship victims were remembered.
We chose this tour to learn a little more about this alternative and modern neighbourhood called Yungay, on Santiago de Chile's lower side. The city is divided into two, the upper side that goes from Plaza Italia to the north and the lower side, from Plaza Italia to the south.
This neighbourhood was full of meaningful graffiti that told each passer-by its history, talks of revolution, grievances, cultural and social concerns, its artists … with many colourful houses and beautiful buildings like an old French hairdresser.
We walked and walked, and the route was about 2.5 hours long. Because we hadn't slept on the flight to Chile, there were several instances that we thought about "jumping ship" and ending the tour early as we were exhausted and the sun's heat was beating down on us. In the end, we plucked up our courage and finished the tour.
As we finished, and once we felt like ourselves again, we went to a famous café called Crónica Digital that the guide had recommended to us and sipped down some great cocktails called with creative names like Che Guevara, Fidel Castro and O'Mara, whilst we enjoyed the sights and sounds of this very Europeanesque city.
For dinner, we noticed a restaurant in front of our hotel, called Restaurante Japón, so we decided to try it. The decoration was very traditionally Japanese, and we sat at a table that looked like the typical Japanese low tables. The food was delicious, and the price acceptable.
Day 2 in Santiago de Chile – Visiting the city
This hotel had breakfast included, and that's something we love because when we don't have it, we always find it difficult to find a good, affordable place that doesn't take too much time out of our morning.
Chileans have a reputation for eating a lot, but they say that because they haven't seen us, the Three Little Piggies, at an all-you-can-eat buffet.
City tour
On our second day in Chile, we booked our second free walking tour, which started at the Bellas Artes metro station and our first stop was Cerro de Santa Lucía, which was a small hill in the centre of the busy city, from where you could enjoy a pleasant walk and incredible views. At the same time, we listened to the interesting Chilean history and that of the Mapuches.
We walked through Huérfanos and Ahumandos streets, two of Santiago's most famous shopping streets, full of shops and during that special day, being December 24th, also overcrowded.
Our next stop was the Plaza de Armas, a square where you can visit the Cathedral and other historical buildings such as the Post Office and the Town Hall located around the square.
We walked through Bandera Street, a colourful and fully pedestrian street until we reached the Palacio de la Moneda, the most famous building in Santiago de Chile and where the President of Chile works.
What impressed us the most was that it had almost no security, nowadays in Europe, unfortunately, and due to the terrorist attacks, this is unimaginable.
Afterwards, we visited the Mercado Central (Central Market). Unfortunately, the only thing we remember is the unbearable smell and floors full liquids dripping from the fish stalls that flowed freely through our sandals and between our toes!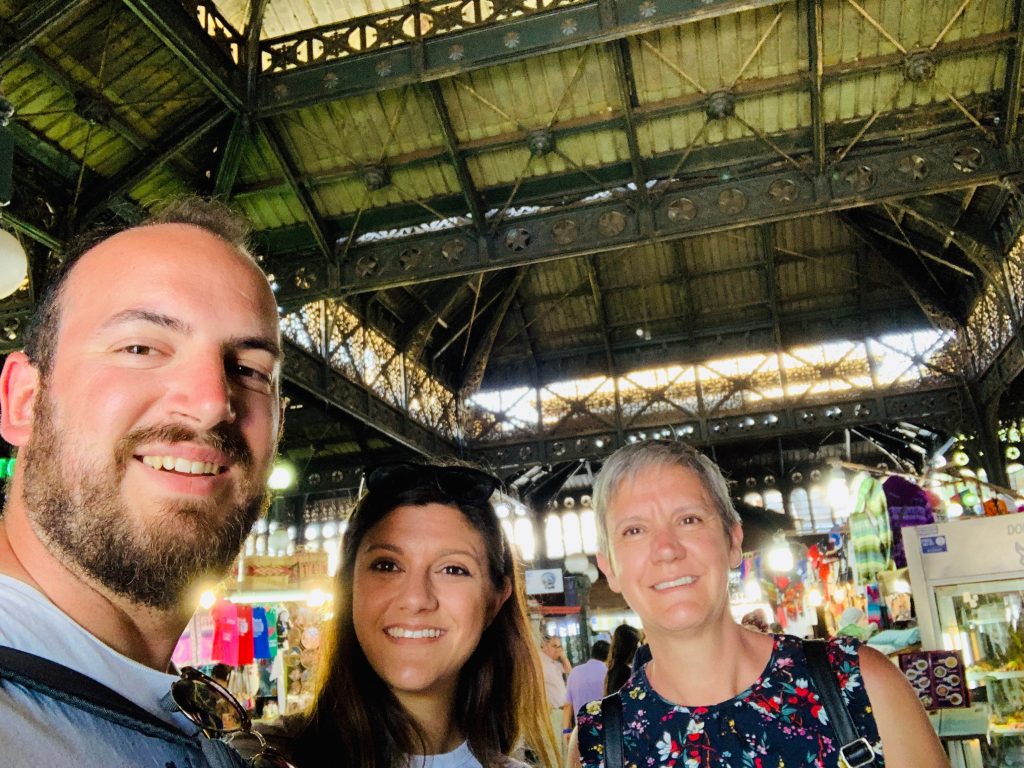 And the last stop of the tour, next to the Central Market, was La Piojera, a typical Chilean bar with a traditional drink, "El Terremoto" (The Earthquake) made with white wine, pineapple ice cream and grenadine.
We were going to leave the bar with the intention of strolling to the hotel while we drank the "earthquake" and to enjoy the incredible weather. However, the security personnel didn't allow us to leave, because it seems that, in Santiago, drinking on the street, it is a pretty big offence and you will most likely be fined for doing so.
We looked at each other, drank them quickly, and went to the hotel.
We changed our clothes and decided to go to dinner at the Patio Bellavista, a 15-minute walk from our hotel.
We loved this place because it's like a shopping centre, with the main entrance, which is only for pedestrians. Once inside, it is all outdoors and full of restaurants that offer any food and any fusion cuisine you can imagine.
We stopped at a restaurant and ate enchiladas, chorriladas (fries with egg and chorizo) and had some delicious cocktails that helped us sleep like babies the whole night.
Useful Information
| | | |
| --- | --- | --- |
| Currency: Chilean Peso | Type of Tourism: City | Safe to Drink Tap Water: Yes |
| Weather: 26ºC in December | Average Cost: 3/5 | Driving Side: Right Hand Side |
| Time Zone: UTC/GMT -3 | Socket Type: C/L | Best Form of Transport: Metro and Uber |
| Population: +- 18.73 Million | VISA Required: No | Safety: 3/5 |
| Languages: Spanish | Veggie Friendly: 3/5 | Children Friendly: Yes |
Tips
We usually book our tours with Civitatis, since they always offer a great variety of excursions, activities, and free tours that we always try to do at the beginning of our trip to get to know the city little more. Unfortunately, at the time of our visit, they weren't available in Chile, so we used Strawberry Tours, and we really liked them too.
When you visit Chile, we recommend that you go the extra mile and visit Easter Island, which is only accessible from Chile and Tahiti.
The subway and Uber are excellent and affordable options to get around the city easily.