Day 1 in Jeju Island
Jeju Island – one of the various destinations of our honeymoon onboard a cruise by Celebrity which visited China, South Korea, Taiwan, Japan, and Hong Kong and one of those stops in South Korea was the beautiful island of Jeju, popularly known as the "Asian Hawaii".
We only had a few hours to spend on this island, so we booked a tour which allowed us to get to know some of its most emblematic locations. Of course, we didn't get the chance to visit everything we would have liked such as, the volcano and its natural lava tunnels which we are keeping for our next visit.
As we docked on the island, it was love at first sight! We immediately knew that this would be the place where we would like to get lost, and if we ever do, you can start looking for us here.
Kensington Resort
We started the tour dining at the Kensington Resort, where we were treated to an incredible meal. We still remember the vegetarian option which consisted of, amongst other things, a delicious flower salad that was so beautiful it was sad to eat.
Dol Hareubang (Stone Grandfather) at Kensington Resort
Right at the entrance of the resort, you can find status carved from volcanic stone, very similar to the Moai you'd find on Easter Island. These were called "stone grandfathers" and can be found at various points around the island.
Yakchunsa Temple
The bus took us to the Yakchunsa Temple, in our opinion, one of the most beautiful temples we visited during our trip to Asia and probably within our Top 5 in the world.
The temple was tranquil and peaceful, and we seemed to be the only visitors.
When we arrived, the monks were decorating it with balloons and lanterns, possibly for an upcoming celebration that made this temple even more colourful.
Yakchunsa Temple Decorations
The temple isn't big, but each of its spaces was magical. One of them had a giant dragon, the other a ceiling with thousands of small hanging lanterns which delicately swayed with the breeze that came through the windows and another room full of little golden buddhas.
Inside Yakchunsa Temple
The temple was inside a square along with two towers, one of them had a huge drum and the other a large bell.
Yakchunsa Temple grounds
Jusangjeolli Cliff
Our next stop was the incredible Jusangjeolli rock formation, a cliff which formed when the lava of the island's volcano erupted into the sea. The perfect hexagon-shaped pillars appear to have been carved by stonemasons and not by nature itself.
The bus dropped us right at the entrance and we only had to follow a short path that led us to a viewpoint from where we could take pictures of this natural wonder.
Jusangjeolli Rock Formations
On our way back to the bus, we came across a "woman-diver", a traditional and typical profession of Jeju Island, and carried out only by women.
They dive and collect the seafood by hand, as it's been done for many generations.
These have pervasive knowledge of the sea and its tides and are also capable of holding their breath for long periods while fishing.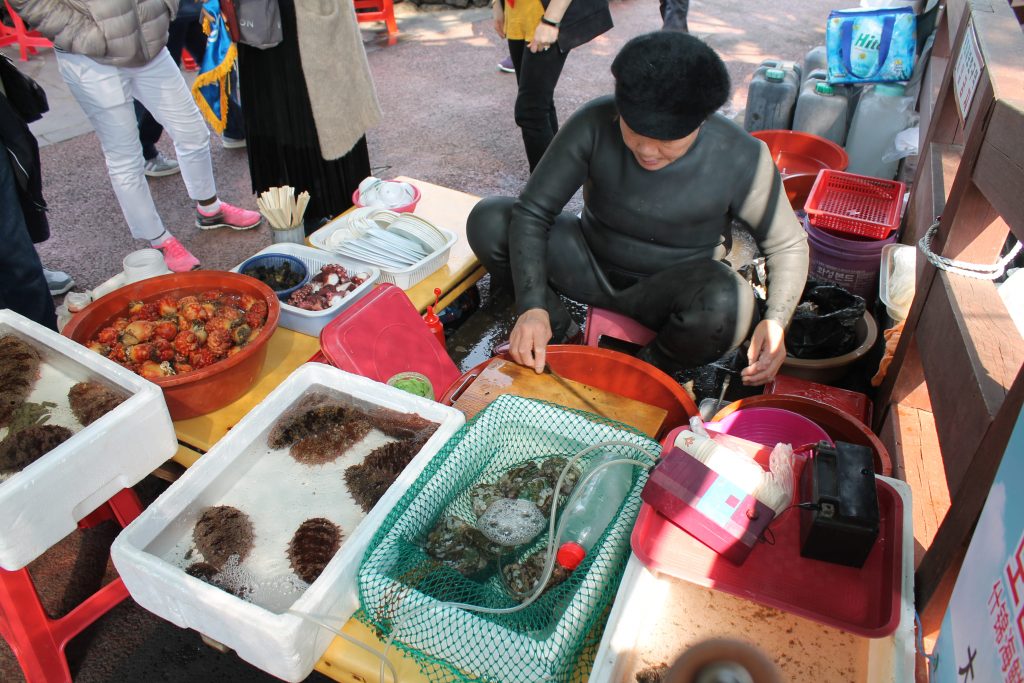 This woman-diver sold sea cucumbers, octopus, and sea snail which she had caught minutes ago.
Yeomiji Botanical Garden
Our next stop was the Yeomiji Botanical Garden, where we encountered many plants and a wide variety of flowers from around the world.
If you are passionate about plants, this is a "must-visit".
Yeomiji Botanical Garden
Cheonjiyeon Waterfalls
Close to the Botanical Garden, you can visit the Cheonjiyeon waterfalls, where you will find three waterfalls relatively close to each other and with easy access.
You can reach two of them within a few minutes walk from the car park and to get a good view. You will need to go down several steps which will take you to the river's edge where you'll delight with the fantastic scenery.
Cheonjiyeon Waterfalls
On this tour, we only had time to visit two of the waterfalls because the third was a little further away. The guide didn't want to risk being late for the cruise's departure, quite likely, given that the average age in our tour was about 75 years old, which we lowered because we were in our twenties!
Seonimgyo Bridge or Seven Nymphs Bridge
After a spot of nature and some time enjoying the waterfalls, we walked over to the Seven Nymphs Bridge, a very long (and steep) bridge where, on the other side, you'll find a park, a fountain and a building which we never really found out what it was.
Seonimgyo Bridge or Seven Nymphs Bridge
Mysterious Road
The bus took us to the last stop of the tour that was, to our surprise, as strange as it sounded.
We went to visit the Mysterious Road, where the cars rolled uphill in neutral!
This was one of the most crowded places we visited of the whole island. It was really fun to see all the car, taxi and bus drivers rolling up a hill with their hands and legs up in the air without touching the pedals.
Some tour guides even carried tools such as spirit-levels to prove to their group that this road sloped. It was so crowded with tourists taking pictures and videos that it felt like Lady Gaga had appeared on that remote road.
After an amazing day visiting temples and wonders of nature, we headed back to the port, boarded the Celebrity Millenium and headed to our next destination.
Useful Information
| | | |
| --- | --- | --- |
| Currency: South Korean Won | Type of Tourism: Nature | Safe to Drink Tap Water: No |
| Weather: 17ºC in March | Average Cost: 4/5 | Driving Side: Right Hand Side |
| Time Zone: UTC/GMT +9 | Socket Type: Type C/F | Best Form of Transport: Tour |
| Population: +- 604.000 | VISA Required: No | Safety: 4/5 |
| Languages: Korean | Veggie Friendly: 4/5 | Children Friendly: Yes |
Tips
Just like in South Korea, everyone was very willing to help, although the language barrier was still a problem in communicating with them.
It was a very quiet island, without traffic jams or large crowds.
In the Botanical Garden, you could buy churros. We found it interesting to find them in such a place, a dish that by then we were already missing from Spain!
If you have more time than us, we recommend you visit the volcano and its lava tunnels. We didn't dare go on our own because the ship was only docked for a few hours that day.