Day 1 in Mexico – Mexico City (CDMX)
It was our first experience, and without wanting to sound like a fortune teller, I would dare to say, the last in being so fortunate to fly in first class. We can indeed say that there is a (very) clear difference between this class and tourist, and despite the flight duration being 12 hours, we could have easily spent a further 12 relaxing and being pampered here.
Flying in First Class with Aeroméxico
When we landed, our friends were waiting for us at the arrivals hall. It's uncommon in our trips, and it was truly comforting to arrive at a completely new country and feel like we had just landed at home.
From that moment, we felt we had arrived at a place where we belonged.
Plaza Garibaldi
We spent that first night in Mexico City, directly in front of Plaza Garibaldi. There, all of the mariachis gather to sing songs and play their instruments until late at night. If you need their services, you can hire them on the spot to perform for you.
Mariachis are an essential part of any festivity or celebration of the Mexican culture, and you can hire them for a birthday party, an engagement, to accompany you to the cemetery on El Día de Los Muertos or any other celebration that comes to mind. Within the first hour of being there, we already understood that there is no celebration if there are no Mariachis.
Dinner at Tenampa Restaurant
In Plaza Garibaldi, there is a very typical and popular restaurant, called Tenampa, where we went for dinner. There, we experienced an immersion to the Mexican culture which we enjoyed to the fullest:
– The food was incredible, tasty and spicy at the same time, and the amounts, indecent.
– You can drink tequila whichever way you prefer: with sangrita (tomato, lemon and orange juice, onion, tabasco, Worcestershire sauce, salt and pepper), on its own, with beer…
– The restaurant was full of people, approximately 800 people, divided into 3 floors. You could hear them all from outside having fun, singing and laughing.
The experience of dining at the Tenampa restaurant in Mexico City
– You can hire mariachis to sing your favorite song and they will surround your table while they liven up your dinner with their voices. Each song costs around 100 pesos (5€)
– While you dine, you can try "Toques-toques".
A man will go from table to table with something which looks like a backpack that generates electricity. It has two metallic handles, the person to the left of the bag will hold one, the rest of the party will stand in a circle holding hands and the person to the right will keep the other handle.
Then, the man who carries the backpack will turn it on and will continuously turn a knob, which activates and increases the electrical current, allowing you to feel the electricity flow through all the people in the group until the power is so high that it will not even allow you to let go of each other's your hands.
Yes, you pay 50 pesos (2.5€) to electrocute yourself.
Day 2 in Mexico – Mexico City (CDMX)
We spent this whole second day getting to know the city and its surroundings.
We could have spent countless days visiting this immense and diverse city with millions of things to do, but this is what we did while we were there.
Plaza de la República
Our friends booked a Segway city-tour that started at the Plaza de la República, where the Monument to the Revolution is located.
Sightseeing in Mexico City
After practising how to use a Segway, we started our tour, and we must say, it was an excellent way to visit the city centre since there is a cycle lane, which allows you to manoeuvre through the busy Mexican roads calmly.
Paseo de la Reforma
We arrived at a large roundabout where we could see the famous Angel statue at the top of the high column. Right next to it, on the Paseo de la Reforma, as it was the 26th of October (very close to El Día de Los Muertos), we were fortunate to find a Calacas and Alebrijes Exhibition.
Segway City tour through the city
Alebrijes are imaginary creatures full of colours that are created by mixing various animals and Calacas are the colourful skulls typical of Mexico.
After the tour and in a nearby park, we tried "Esquites", which is a cup full of fried corn with mayonnaise, chilli and a bit of lime. They were delicious and we recommend you try them!
Xochimilco
Mexico City is so large that we drove for more than 1 hour to get to Xochimilco, which is one of its neighbourhoods, and it was worth every second.
It is like a small town within Mexico City, with a long and navigable river full of "Trajineras" which are the colourful flat bottom boats. You can rent them to go on a tour of the river or even personalise them with flowers and paints for a birthday or any other celebration.
They can easily fit 20 people and allow you to play music and even bring your food and drink. If you don't, you can always purchase food and drink from other boats which sail up and down the river. You can even hire a group of mariachis who will skillfully connect their Trajinera to yours and who will entertain the party during your celebration.
Xochimilco and the Trajineras
We rented a Trajinera for 3 hours, and the owner took us on a nice sail down the river.
They asked us 3,000 pesos at first, but after some negotiating, they accepted 1,000 pesos (about 50€). Of course, it was our friends who handled the negotiations because, as always, were are terrible hagglers!
We sat and chatted, relaxed and enjoyed the river, its sounds and colours while drinking a "Michelada" (beer with sauces, salt and lime).
Night out in Mexico City (Fiera Roof Top)
Another couple of friends who live in Mexico City invited us to join them at Fiera Roof Top, where we dined, drank, and danced for hours. We loved the place, there was good music, and even live music and great food.
We spent an incredible night with four friends who did everything possible to make us feel comfortable and integrated at all times. However, there was no need, as we already felt at home and happy to be enjoying Mexico with them all.
Day 3 in Mexico – Mexico City – Teotihuacán
Museo del Palacio de Bellas Artes
Our first stop of the day, a beautiful space with artwork from, amongst others, Diego de Rivera, Frida Khalo's husband and not only was the artwork amazing, but also the building itself.
Museo del Palacio de Bellas Artes
Zócalo
This area was full of life and was preparing for the Día de Muertos parades, making it even more exciting and colourful yet.
There, we visited the Presidential Plaza and the Metropolitan Cathedral of Mexico City and took the opportunity to buy some souvenir magnets from the street vendors.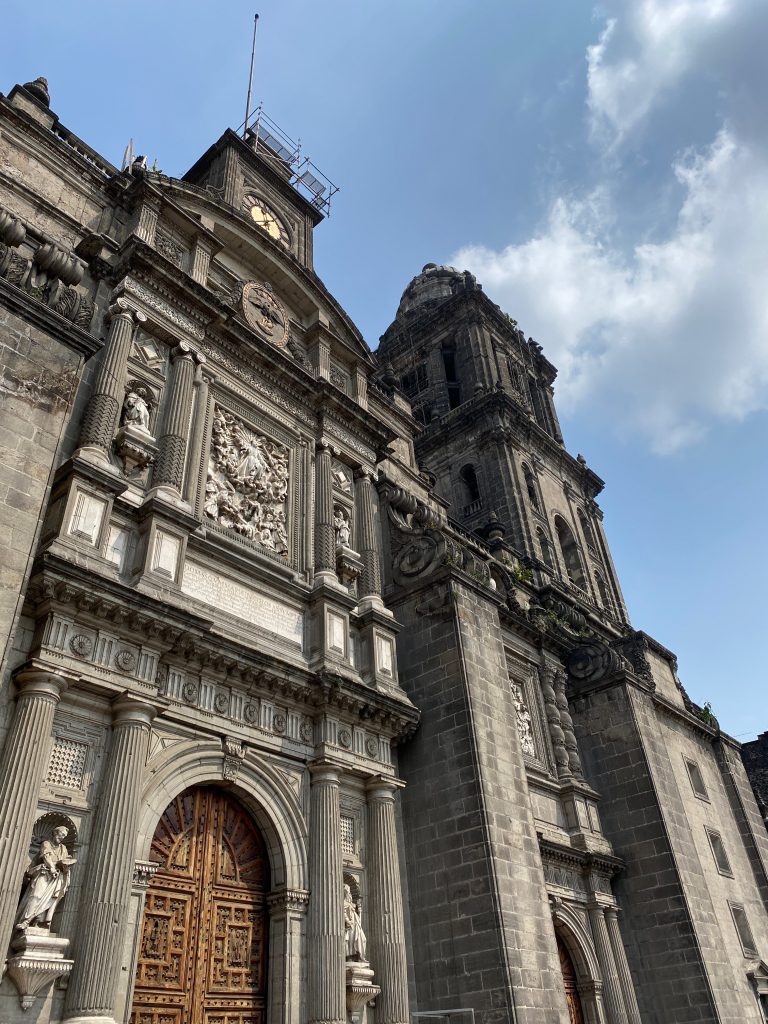 Basilica of Our Lady of Guadalupe
We made a stopped at the famous Basilica of Our Lady of Guadalupe.
It's one of the most important places for any Mexican to visit, and we did not doubt that for one second because when we arrived, there were so many people, we felt like we were going to Disneyland Mexico.
Basilica of Our Lady of Guadalupe
The place is enormous and can host an incredible amount of people, and they are prepared to receive a high amount of traffic. An example of this was when visiting the famous Mantle of the Virgin of Guadalupe to avoid congestion and queues; they have four flat conveyor belts installed. As you arrive, you jump on, take all the photos you want, and you conveniently get transported to the other side, so that the line keeps moving.
Pyramids of Teotihuacán
We got in the car and headed to our next stop to visit these magnificent pyramids, the largest one called the Pyramid of the Sun, another called the Pyramid of the Moon, and a long walkway in between them full of smaller pyramids.
As we arrived, we got caught in a big storm that was flooding the streets and turning them into rivers, but once we got there, we decided to explore the site anyway.
Visiting the Pyramids of Teotihuacán
We loved this location and had the opportunity to take photos without people in the background (due to the heavy rain), which is almost impossible due to the influx of people that these pyramids have.
We walked through the entire site, climbed to the top of both the Moon and the Sun Pyramids and enjoyed the incredible breathtaking views of one of the most impressive archaeological complexes in the world.
This prehispanic city was inhabited approximately between 100 AD-650 AD and had about 150,000 citizens within 20 square kilometres, making it one of the largest metropolises of its time.
Useful Information
| | | |
| --- | --- | --- |
| Currency: Mexican Peso | Type of Tourism: City | Safe to Drink Tap Water: No |
| Weather: 15ºC in October | Average Cost: 3/5 | Driving Side: Right Hand Side |
| Time Zone: UTC/GMT -6/-7 | Socket Type: Type A/B | Best Form of Transport: Car |
| Population: 8,85 Million | VISA Required: No | Safety: 2/5 |
| Languages: Spanish | Veggie Friendly: 3/5 | Children Friendly: Yes |
Tips
We were very fortunate because we visited Mexico with some of our best friends who live in Puebla (Mexico), and they taught us all the about this wonderful country and its amazing traditions.
Mexico is an enormous country with amazing places to visit. You will be astonished by its cities as well as some of its natural landscapes which seem to be taken from fairy tales. This country has everything you can imagine, but as we were only visiting for 14 days, we only had the chance to see some of them on the road trip we took from Mexico City (CDMX) to Cancun.
You will fall in love with their festivities and traditions which are full of colour and music, even when they are watching over their dead. We are sure you'll want to take some of the traditions home with you!
Security is as much of a topic of conversation in Mexico as is the climate in Spain. People who live there constantly talk about it and are used to things that would really surprise you and would give you goosebumps. We recommend the same thing that we were told when we were there; "Be kind to everyone and check your belongings at all times."
Get ready to eat spicy food, and we mean, really spicy. Yes, what everyone says is true, but 14 days living and eating as Mexicans do, it destroys many stomachs (Sonia's barely lasted 4 days). Everything is spicy! They eat fresh coconut on the street to which they add chilli, sweets are spicy, spicy breakfast and chilli sauce on popcorn.
There are no official lunch and dinner hours, you can eat in almost any restaurant at any time.
Haggle, they will always inflate the price, and even more so if they see that you're a tourist.
Depending on the regions you are visiting, the weather can change a lot in a short time, and if you also visit in October-November as we did, we recommend that you take a raincoat.
In the Fiera Roof Top Pub / Night Club you have to be well dressed, if you are not wearing at least a pair of jeans, you can always go to the nearest Walmart, buy some and hang your sweatpants on a tree until it is time to go home after the party!
It is common to be scammed at petrol or service stations getting less petrol than you paid for.
In Mexico, extortion is part of their day-to-day. Be sure to remain alert!
Check and research the safety of each route before you go on your journey. You will avoid some unpleasant surprises.
Crossing the police on the road is not always a relief.
If you are going to try the Chapulines (crickets), do not eat only one leg.