During our road trip through Mexico, we were fortunate enough to spend a few days in and around Cancun.
Mexico is full of beautiful locations, and Cancun is no exception. Within a 2 hour drive from here, you will encounter Mayan ruins, cenotes, white sand beaches with turquoise waters, one of the Wonders of the World, amusement parks, and a whole list of endless activities that will make your holiday to Cancun one to remember.
Day 1 in Cancun – Bacalar
We woke up in San Cristobal de las Casas and set off for Bacalar. We spent the day in this heavenly location and had dinner in the popular tourist destination, Playa del Carmen.
The Cenote Azul
Our first stop was this large cenote, which was so big it resembled a lake.
We noticed that to be able to visit it, you had to go inside a restaurant and pay admission, but we were given access to a terrace to see it free of charge, which was more than enough for us.
From the viewpoint, we observed people swimming in the cenote. Just seeing them in the water gave us goosebumps because just at the shore it was 90 metres in depth!
Our friends flew their drone and snapped some incredible pictures and videos. From above, you could see that it was a cenote, which is a natural reserve filled with fresh water that is not connected in any way to the ocean or rivers and instead gets the water of natural underground streams.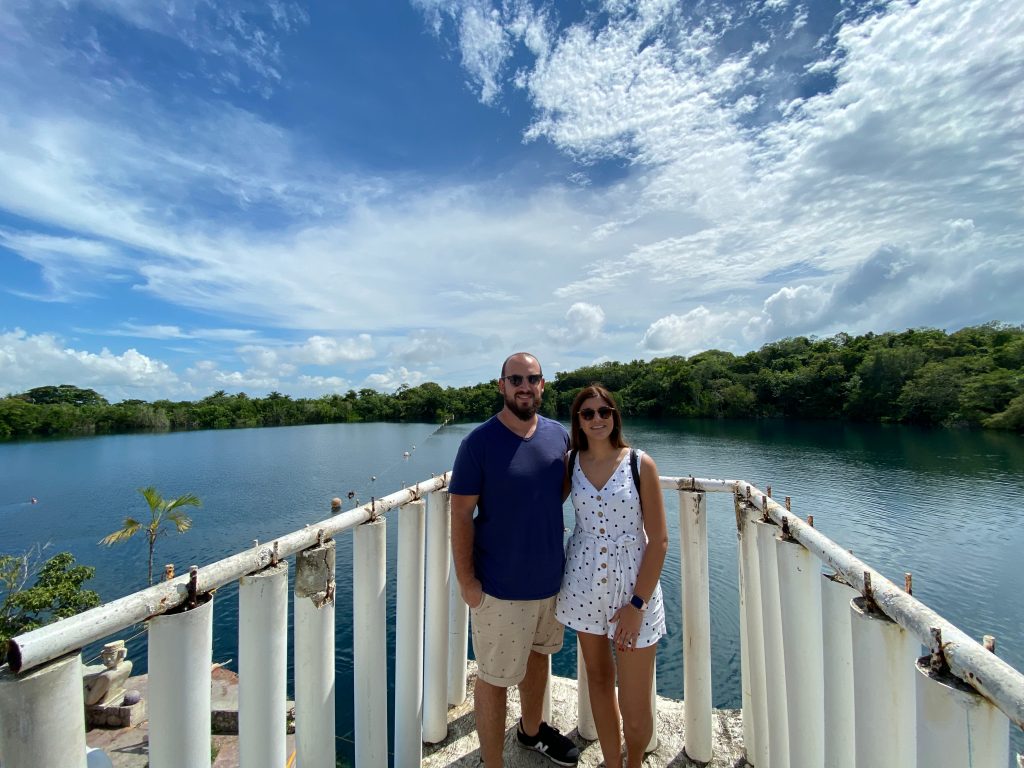 We were only on that terrace for about 15 minutes, and within that time, the November sun was hot enough to scorch our skin.
Hotel Aluxe
We decided to visit this hotel in the Cocolitos area because it gave guests the chance to access the turquoise and Instagram-able beaches of Bacalar.
To reach the water, we just needed to have a meal there, and we would then be able to enjoy a swim, in that exact order.
When we arrived, we were so hot that we thought about taking a dip and snapping some photos before lunch, but our plan soon fell apart as we were quickly stopped and told that we needed to eat before we could even get close to the water. They explained that they did this to make sure we were going to spend some money there and not just take photos.
We assumed that by our appearance with the camera in hand, the Pamela hat and the swimsuit, it gave the impression that we were planning to leave after our swim and that we were only there for the pictures.
We enjoyed an incredible meal in a wooden cabana overlooking paradise, enjoying the sun, the sound of the sea and huge portions of food.
Of course, with portions that size, they should understand why we wanted to take the pictures before lunch.
When we finished, we were finally given permission to go swimming.
A few meters from the shore, there was a small pier where a couple enjoyed cocktail after cocktail, relaxing on hammocks, away from the noise of the children and restaurant.
That was the best place in the entire hotel, but we didn't get a chance to enjoy it (despite being on the prowl to claim the spot if they left), as they must have been glued to their hammocks, because none of them moved an inch, not even to go to the bathroom.
Hotel Aluxe in Cocolitos – Bacalar
The water was so transparent that it seemed like we were jumping into a pool. It was about 1.5 meters / 5 feet deep at the shore, there was no sand or rocks on the beach, and we jumped in from the hotel walkway directly into the sea. The first few meters of the seafloor was covered with large non-slip tiles, so you had to really believe that you were going in the sea and not into an over-sized swimming pool.
What we enjoyed the most was the swing hanging over the sea, which we monopolised for half an hour taking thousands of pictures. We were so lucky that we were able to take a few of them without children.
After our modelling session, our husbands decided it was time to imitate us by doing the same poses. At the same time, we enjoyed some cocktails in our cabana and thought about renting kayaks.
Within a few minutes we were all in the kayaks paddling out to sea, and the photos we took were just like the time we spent in Bacalar, incredible!
Kayaks rented from Hotel Aluxe Bacalar
Playa del Carmen
After another 2 and a half-hour drive, we reached Playa del Carmen.
Our friends had booked an amazing luxurious apartment with a pool, private Jacuzzi and all the excesses you can imagine! It was anyone's dream home.
It was so beautiful that, just from staying there, we felt the urgency to dress "fifís" (as the elegant and posh are called in Mexico) to go for a walk and get to know the city.
On one side of the apartment, we had a terrace which was overlooking the "Quinta Avenida" which is the main pedestrian street lined with all kinds of shops, restaurants, cafes, loud music and always full of life.
We were craving pasta and pizza, so we stopped at an Italian restaurant called Il Baretto that we loved, and to top it off, on our way back home, we devoured an Amorino ice cream.
There wasn't much more that we could have asked of this day!
Day 2 in Cancun – Xcaret Theme Park
We woke up without knowing the plan for the day because our friends told us that they had a surprise for us.
They just told us to put on a swimsuit. We chose one of those swimsuits which you can hardly move in, but that looks great in the photos in which you only need to pose, and the landscape does the rest.
When we met up with our friends, we knew that this was not the ideal choice for the plan of the day.
Thank goodness we changed, because they took us to the XCaret theme park!
We were excited about the adventure which awaited and like the other children, we couldn't wait for the car to park and get inside the park.
Right from the start, we loved it because they invited us to leave our sunscreen at the entrance, and instead, they gave us organic sunscreen which did not affect the plants or animals in the park. We were impressed at how the animals in this park were in much better condition than the animals you'd find in other zoos or parks.
Xcaret México Entrance
However, right at the entrance, we felt awful when we thought about the amount of money our friends had spent. Just the admission to the theme park was quite expensive (around $100 US dollars and not Mexican pesos).
Swimming with Dolphins
As if a day spent at a theme park wasn't enough, our friends had also booked an additional activity and surprised us to go swimming with dolphins!
Although Sonia is not a big fan of swimming in the sea or rivers, the experience did not go to waste, and we all ended up enjoying every second to the fullest.
We accessed a restricted area close to the sea where we could swim with a dolphin and even stroke it. It was an experience that we will never forget.
Swimming with Dolphins in XCaret
During the whole time you're with the dolphin, there is a photographer who takes photos of the entire experience, and of course, you are not allowed to take your own photographs, even while you are waiting to start the activity.
As we finished, we all ran to check our pictures with the dolphin and even considered the option of buying some to have a memory of this incredible experience. The prices, on the other hand, were just too high, about $40 per photo and, something in the region of $250 for several images.
We're pretty sure that the XCaret owners don't share our opinion, but just giving a free souvenir like a single digital picture to people who have almost paid a kidney for the admission to the park and much more for booking this activity wouldn't hurt at all.
Also, as we were browsing the pictures on a computer, we were reminded several times that the photos would be deleted at 3 pm on that same day, and it was essential to buy them today not to risk losing them.
We can confirm that, after a few days and even months later, we received emails with offers giving us 30% or even 50% Off. So if you want to buy them, we would recommend you wait a week or so. They still won't be cheap, but they will be less expensive than in the park.
Activities in XCaret
Amongst thousands of other things about this place, we loved that the entry ticket also included food (this doesn't happen in any other theme park that we've visited). We opted for a buffet lunch that offered a wide variety of dishes from around the world which suited all palates.
The day was packed with incredible experiences, and the truth is that in this park, the hours just flew by.
We were lucky enough to see loads of animals, a real Mayan pyramid, a horse show, swam in a 5 km long stream through a cavern. We even stayed to see a show about the history, festivals, traditions with music and dances of Mexico.
We would like to delve further into the show because it was fascinating to watch, and its story amazed us.
It started with the indigenous tribes that lived in this land before the arrival of the Spanish. They exhibited their sports, rituals, their day to day, wars between tribes, and suddenly, and with great staging, Spanish colonists arriving in a large ship.
They portrayed how the battles took place, and later, how the two cultures began to respect one another and started to live together. Luckily, everything was performed in a more delicate way than what unfortunately really happened.
Because the show was so long, it was split into two parts, and do you know how they always make a grand finale for the first act which makes people want more?
Well, in the impressive finale of the first act of the show, which explained all about the history of Mexico, emphasising the word "history", they closed the act with a religious occurrence.
In great vivid detail and without sparing any expense, they portrayed the story of the indigenous people and the Virgin of Guadalupe.
A beautiful story, but confusing because it was told as if it was part of Mexican history and therefore as if it had happened in real life.
After a full and exciting day, we arrived at the apartment, tired but happy about all of the things we were seeing and learning. We were especially excited about the next day as we were going to see one of the Wonders of the World.
Day 3 in Cancun – Chichén Itzá
We woke up, grabbed our morning Starbucks, updated our social media accounts and treated our friends to breakfast. At that moment, we felt at home once again and this was a feeling that followed us every day we spent in Mexico and we loved it.
It was November, so the majority of people out and about were locals, and the truth was that we loved this city as it was at this time, however, it's easy to imagine it full of people, groups and parties on every corner during the summer.
We thought it would be a great place to live for a few months during the winter; however, that idea quickly disappeared from our minds as soon as we saw the prices of the apartments in the area.
Suytun Cenote
Today, we planned to visit Chichén Itzá, but our first stop along the way was the Instagram-able Suytun Cenote.
It was magical, and one of those places that you can't believe exist because of how impressive and beautiful it is!
While we waited for our turn to take the more than a thousand photos, we stood on the walkway that leads to the centre of the cenote, beneath a natural hole in the cave's ceiling. At the same time, while it rains through the hole, you could close your eyes and let your imagination run wild accompanied by the theme tune from your favourite Latin American soap opera. You could just envisage "Josué Javier del Santísimo Sacramento" barging in at any moment announcing to the world that "Sonia María del Mar" is his only true love.
Suytun Cenote
The other visitors were so organized and educated standing in line, that we couldn't believe we were in a Latin country and inadvertently gave us the feeling of being back in the UK.
They were all queuing up, very patiently, whispering and respecting the other 40 visitors who were in the cenote at the time.
In the area, next to the parking lot and within walking distance, there is another cenote that's not as famous, and we couldn't understand why, because it was also awe-inspiring.
It was a cave, this time with a bigger hole, with two large trees growing from the inside and protruding out of the hole at the top of the cavern.
We recommend that you extend your visit a further 10 minutes and visit both cenotes and make the most of this unforgettable location.
Chichén Itzá
About a 50-minute drive from the cenote, we arrived at one of the Wonders of the World.
After two weeks touring Mexico, we couldn't believe that this incredible country only housed a single Wonder of the World. From the top of our heads, we can think of another 5 or 6 locations which deserve that title in Mexico.
When we arrived at Chichén Itzá, it was throwing it down with rain, and this was when we realised that our friends had organised an "action-packed" holiday for us because the car suddenly ran out of battery. Luckily, a solution was found in a few minutes, and we set off to visit the ruins.
As it was still raining pretty heavily, we bought some raincoats from a street vendor who assured us that it would not stop raining all day and headed to acquire the entry tickets, which is when it stopped raining.
Our friends, who are Mexican, bought the tickets (200 Mexican pesos each), although we later realised that because we were foreigners, we should have paid 490 Mexican pesos each.
We began our visit of the fabulous ruins of Chichén Itzá, an incredibly well-preserved pyramid in which the feathered serpent descends the steps of the pyramid during the summer solstice.
One of the Wonders of the World – Chichén Itzá
After taking countless pictures of the pyramid, we decided to visit the rest of the complex, which turned into a pleasant walk through a park full of trees and impressive ruins.
We couldn't ask for anything more from this country!
Playa del Carmen
With the help of some jump leads we borrowed, we managed to get the car started to head back to Playa del Carmen. On the way, we stopped at a workshop to have the battery replaced, and in just 30 minutes, we were back on the road.
Despite everything the Quinta Avenida offered gastronomically, we couldn't resist and decided to return the Italian restaurant Il Baretto where we also celebrated Josh's birthday.
After dinner, we went to La Cantina nº21, which was inside a shopping centre but had a nice terrace overlooking the Quinta Avenida, we sipped on some cocktails and enjoyed our last night in Mexico.
What an amazing trip this has been!
Tips
If you like driving, we recommend you visit Mexico by car as it will give you a lot of freedom and the possibility of visiting thousands of places in a shorter time.
If you visit Mexico by car, we recommend that you have an Autozone franchise located in your area, as most of the time, they can assist you in that moment and without prior appointment. This is perfect for you to continue your vacation within a short time, ensuring your travel plans are not disrupted.
XCaret is a large group in Mexico that has several parks for all tastes. You will surely find the one that best suits you but you will have to prepare your wallet as the prices are high despite the parks being in Mexico.
If you go to XCaret, we recommend that you don't buy the photos in the park. Just give them your email, and a few days later they will offer you a substantial discount for you to purchase them.
Playa del Carmen is a safe city with surveillance and police on every corner; this isn't a common occurrence in the rest of Mexico.
This area of ​​Mexico is hot all year round, so go when you go, we recommend you wear light summer clothing and lots of sun cream.
The Suytun Cenote is a mandatory stop as is the cenote that's in the same complex and a couple of minutes walk away.
Useful Information
| | | |
| --- | --- | --- |
| Currency: Mexican Peso | Type of Tourism: Nature/City | Safe to Drink Tap Water: No |
| Weather: 26ºC in October | Average Cost: 3/5 | Driving Side: Right Hand Side |
| Time Zone: UTC/GMT -5 | Socket Type: Type A/B | Best Form of Transport: Car |
| Population: +- 150.000 | VISA Required: No | Safety: 3/5 |
| Languages: Spanish | Veggie Friendly: 3/5 | Children Friendly: Yes |