What better way to start posting about our travels throughout Europe than starting with our home.
For us, learning about a destination first-hand with the help of a local is always the best way. You get the unique opportunity to really immerse yourself because locals present their home and not just a holiday destination. You'll visit the best places; although sometimes they're not the most popular, and, above all, they will teach you to live and enjoy their home to the fullest.
We hope that with this post, you'll capture the true essence of these places so that you can also enjoy them to the fullest when you visit.
Day 1 in the heartland of Alicante – Alcoy
Alcoy is the city where we've lived, gone to school and worked, and it is a real treasure of the Modernist era, located in the mountains of the heart of Alicante, about 45 minutes by car from the city of Alicante.
When you live in a city, you get used to its streets, its buildings, its squares… and naturally, over time, you stop noticing them, or, at the very least, you stop admiring them.
To change this, and as lockdown in Spain started lifting, and the tourism industry was "waking up" again, we did a walking tour of the city with Quality Tours Mariola. Their vast local knowledge helped us appreciate (once again) the many wonders of this city such as its architecture, its culture and traditions, that, unintentionally, you end up overlooking in your day-to-day.
This city is especially famous for its Moors and Christians festivities (April 21, 22, 23 and 24), which are considered an Asset of Cultural Interest and which memorialize the reconquest of Spain by the Christians and which, without a doubt, you cannot miss if you visit during those dates.
However, this small city of about 60,000 people, is also home to the oldest Three Kings Parade in Spain. On January 5th, every year, its streets are flooded with floats, animals and actors in a beautiful display of music and emotions that you have to experience at least once in your life.
Apart from the above, and although it may seem impossible, this city was also one of the most important hubs of the modernist era and the main scene of the Oil Revolution. We learnt all of this during our walking tour explained below.
Plaza de España
On this tour, we visited the city centre, where the most incredible buildings are located, which house the most significant amount of history and stories about this city.
We started in the Plaza de España, designed by the renowned architect Calatrava. Part of the square opens up, revealing stairs which lead you down to a large open hall which is used for events and exhibitions.
This square is surrounded by the bell tower, the Calderón theatre and the Town Hall from which you can also access, through a small passage, the Plaça de Dins.
Plaza de España: The Bell Tower in front, the Town hall to the left and the Calderón Theatre to the right.
We strolled down the street behind the Calderón theatre from where you can see the riverbed below. It's the exact location that made this city what it is today, but above all, what it used to be, as the Alcoyan people, only needed to make use of the river's flow of water to build and develop the foundations of Alcoy's powerful industry.
Back at the starting point, we walked past the impressive building owned by the insurance company Unión Alcoyana.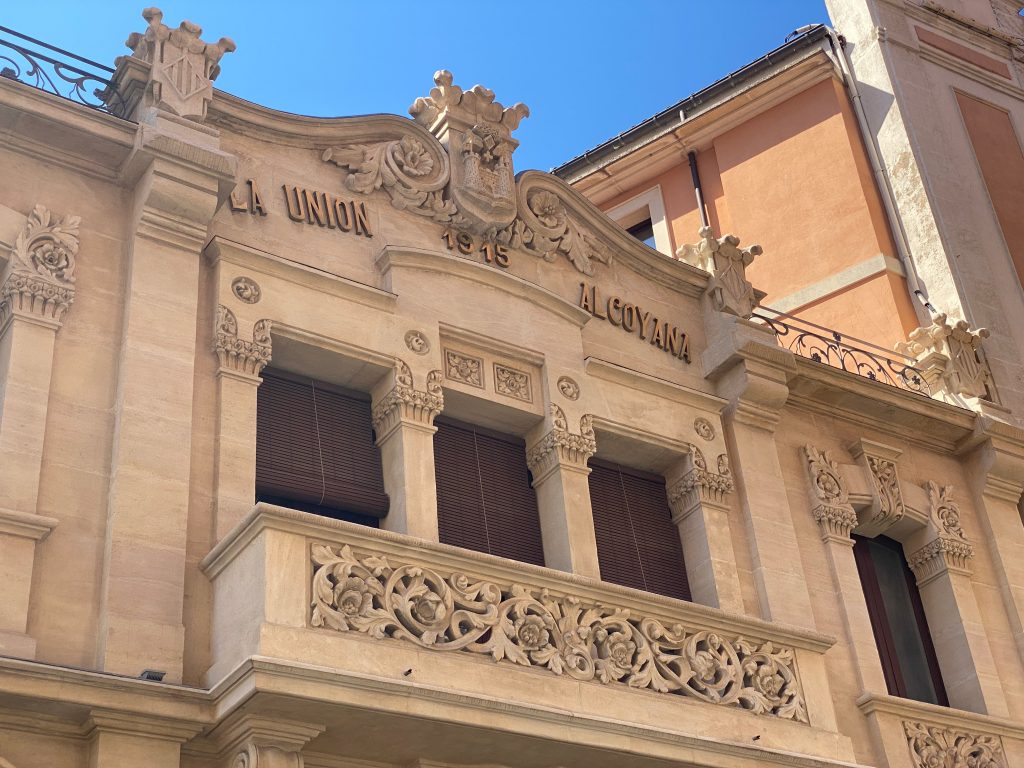 Sant Nicolau Street
Up from the Plaza de España, we walk up Sant Nicolau street, where you'll find the impressive modernist facade of "La Casa del Pavo". It was the home of a very well established and wealthy family back when it was built in 1909, or as the Alcoyan phrase says: the home of "Gent del Puntet" (how posh people are described locally).
La Casa del Pavo
Next, we visit the Industrial Circle, its rooms, library and romantic garden. A building that exudes history and tradition and that is now completely open to visitors and a must during your visit to Alcoy.
Visiting the Industrial Circle
Up the same street, you'll come across buildings that will make you stop and admire them. Some are still private homes, and other buildings you'll find are the Market and the church of San Mauro.
Sant Nicolau Street
At the highest part of Sant Nicolau Street, you'll find La Glorieta, a park in the heart of the city with a pond with ducks. Here, you'll enjoy a pleasant walk and you will stumble upon a marquee the centre, in which every single one of the locals has had at least one picture taken with it, so, you will have to make sure you snap up a pic because it is like an Alcoyan Photocall!
The Glorieta
Wandering around
Next, we exited the Glorieta through the opposite door in a straight line from the entrance. We walked down the Cuesta del Gurugú, a street known for being very steep, where the descent is complicated, the ascent tedious and the parking of cars, only suitable for professionals.
At the foot of this steep street, you can see the Monte de Piedad building and a bit further up, the Plaza Ferrándiz i Carbonell, where the Polytechnic University of Alcoy is now based.
Plaza Ferrándiz i Carbonell – Alcoy University
We continue down the street and stop at the Academy of Music and Dance, a very picturesque building. If you are lucky and it's open, you will get to see its magnificent staircase.
Conservatorio de Música y Danza
And lastly, the Parterre and San Lorenzo / Sant Llorenç Street that will take you back to the Plaza de España.
Sant Llorenç Street
We loved this tour, the guides, who are more than prepared, took us through all of the streets while they educated us about the history, tradition, customs and the main pillars which built the city of Alcoy. If you want to book a tour in Alcoy, we recommend that you take a look at their website Quality Tours Mariola, where you will find the perfect excursion. With them, you can also pay a visit to the cemetery, where you will encounter sculptures and explore catacombs, which are far from spooky and will impress you with the fantastic stonework. We loved it!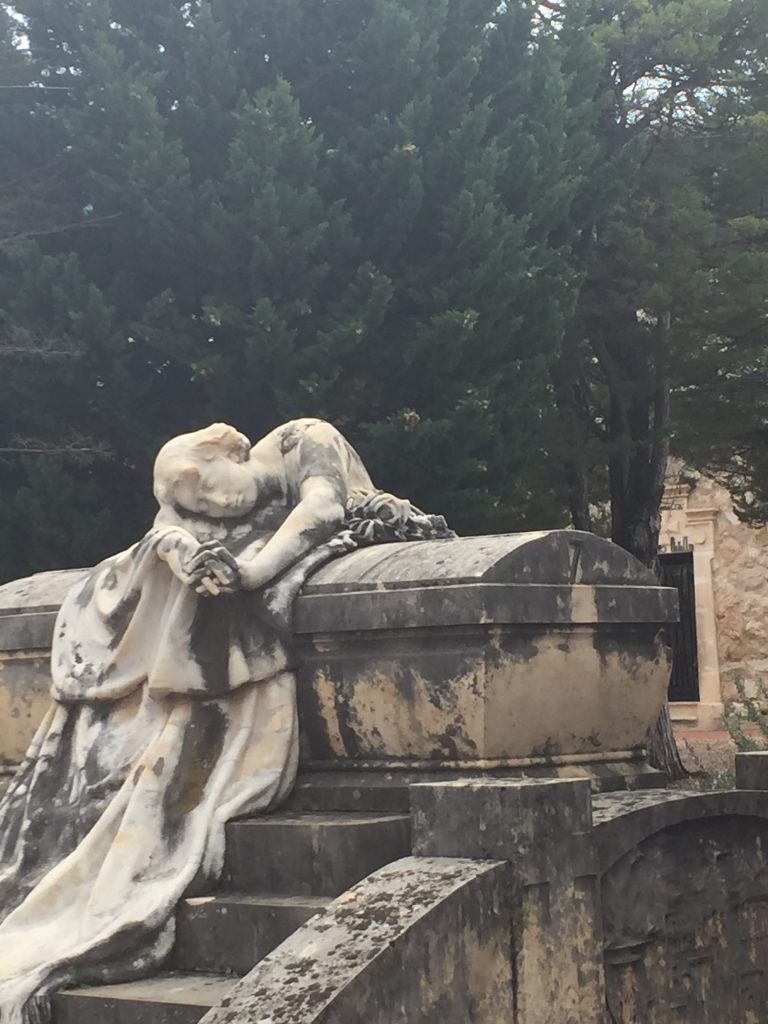 Many times, the memory and perception we retain of a place or city is because of a tour we've done and inevitably mainly down to the tour guide who does it. We're sure that with Quality Tours Mariola that you'll enjoy Alcoy even more!
Day 2 in the heartland of Alicante – La Vall d'Alcalà
When we talk about culture, history, traditions… the thoughts that crowd my mind all lead me to La Vall d'Alcalà.
This municipality, with just over 75 inhabitants during the winter, is located 30 minutes away from Alcoy and 1 hour and 15 minutes from Alicante airport. It is a diamond in the rough, and for a couple of years, it has also been our home.
La Vall d'Alcalà
This municipality is composed of 2 small villages: Alcalà de la Jovada and Beniaia. This is another destination that you won't be able to visit in a single day.
Before the Christian reconquest, it had 7 settlements and, to date, all of them can still be visited, however, only Alcalà de la Jovada and Beniaia are currently inhabited.
It was the home of the Moorish leader Al-Azraq until the year 1276. Known for his striking blue eyes, he gained the trust of King Jaume I with whom he signed the "Tractat del Pouet", a treaty in which a truce was agreed between the Moors and the Christians, and in which the control of La Vall d'Alcalà and La Vall de la Gallinera was granted to Al-Azraq.
Strolling through Alcalà de la Jovada
If we start from the main square of Alcalà de la Jovada, we'll find the emblematic "Fuente del Moro", a fountain with the head of Al-Azraq forged in steel and carved in stone, and from which spring water emanates from the surrounding mountains.
Directly in front, we see the town hall and the church, with a somewhat peculiar bell tower, since it is a tower that has been kept and maintained dating back to the times when it was part of Al-Azraq's castle.
Alcalà de la Jovada square, town hall, Font del Moro and church
In that same square is the Hotel La Font, a small hotel with charm, dreamy rooms and excellent cuisine, in which we recommend you spend at least one night and enjoy its delicacies during dinner.
If you prefer staying in apartments, without a doubt, we recommend Les Casetes, which are brand new apartments, with a private terrace overlooking cherry tree fields, barbecue and everything you need to enjoy the essence of La Vall d'Alcalà. Close to these apartments is Bar La Piscina (right next to the municipal swimming pool) and that we recommend as an essential stop to enjoy a typical brunch: baguette or sandwich, olives and a cold beer.
On the way to "Calle de La Torre", located at the highest part of the village, and which is reached by going up a slope in the square, you will stumble upon a house with a blue door, which is a perfect photo op. If we continue and walk up the entire Calle La Torre, only a couple of minutes away, we will find the aqueduct.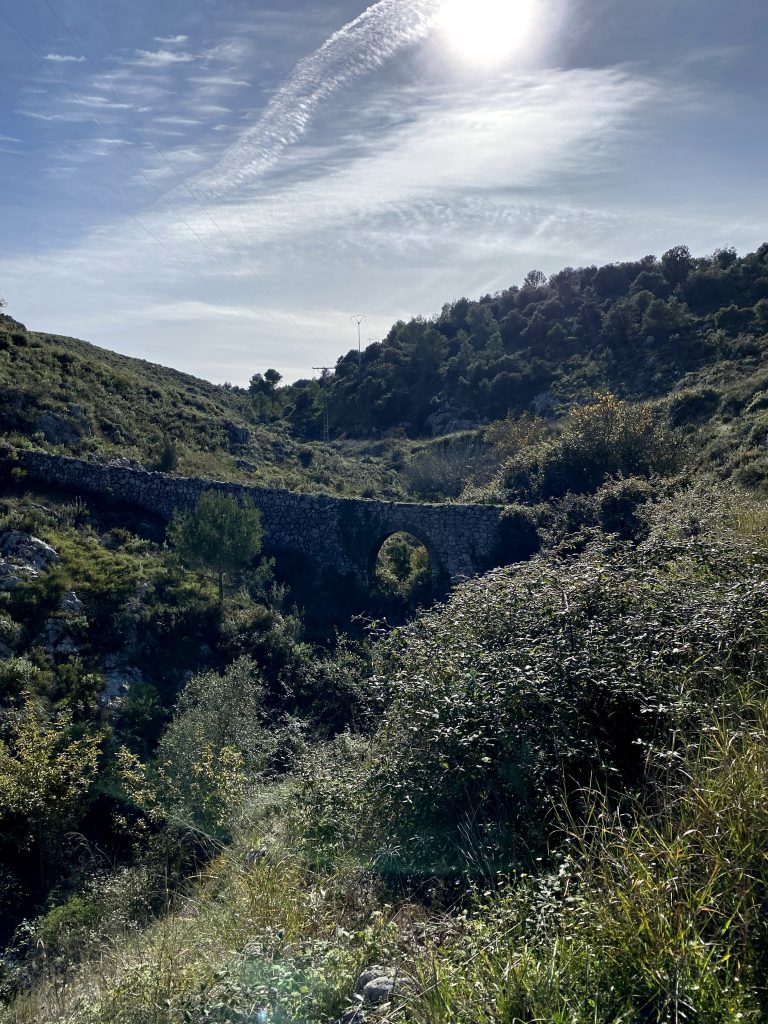 As we stroll towards the lower part of the village, we pass through "Carrer del Calvari" and find a small gardened area with a statue of the famous Arab, Al-Azraq.
If we continue straight and go down the small slope, it will lead us to the "Lavadero". This is the place where people traditionally gathered to wash their clothes with the remaining water that comes down from "La Fuente del Moro".
Lavadero of La Vall d'Alcalà
Although, when it's lunchtime, we would recommend you continue walking towards the left and go to the Bar Restaurante La Tona, a cosy place, with traditional and high-quality cuisine (don't leave without trying Mintxos or a good paella).
The ruins of l'Adzuvieta
Just about a pleasant ten-minute walk from the village, you arrive at l'Adzuvieta, one of the seven settlements that formed La Vall d'Alcalà in the days of Al-Azraq.
Ruins of l'Adzuvieta
The structures that were once part of a small town are still standing, and as you walk through its perfect arches, they will take you on a journey to the past.
La Nevera
About 15 minutes walk from the village, down an easy lane, you will arrive at La Nevera. It's a stone structure in the shape of a dome which was used to store the snow that fell during the winter in this area and which later got sold down in the coast for the production of ice cream and ice.
La Nevera
La Foradà
If you feel like walking a little further, in the same direction as the ruins of l'Adzuvieta, and after about 40 minutes of light hiking, you can reach La Foradà, a magical hole in the mountain.
If you are fortunate enough to be in the area at the beginning of March or at the beginning of October, you will be able to observe the solar alignment of La Foradà. An event when the sun shines down through the hole down on to the Franciscan convent of Benitaia, in La Vall de la Gallinera.
La Foradà (The Hole in English) as its name suggests, is a mountain with a large natural opening that allows you to see the magnificent views La Vall d'Alcalà on one side and La Vall de la Gallinera on the other. This natural wonder leaves no one indifferent.
Strolling through Beniaia
Beniaia is another of the settlements that is still home to locals to this day. It is the second village of La Vall d'Alcalà with regards to the number of inhabitants (about 20 in winter) but more beautiful if that's even possible.
One of the key places to visit is the church, which is very small but full of history. This church is found on Carrer de Baix, a very well-maintained street with stone facades that are the delight of anyone who visits it.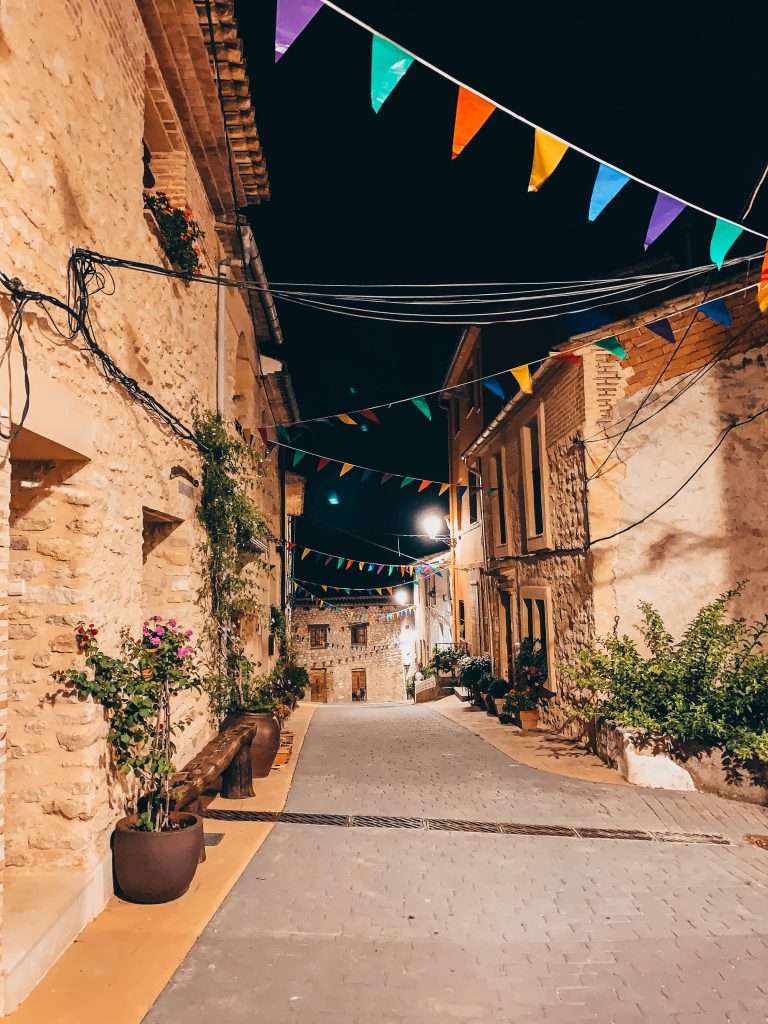 If we go to the town square, you will see the El Llogaret Bar Restaurant. Do not leave without eating there! When you finish, if you follow that same street and walk for a few minutes, you will come to a pleasant lane which will take you to the Lavadero, which is a real gem of the village.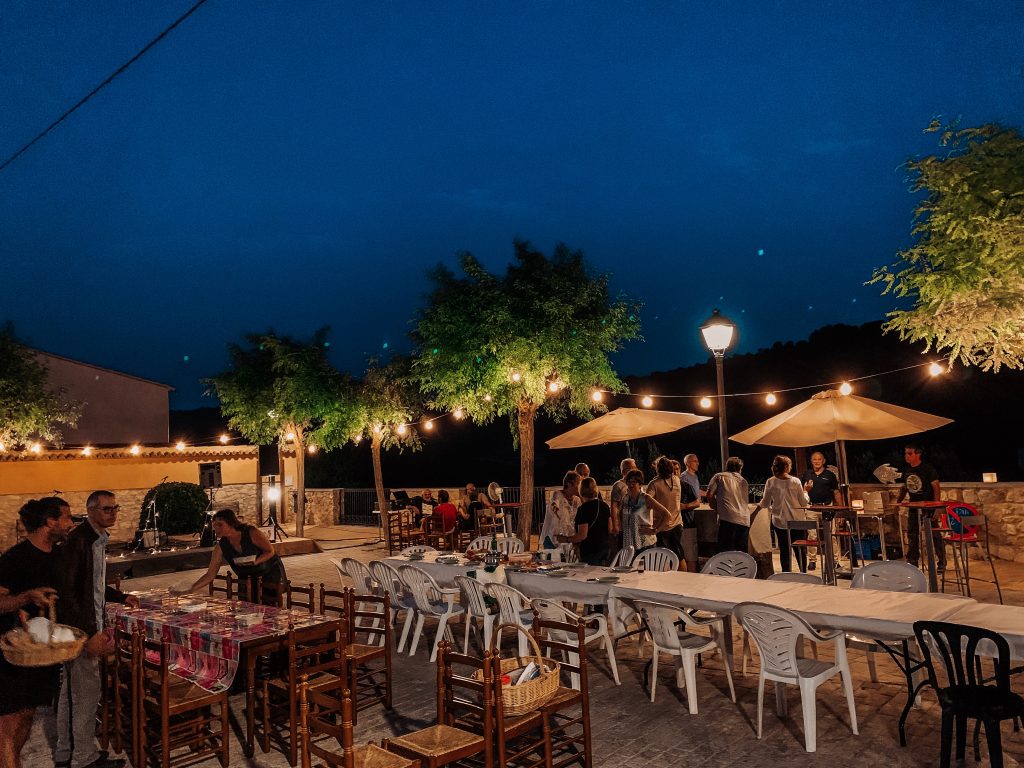 Ruins of the Queirola
La Queirola is another of the five uninhabited Arab villages of La Vall d'Alcalà and in this case, it is very close to Beniaia. Enjoy a short walk and be impressed by its stone walls and arches.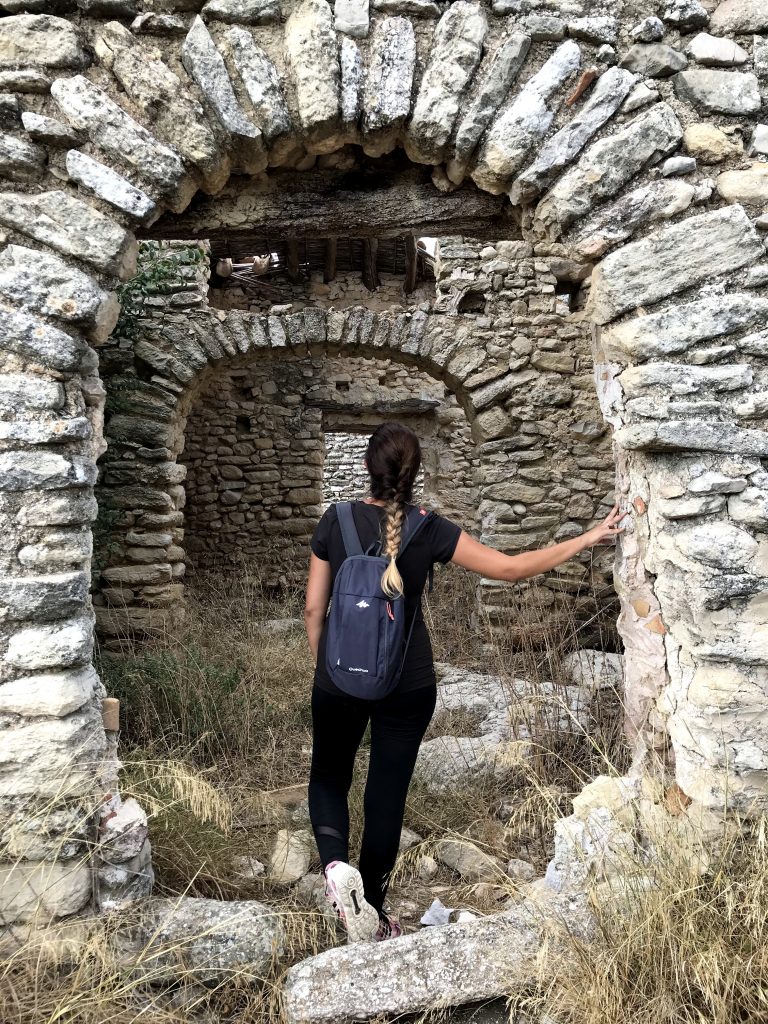 The Condoig
This is a unique natural setting, which you will reach within an hour of hiking from Beniaia. In this area, the atmospheric conditions are so unique, that a plant species only grows here, and is found nowhere else in the world.
The Condoig
Strolling through La Vall d'Ebo
A 10-minute drive from La Vall d'Alcalà, we stumble upon another municipality called La Vall d'Ebo where we find La Cova del Rull.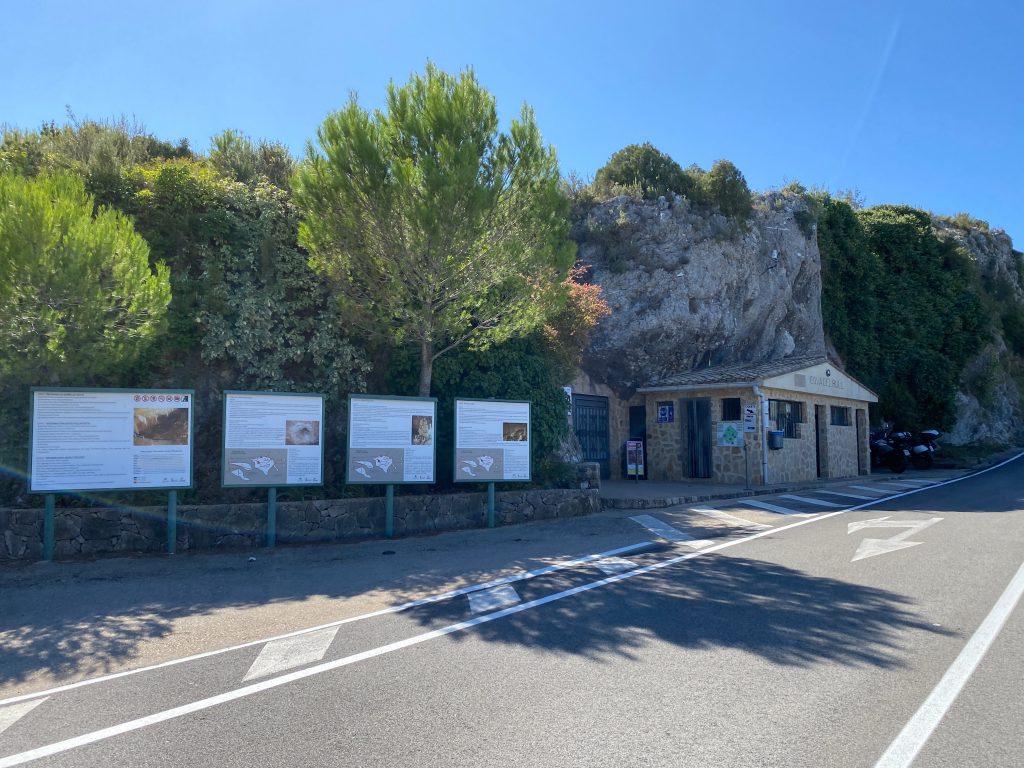 It is a very well-maintained cave where you can see hundreds of stalactites and stalagmites. Along with the admission, which costs just a few euros, you also get a free guided tour. You can find out all about it on this website here.
Even though we have visited it hundreds of times, we don't have photographs as these are forbidden to avoid damaging the cave's structures and natural creations, so when you visit this cave they will surely impress you even more.
Day 3 in the heartland of Alicante – Petracos and Guadalest
Although Alicante is, above all, known for its beaches, both the coast and the interior have so much to offer that you could spend weeks in the heartland of Alicante, dazzling yourself with all the wonders it is home to.
We will dedicate this third day to Petracos and Guadalest.
Cave Paintings of the Sanctuary of Plá de Petracos
If you have spent the night in La Vall d'Alcalà, on your way to Guadalest, we recommend that you go via the Plà de Petracos, near the municipality of Castell de Castells, down a mountain road that will take you to a unique site for cave paintings.
Cave Paintings in Petracos
These paintings date back to around 8000 years ago and are recognized by the UNESCO as a World Heritage Site.
Guadalest
When you get to Guadalest, we recommend that you park in the car park at the entrance of the village, that way, it will allow you to take a walk and lose yourself among its beautiful streets.
As you stroll, we are sure that you will be surprised by the number of museums you come across on your way: miniatures, dollhouses, torture… and it will come as no surprise to you when you realise that this village is known for the volume of museums it's home to. We're sure you'll find several to visit.
Guadalest
By foot, you will reach Guadalest castle which you can visit walking over its cobbled streets with small shops and museums on either side which will guide you to the square at the highest part of the village from which you will have incredible views of the lake below.
Tips
All of the tourist attractions described in this post are free of charge to visit (except the Círculo Industrial in Alcoy and La Cova del Rull in La Vall d'Ebo).
In all of the locations mentioned in this post, car parks are accessible and within walking distance.
The typical food of La Vall d'Alcalà is Mintxos, Blat Picat and Espencat. We recommend that if you want to try any of them to call in advance to order them. In Alcoy, the typical food is Olleta, Pericana and coffee liqueur as a drink.
La Vall d'Alcalà, apart from the four uninhabited villages that we have mentioned in this post, is also comprised of the depopulated areas of Els Benialins, La Roca and Benixarco. It's also home to cave paintings, lime kilns, a coal bunker, another fridge, an airfield, the Castle of Alcalà, an old perfume factory, aqueducts and hiking routes that will lead you to true natural wonders.
If you want to hike through La Vall d'Alcalà, we recommend that you visit the town hall's website from which you can download PDF's with the routes to follow. Download the routes HERE.
Below is a tourist map of La Marina Alta. Here, can find the main tourist attractions that are on offer in this area, both coastal and inland.
Tourist map of the Marina Alta
Useful Information – Alcoy
| | | |
| --- | --- | --- |
| Currency: Euro | Type of Tourism: City/Nature | Safe to Drink Tap Water: Yes |
| Weather: 25ºC in July | Average Cost: 3/5 | Driving Side: Right Hand Side |
| Time Zone: UTC/GMT +2 | Socket Type: Type F | Best Form of Transport: Car Rental |
| Population: +-60.000 (Alcoy) | VISA Required: No | Safety: 4/5 |
| Languages: Valenciano and Spanish | Veggie Friendly: 3/5 | Children Friendly: Yes |