This was our first post-lockdown trip, and even though we travelled in late September, it was also our first holiday of 2020.
COVID-19 had cancelled all of our holidays and adventures we had planned for 2020, but without expecting it, it had allowed us to travel to Rome for 19.98€ return. And without thinking twice, we accepted the one good thing the pandemic had brought us, with open arms.
Traveling in times of COVID-19
We read about both the Spanish and Italian regulations to comply with everything they requested during the week before our trip. Ryanair sent us an email detailing the requirements per country, which was very helpful. Here you will find all of the latest updated information and the most recent travel documentation requirements.
Regulations for traveling to Rome Fiumicino
In our case, and when flying to the Rome Fiumicino airport, we downloaded a document that we had to fill out indicating where we were going to stay, list where we had recently travelled to, our personal contact information… much like a kind of visa in which we also had to select whether we would travel with a negative PCR test from Spain (about €120 per person) or, if alternatively, we wanted the test to be done on arrival, at the airport (free of charge). We selected the last option, and when we landed, they didn't ask us for the completed documentation, nor did they ask us if we had the negative tests from Spain, nor did they perform the PCR tests. They just scanned our temperature with thermal cameras and let us through into the country.
Airport and flying in times of COVID-19
Regarding the airport and aeroplane protocols, we read that we had to wear surgical masks, which are the ones that are blue on the outside and white on the inside. In Alicante, they didn't say anything, but in Italy, they wouldn't let you board if the mask you were wearing wasn't of that specific type, and they asked you to go to a vending machine and buy one for the flight.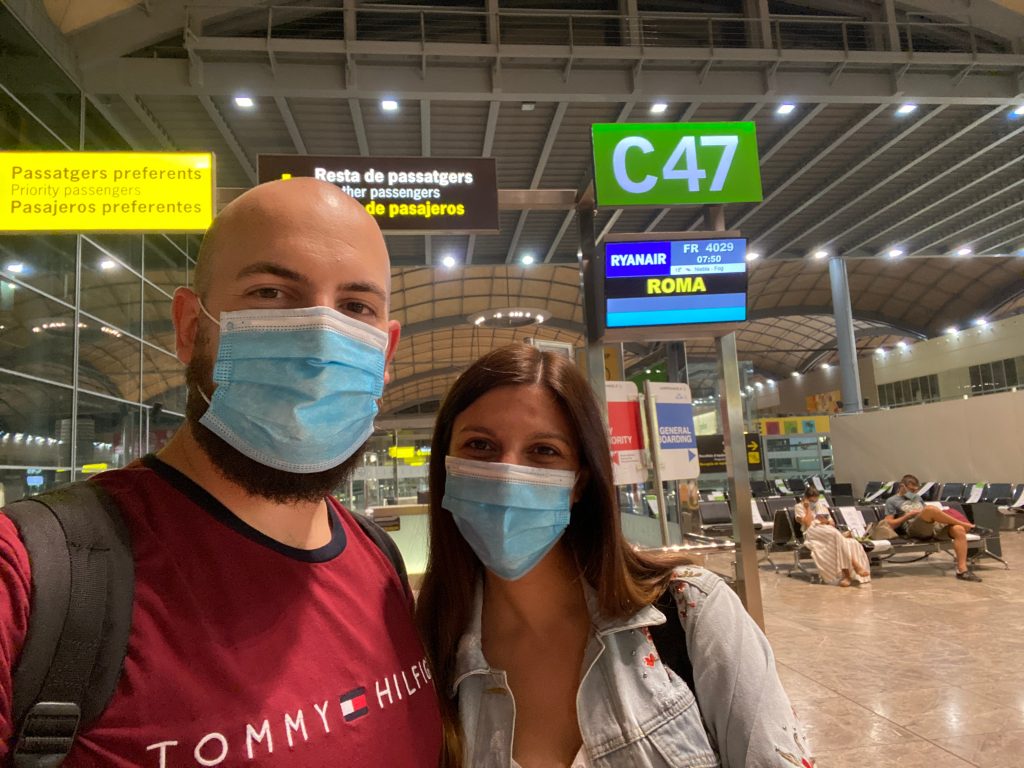 Above all, Alicante airport was well prepared to avoid the gathering of crowds and complied with social distancing by applying measures like stickers on the ground, signs blocking seats, places to wash your hands, several points with hand sanitiser…
Although it was also good that there were very few flights and that ours was flying first thing in the morning, there were no more than 100 people at the airport.
Our plane was as clean as it probably had never been, and also, there were no more than 40 people on the flight, so everything went wonderfully.
Rome's departure was quite different, as there were substantially more people at the airport and on our flight. Since we had not paid to sit together during the flight, the Ryanair seating algorithm had preferred to sit Josh in the middle of two strangers, during COVID-19, rather than sit us together in the row where I was seated alone.
Day 1 in Rome – Visiting Rome
We booked the activities and excursions we wanted to do, just a few days in advance, although this would not have been possible pre-COVID-19, as Rome was one of the world's most visited tourist destinations.
Our hotel was in front of the Pantheon called Best Suites Pantheon, book your room here. It was wonderful to walk out the door every morning and have those views. Also, if you pay a little more and choose the most expensive suite, you will directly view the Pantheon from your window. The location was perfect as we had everything within a short 10-minute walk, which is really useful because Rome can be visited almost entirely on foot.
City center
We arrived in the centre of Rome at around 11:30, and on this first day, we walked about 10 kilometres within about 6 hours, this is what we visited:
Piazza Navona: You can visit its 3 fountains: the Moro, Neptune and the largest and most central, the 4 rivers (Fiumi Fountain).
Piazza Navona
Pantheon of Agrippa: Free and open from 8:30 a.m. to 7:30 p.m. and until 6:00 p.m. on Sundays. Mid-morning, the queues were extensive, so we recommend that you visit it first or last minute.
In the Pantheon, you can find Raphael's tomb and that of Vittorio Emanuele, the first Italian King, which a guard always guards. Also, if it is raining, you will see how it rains inside the Pantheon as the oculus is open.
Just a couple of minutes walk away; you can have ice cream at Gelateria Della Palma or Gelateria Giolitti in via Uffici del Vicario, one of the best in Rome.
Panteón of Agrippa
Temple of Hadrian: A couple of minutes walk, suddenly, you will arrive at this temple that you can only see from the outside, and it will mentally prepare you for the wonders that you are going to encounter during your stay in Rome.
Fontana di Trevi: after other short minutes you will reach this famous fountain, it is gigantic! If you feel hungry, nearby, you can find the San Crispino ice cream parlour in Via Della Panatteria, Giolitti's main competitor.
Fontana di Trevi
Piazza di Spagna: after about another 8 minutes we arrive at the square where the Spanish Embassy is located. If you continue walking a little further, you will find the Spanish Steps, the famous staircase where Audrey Hepburn ate her ice cream.
At the top of the stairs, you can visit the Trinità dei Monti Church.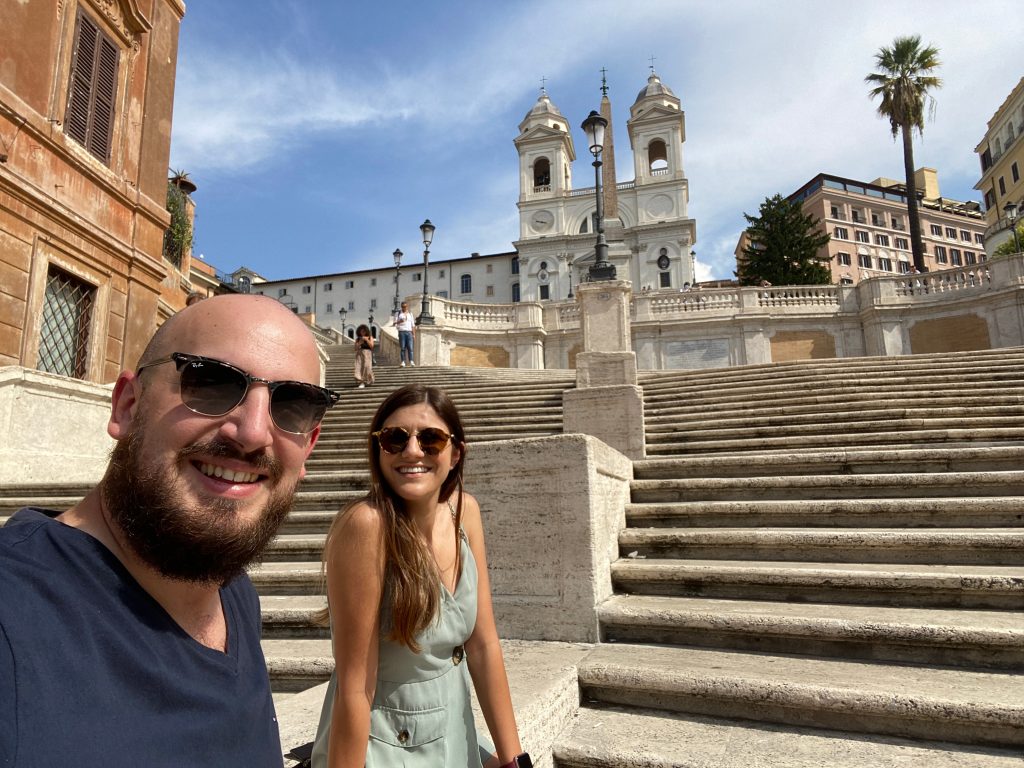 By then, we had done a little more than an hour's worth of sightseeing, and we decided to do something typical of this city, drink water from one of the thousands of water fountains that you will find scattered around Rome, nearby locals will give you insider tips!
Order a takeaway pizza from Grano Frutta e Farina and a tiramisu at Pompi, although you won't be able to sit on the steps to eat since it is not allowed.
Piazza dei Popolo: We walked for about 8 more minutes, and we arrive at the Piazza dei Popolo where we can visit the two twin churches and an obelisk (one of 13 in Rome, 8 Egyptians and 5 Romans). On one side of this square, you can visit the Leonardo da Vinci Museum.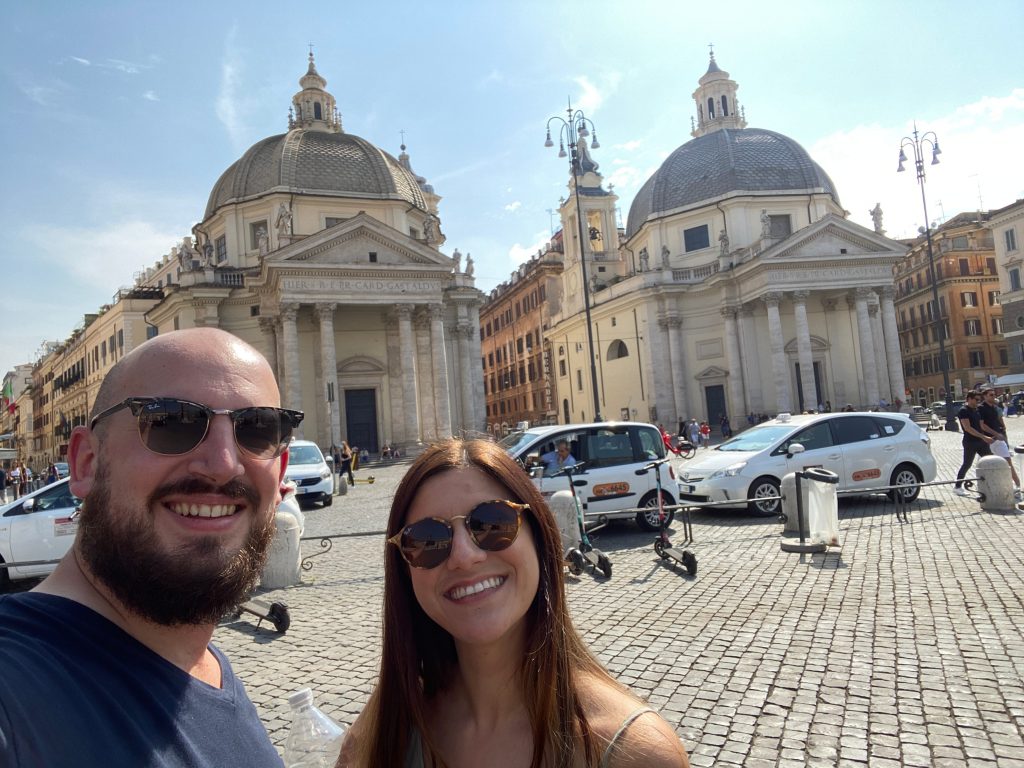 Villa Borghese Park: one of the entrances to this park, because it is enormous, it is to the right of the Plaza dei Popolo.
When we got to the top, we sat down to catch our breath. We saw that there was a little train that for 4€ per person, took you to see the most important sights of this park in 30 minutes: viewpoints to see the sunset such as Pincio, the Borghese Gallery, one of the most important museums in Rome, a lake, monuments… We wanted to see the lake and the pantheon up close, so the driver allowed us to ride an extra half trip to stop at the lake where you can even rent a boat and row closeby the Pantheon.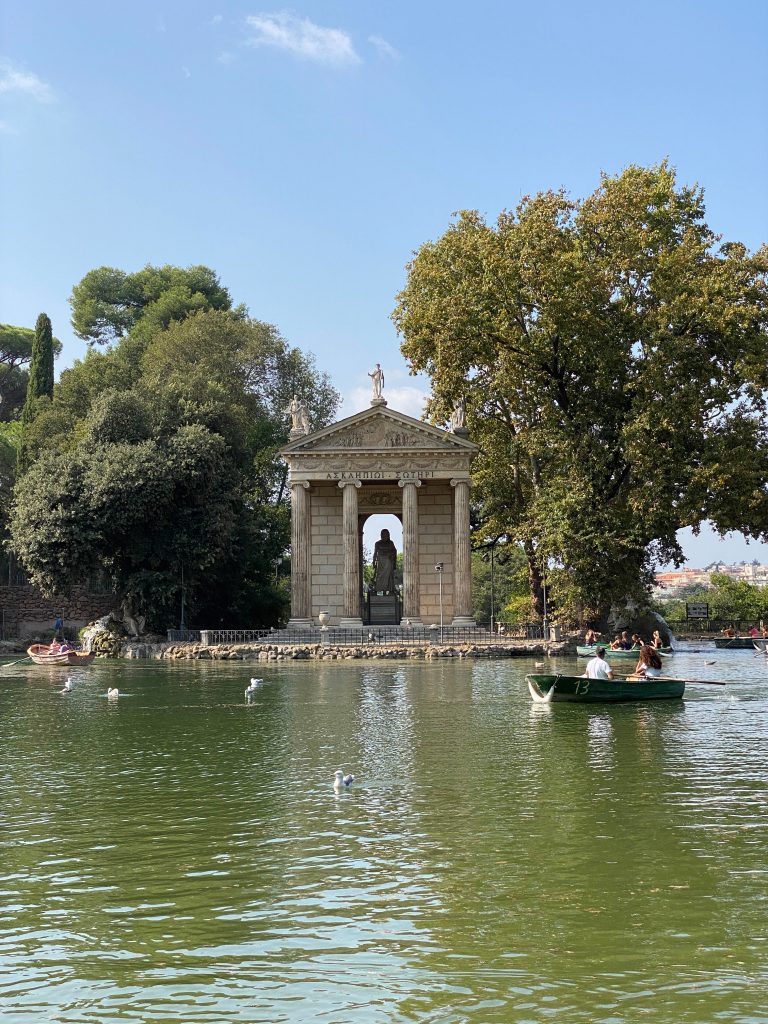 We were making the most of the day, and despite having seen everything we had planned for the day, we had only been sightseeing for three hours, so we decided to throw in a few extras for the day.
Castel de Sant'Angelo (Castle of Saint Angelo). It took us about 20 minutes from the lake to get there, and on the way, we stopped to buy ice cream at "Neve di Latte".
The entrance to this castle costs € 15 per person, and you can download a free app that will be your audio guide throughout the visit.
We visit its wall, defences, papal rooms, courtyards and even the highest terrace from which you can marvel at the views of Rome and see the Angel on the top of the castle up close.
In addition to all this, before leaving, you can ask the castle staff to show you some more exclusive rooms of the castle such as the papal baths and other spaces that are not normally part of the tour, but when we asked, they told us that due to the COVID-19 they were closed to the public.
Castello di Sant'Angelo
We wanted to try the best-rated restaurant in all of Rome for dinner, Mimi e Coco. An Italian restaurant about 7 minutes walk from the Pantheon and for which they don't accept reservations. The place is small, so the waiters put a lot of pressure on you to order and eat quickly… although the food is quite good and we really enjoyed their "pinsas".
Day 2 in Rome – Visiting Rome
We started the morning at the restaurant "Antico Ristorante Cafe Capranica" where they served us a coffee and a croissant every morning because we stayed at our hotel closeby.
We had about a 25-minutes walk to the Colosseum, but we decided to take a taxi that for 8.5€, took us to the Arch of Constantine, the starting point of the Colosseum, Roman Forum and Palatine tour that we had booked with Civitatis, book your time here. The tour was scheduled to last about 3 hours, but because we didn't need to queue and strolled calmly and without crowds, the tour lasted almost an hour less, but we enjoyed every second and every explanation.
Roman Forum and Palatine Hill
On our tour, there were only 3 of us and the guide, and due to the low volume of people in Rome in general, we visited the Roman Forum and had it all to ourselves. There, we had time to calmly enjoy what was once one of the busiest areas of the city, with hot springs, churches, temples, squares, the place where the ashes of Julius Caesar are buried and a terrace from where you can enjoy the views of the Forum with the Colosseum in the background.
Roman Forum and Palatine Hill
Colosseum
Next, and included in our tour, it was time to visit one of the wonders of the world, the Colosseum. This building will make your jaw drop to the ground in awe, as you can't help but marvel at the technique of those who designed and constructed it.
The Colosseum
The guide explained how the Colosseum had sails made of silk that was used to provide shade to the crowds from the sun, how they performed naval battles right there, how they designed a system of cages hidden underground and how, during the time that the Colosseum was active, the lives of more than three hundred thousand gladiators and more than nine hundred thousand wild animals ended.
City center
To continue with our tour, we decided to rent an electric scooter that would take us from one place to another without getting so tired and, at the same time, we acted out our version of Roman Holiday, but set in 2020.
We walked down the street of Fori Imperiale, skirting the Roman Forum, and within a few minutes, we arrived at the Piazza de Venecia where you can see:
Monument to Vittorio Emanuele II: a giant white monument commemorating the first Italian king. You can see the panoramic views of the Colosseum and the Roman Forum for € 10 per person. Although having seen the Roman Forum and Palatine Hill's views, the guide told us it wasn't worth it.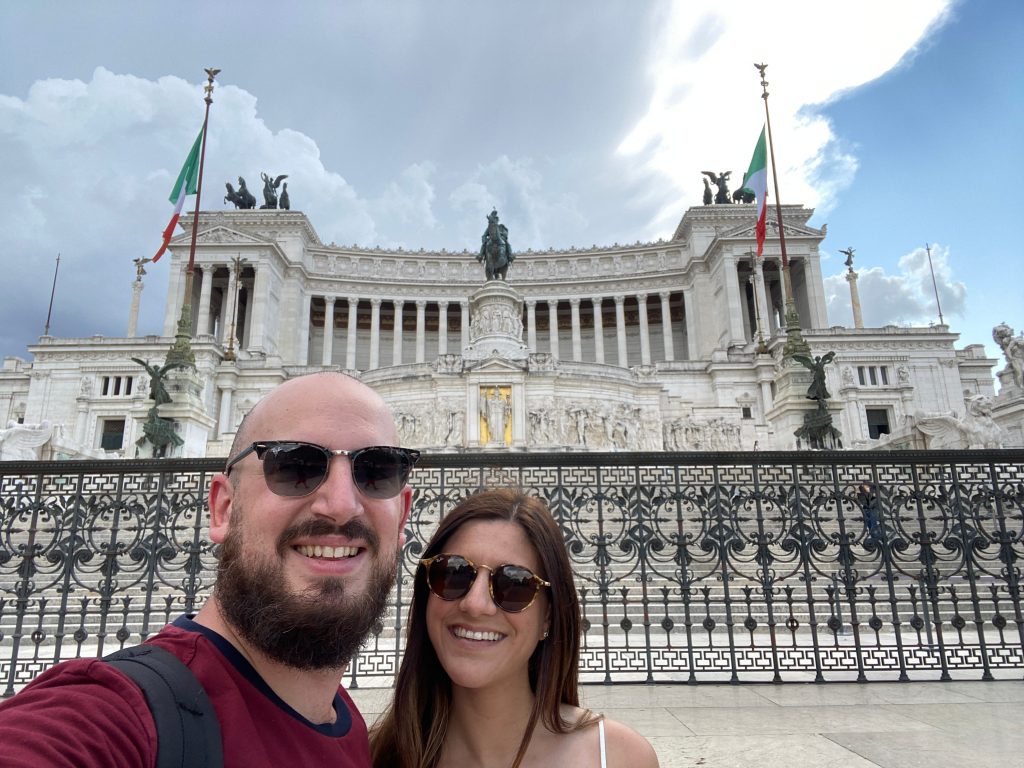 Trajan's Market: a couple of minutes away, we find this old market inspired by the Colosseum.
Trajan's Column: Right next to it, you'll find this colossal 38-meter column.
Trajan's Market and Column
Piazza Campidoglio/Capitol Square: This square is located just behind the Monument to Vittorio Emanuele II. Once you reach the top of the steps, you will see the three buildings: the Senate Palace, the New Palace and the Palace of the Conservatives.
There you can access the Capitoline Museums where you can see, among other things, the famous statue of Lupercal, the she-wolf that suckles Romulo and Remo.
Steps and Piazza Campidoglio
Jewish quarter: When you go down the square's steps again, if you head to the left, in a couple of minutes, you will see an old building similar to the Colosseum, this is the Marcelo Theater and also, the oldest building in Rome.
If you stroll through these narrow streets, you will see a beautiful synagogue, golden cobbles with the names of Jews who disappeared or got deported and never returned, the Fountain of the Turtles and the Piazza de Argentina, the Senate and the place where Julius Caesar was murdered. Funnily enough, it's best known for being home to many stray cats.
Teatro di Marcello, Great Synagogue of Rome, Jewish Quarter and Piazza de Argentina
Visiting basilicas
The basilicas we wanted to visit were located to the east of the city centre, so we got back on the electric scooters and set off. When we left them, we realized that we could have gone by taxi in half of the time and money, but of course, we would not have "looked cool" sat in a taxi. In about 20 minutes, we reached our first stop.
Basilica of San Pietro in Vincoli: here you can see one of the most famous works of Michelangelo, the Moses and also, the chains of Saint Peter, all free of charge.
Basilica of San Pietro in Vincoli and Michelangelo's Moses
Basilica of Santa Maria Maggiore: About 10 minutes on foot from the previous one and with free admission, we find one of the largest basilicas in Rome and accessed from the back. In it, you can get lost gazing at its golden ceilings, the statue of Pope Sixtus V and a small chapel also called, The Sistine Chapel.
Basilica of Santa Maria Maggiore
Basilica of Santa Maria de la Vittoria: Also about 10 minutes away from the last one and free, we can access this basilica to see Bernini's famous masterpiece, The Ecstasy of Saint Teresa.
Bernini's Basilica of Santa Maria della Vittoria and The Ecstasy of Saint Teresa
At night we went for dinner in Trastevere, at the Tonnarello restaurant, in theory (according to TripAdvisor), the third best-rated restaurant in all of Rome. We say "in theory" because, it wasn't amazing, although, without a doubt, the best, was the wine that we drank and the many Free shots they gave us after finding a piece of plastic in our frozen strawberry dessert. Yeah, they basically got us drunk in exchange for our silence, and we allowed them to get us drunk.
Day 3 in Rome – Pompeii and Mt. Vesuvius
Because we were making the most of our time in Rome, we decided to book a day tour we were looking forward to doing, visiting Pompeii.
Pompeii city
We booked our Civitatis tour and bright and early, at 7:30 a.m., we were all on the bus that in about 3 hours would take us to the famous city of Pompeii, which in the year 79, was buried under 20 meters of ashes from Mt. Vesuvius.

We recommend that you take a map if you go by yourself, as you won't find any there to guide yourself through the streets and not miss anything important.
Upon arrival, we couldn't believe our eyes—a city in extraordinary condition (counting that it's more than 2000 years old). As you arrive, you can walk quietly through the streets of this ancient city, along its sidewalks, drink from its fountains, cross its pedestrian crossings, see the remains of its temples, squares, bars, brothels, bakeries…
But you can also walk through the houses, perfectly preserved, in their original condition from 2 millennia ago; you can still admire the frescoes that were painted on the walls, explore the distribution of the rooms and even guess the economic power of its neighbours.
If you walk to the end of the city, which is approximately one kilometre away, you will reach the theatre, the gladiator school and lastly, the amphitheatre, which is in excellent condition and which you can visit.
We were not expecting to see a city as such, in fact, we didn't expect to see more than a few ruins, and of course, we also got a chance to see the famous petrified citizens who got trapped under the ash. We were really impressed by Pompeii.
Mt. Vesuvius
At the end of our visit to Pompeii, we headed to the Mt. Vesuvius, the volcano responsible for that catastrophe and what made it possible for us to learn so much about this ancient civilization.
If you are thinking of visiting it on your own, the admission to Mt. Vesuvius has a price of 11€ and must be purchased in advance. The ticket office was closed when we visited, and once at the entrance, there is no mobile phone reception to buy your tickets online.
You have to show the ticket along with a form of ID at the entrance, and from there, you can start your expedition to the top. The tour company gave us a little more than an hour, and that's, more or less, how long it took us to walk up and down, and the truth is that it is well worth it. It is a dirt path but flat and accessible even with children. We recommend taking a jacket, as it is noticeably colder at the top, compared to Pompeii, and wear comfortable and dark sneakers because the volcanic dust will likely stain them.
The first part that leads you to the first souvenir booth is the hardest (and steepest), and the next two sections that end with a further two souvenir booths are much more benevolent. Throughout your climb, you will enjoy unparalleled views of the two bays, the volcano's crater, the island of Capri and even some smoke that the volcano still expels.
That evening, back in Rome, we decided to go for a romantic dinner and what better, than just below our hotel at the Caffé da Claudia Restaurant, with good food, reasonable prices and unbeatable views of the Pantheon. To make our day even more perfect, we finished it by having ice cream at Giolliti ice cream parlour.
Day 4 in Rome – Vatican and Rome City Centre
At 7:30 in the morning, we had already had a coffee at the La Tazza d'Oro cafeteria, La Casa del Caffé, known for preparing "the best coffee in the world". It's almost in front of the Pantheon, and the truth is that coffee was delicious. We recommend that you try it at the bar as, if you sit down, the price increases considerably.
We were going to spend a large part of the day visiting the Vatican, a nation-state, the smallest in the world and completely independent from Italy, so we advise you to take your Photo ID or Passport because it's possible that they'll ask you for it, and also that you dress appropriately: covered knees and shoulders.
The Pope's General audience
We had read that the Pope hosted audiences twice a week which you could attend free of charge. We were going to be there on a Wednesday, so we decided to visit him.
At 8 in the morning, we were already in St. Peter's Square queuing to see the Pope! Despite not being religious, seeing such a global figure was fascinating. To us, it was like seeing the "Spice Girls of the Vatican".
After some temperature and safety checks for COVID-19, we were guided to an inside square where about 500 chairs were scattered and separated from each other.
We recommend that you sit in the front rows to get close and see him well during the service, which they conduct in 8 languages. On the other hand, to greet him, take a walk from the door facing the stage, up to the stage itself, and position yourself next to the railings to be in the front row. Pope Francis calmly walks down the aisle and spends a lot of time with those in attendance, so you are sure to enjoy the experience.
In August and September, we didn't need a ticket, but during the rest of the months, you will have to reserve a ticket (always free) that you can obtain from the convoluted Vatican website, here. Once you have it filled out, you must send the form by ordinary mail or by fax. Yes, by fax. And no, it cannot be by email or telephone.
Once the general audience is over, you will be able to see and buy the photographs of that moment at this link.
Basilica of Saint Peter
When we finished the general audience, we went to visit St. Peter's Basilica, in the same square. The entrance to the basilica, like all others in Rome, is free of charge.
St. Peter's Square and Basilica, Vatican
This basilica has three levels (physically and historically), the first with the pagan mausoleums dating from the 1st century to the time of Nero, the second with the remains of the early St. Peter's Basilica that Emperor Constantine, the first Emperor who allowed Catholicism, built approximately in the year 300 and the level we were visiting at that time, which was the current St. Peter's Basilica, completed in the 15th century.
When we arrived, the first thing we did was visit La Pietá by Michelangelo, a fascinating sculpture that we enjoyed as it deserves, due to the low number of visitors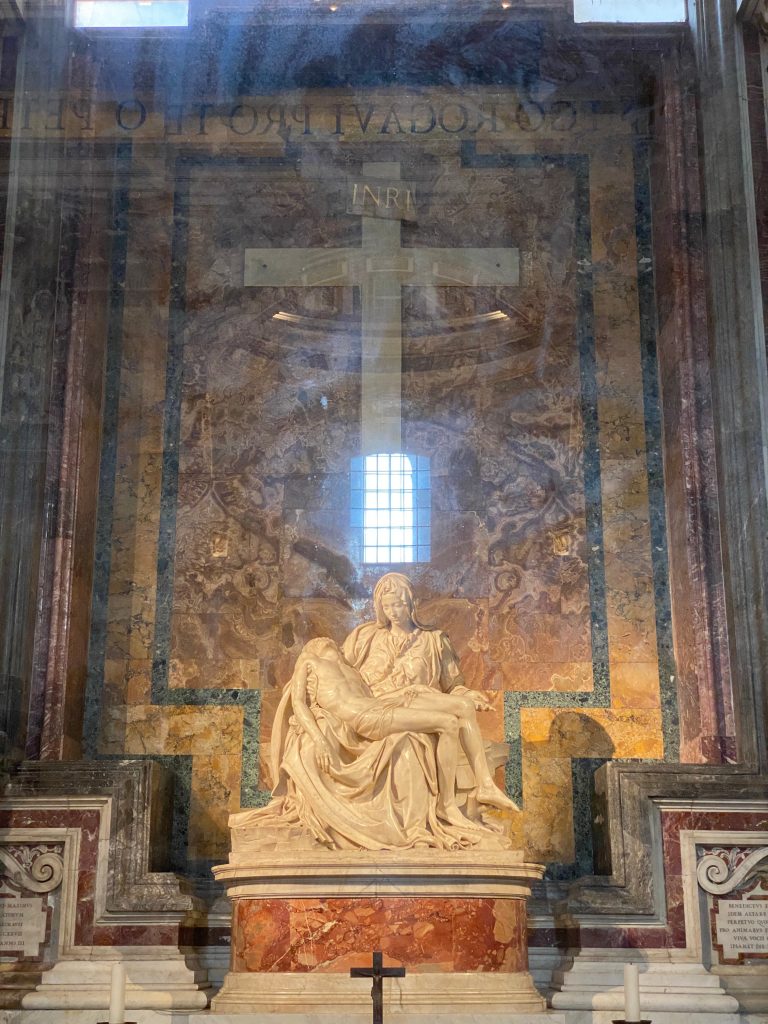 We wanted to visit the dome and the panoramic views of Rome, so we followed the little signs as they led us to a small ticket office where you could buy the admission to go up the first flight of stairs on foot, this ticket cost 8€, or as we did, for 10€, you could buy the elevator ride up the first flight of stairs. After that, you will still have a long climb up narrow steps and stairs, but the views of St. Peter's Square are worth it.
Next, we spent some time walking and visiting the immense Basilica, some papal tombs, works and frescoes surrounding this place, until we ended up at the Vatican Treasury Museum. For 5€ per person, you can admire (without taking photos): liturgical vestments, jewels, chalices and relics such as skulls and teeth of Saints, parts of the Holy Cross and even the finger of Saint Peter. All of them invaluable in the Vatican's collection.
The museum's entrance and exit are located next to the souvenir shop where you can buy, amongst many other things, small glass jars that you must take to the Sacristy to be filled with holy water. You can look inside a room where the Vatican Cross is located in that same souvenir shop without buying a ticket, but it's a bit hidden away.
By then, we decided to have lunch at Via Delle Fornaci, located to the Vatican's right, a street full of restaurants. We walked for a few minutes for dessert and tried Hedera ice cream, one of our favourites in Rome.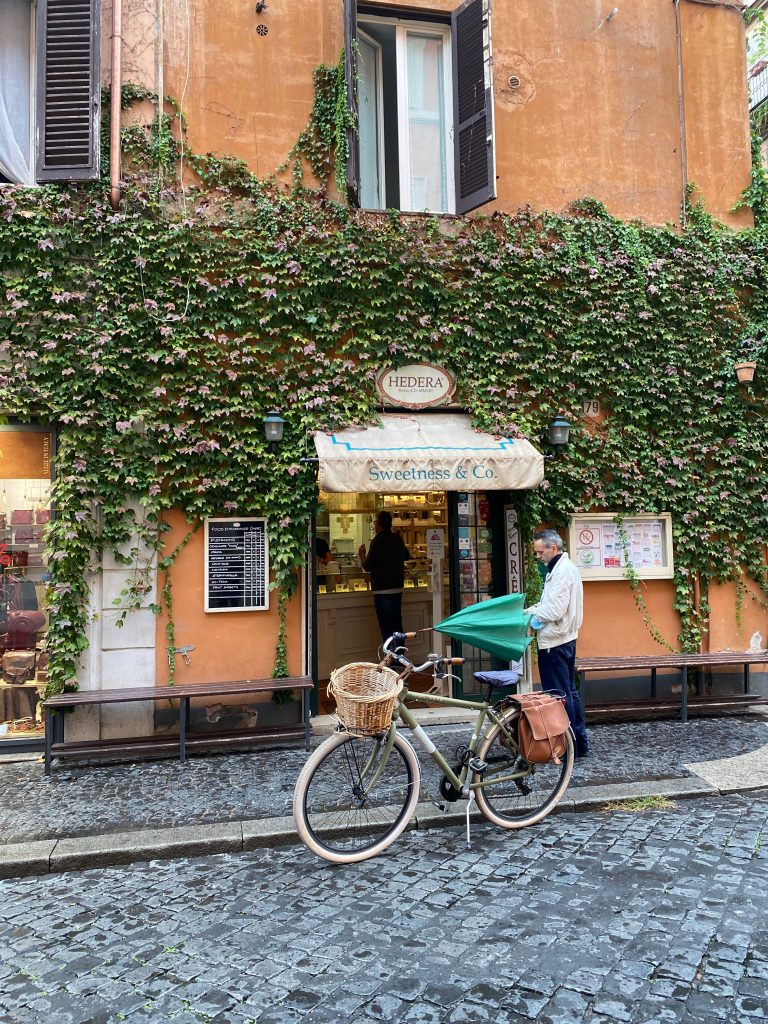 At 1:30 p.m., we were already heading to the meeting point to visit the Vatican Necropolis, a place so sacred that they prefer to call the tour a pilgrimage.
You can buy your tickets for just 13€, and you must fill out the form on this website. However, as the website doesn't work very well, we would recommend sending a fax to the number: +39 06 698 730 17 with the number of participants, name of each of the participants, the language of the visit, days in which you might be interested in making the visit and your email address, fax or postal address to where you'd like to receive the response.
On this tour, you can see the first and second levels of the basilica. From visiting the wealthiest Romans' mausoleums from Nero's time and ending the tour at Saint Peter's tomb. A visit that we loved.
Just a couple of meters away from the remains of Saint Peter himself there is a small chapel where you can go, free of charge, every day of the year at 7:00 in the morning, to celebrate a mass. Just arrive early, pass through security and request to participate in this almost private mass in one of the most sacred places known to Christianity.
On your way out and near this chapel, you will find the tombs of many Popes, who were considered descendants of Saint Peter, buried as close as possible to the saint.
Rome City Centre
From the Vatican, we took a taxi that took us back to Rome's city centre, in this particular case, to the south of it, to visit more famous places in this city that we've fallen head-over-heels in love with.
Basilica of Santa María in Cosmedin. We started with this basilica made famous by the film Roman Holiday when Audrey Hepburn put her hand in the Boca de la Veritá. As it's only open on Saturdays and Sundays, it was closed, although we could see the famous mouth through the gates.
Foro Boario: Just opposite, you will see this circular building, also known as the Temple of Ercole Vincitore, a space used as a commercial meeting centre.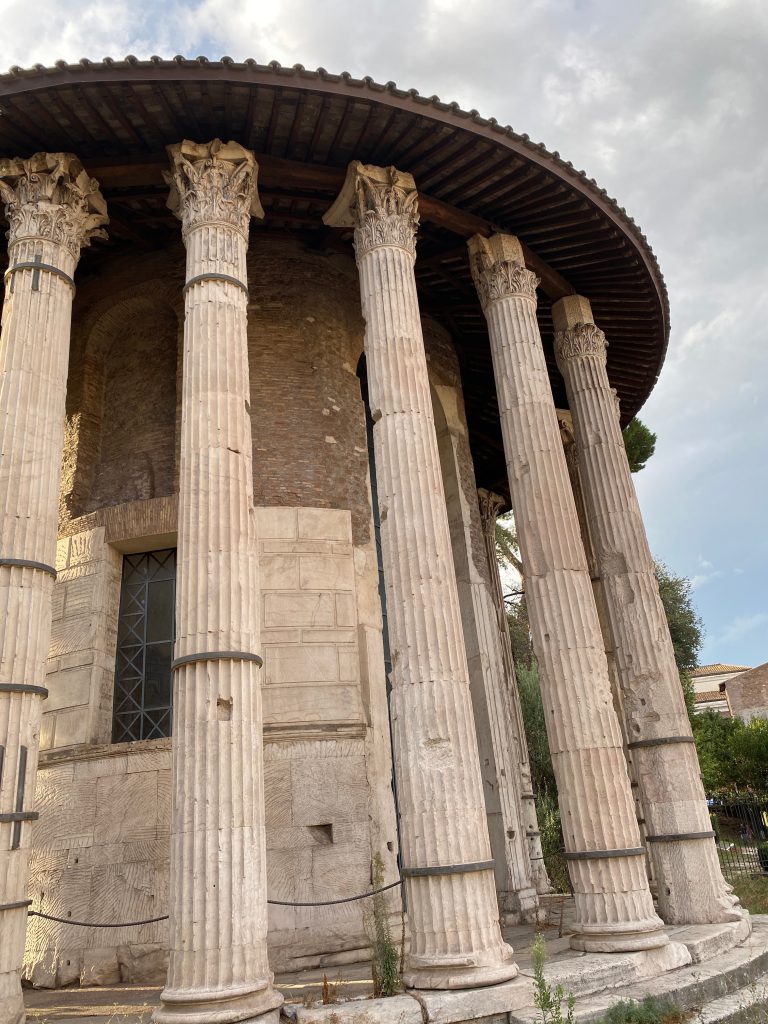 Temple of Portunus: and right next to it, you find this pantheon. Both buildings can be visited on the first and third Sunday of each month from 9:00 to 12:00. You can call 06 39967700 to find out about admission prices, schedules and languages.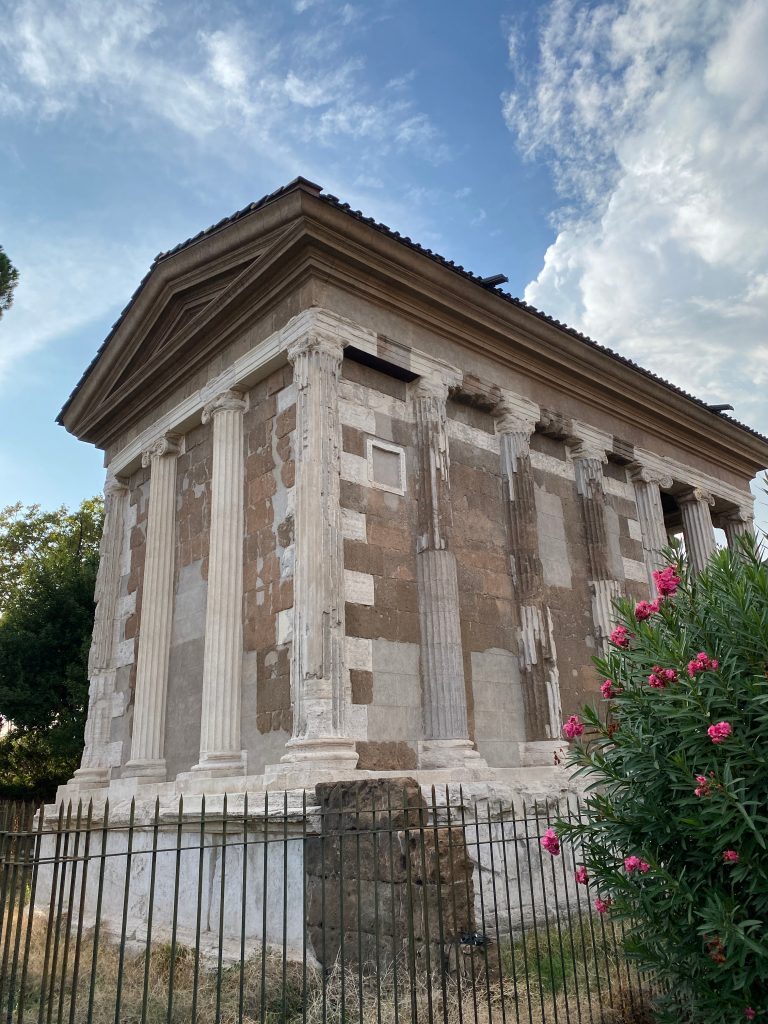 Circus Maximus: While we were walking we saw that we were passing by this old stadium where only the shape remains, with some ruins and a small building.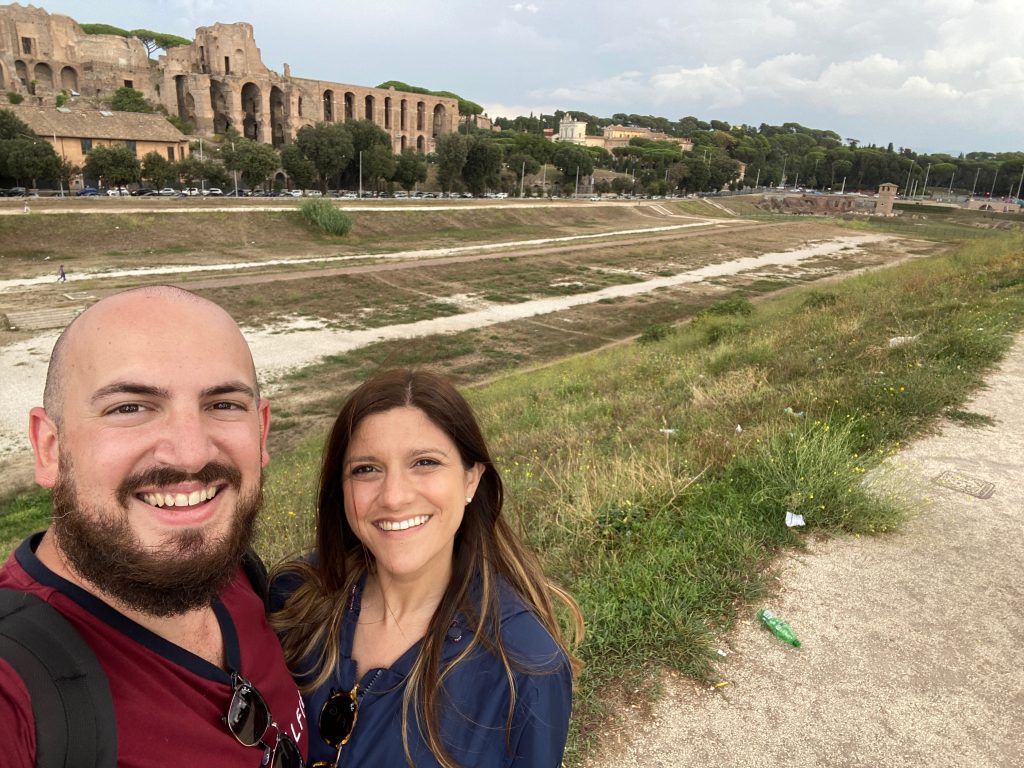 Giardino Degli Aranci: From the Piazza di Santa María in Cosmedin and following the direction of traffic, on the left, you will find a steep slope. If you arm yourself with courage and climb it right to the top, you will arrive at this park from which the views of Rome are incredible, and there are probably even musicians who will liven up the panoramic views. This park isn't massive and only has one gate. On your way out, there is a kind of Boca Della Veritá, and since we couldn't put our hand in the original one, we took a picture in which, playing with the camera's perspectives, seems like we are putting our hand inside its mouth.
Historical Garden of San Alessio: From this garden, you can see the same views as in the previous one, but it's much quieter.
The Piazza dei Cavaliere di Malta: Right next to the Historical Garden of San Alessio, we find this small square. You will see it straight away, due to the queue of people peeking through a lock from which you can see the dome of St. Peter's Basilica. Behind these gates, the Order of Malta stands and governs by Malta's laws. The Order of Malta is so influential that it is rumoured that Pope Ratzinger's abdication had something to do with them.
At the end of an exhausting day of sightseeing, we went for a walk around the Trastevere and while we waited for our friend, we visited the Basilica of Santa Maria di Trastevere.
We had arranged to meet for dinner at Restaurant Nannarella, the second highest-rated restaurant in Rome. Once inside, we saw that it was part of the same restaurant chain as Tonnarello. We immediately noticed that they had good reviews, despite the good food, because they invested more in marketing, but not necessarily because they were the "best in Rome".
Day 5 in Rome – Vatican and Pasta Making
In the morning, as if it were our day-to-day, we woke up and went to the Capranica restaurant for breakfast, with the luck of having a front-row seat to see how they recorded the scene from a movie the square in front.
For that day we had booked the excursion of the Vatican Museums via Civitatis, a tour that we recommend because these museums have more than 7 km of galleries, crammed with thousands of items. Having a guide will help you visit the most famous pieces, make the most of your time and, as a plus, you get to learn about each piece's history.
If you prefer to visit it on your own, you can buy your ticket online for 17€, here.
We were very fortunate to visit these museums with very few visitors, as pre-COVID, people only remember the constant flow of crowds which took you from one room to the other. On this occasion, we could calmly observe and photograph each piece and listened to all of the curiosities that our guide told us about the museums.
Amongst the various galleries that we visited, the one we enjoyed the most was the Gallery of the Maps, with its more than 120 meters in length, and a compilation of dozens of maps of the Italian geography and of course, delighting ourselves with the famous Michelangelo frescoes of the Sistine Chapel.
To end our visit, we reached the spiral staircase, which is the delight of all the influencers who visit the museums and ours, of course.
Rome City Centre
We had already learned that restaurant ratings were nothing to pay much attention to in Rome, so we decided to go to restaurants that had been personally recommended to us. Unfortunately, close the end of our holiday, we began to enjoy the famous Italian cuisine.
We visited Campo de Fiore, a square that fills with a bustling local market and is surrounded by trendy bars. We ate at the Osteria de Fortunata, a wonderful place, with a delicious meal and a chef, making the pasta what were you going to eat on the spot.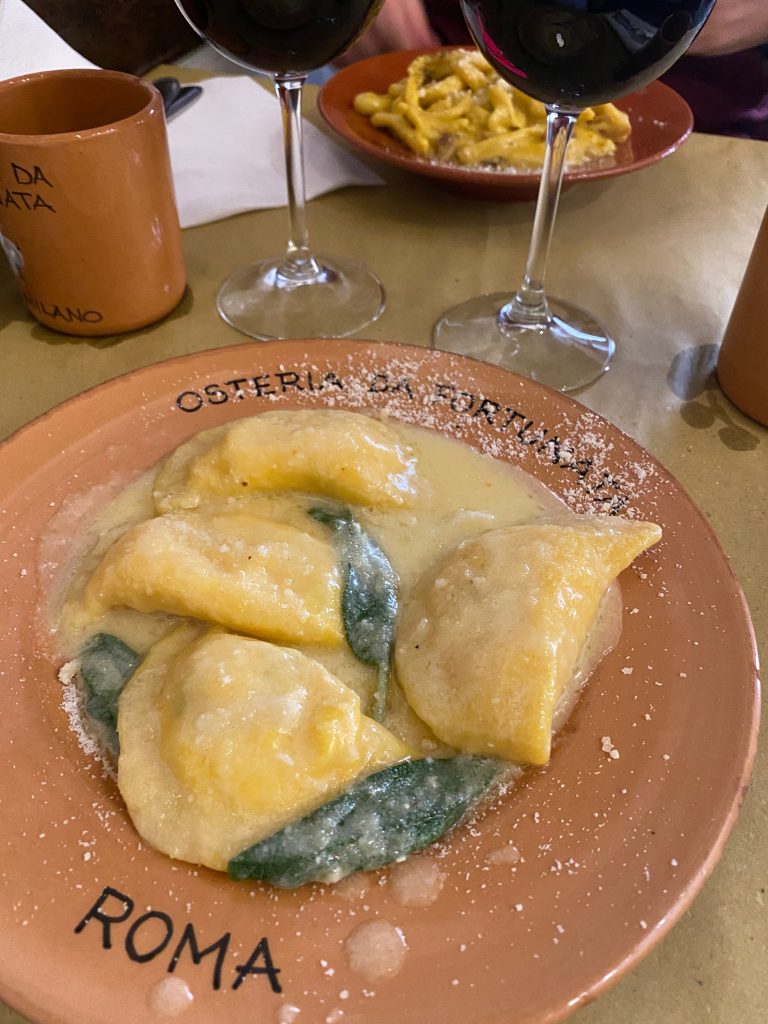 A few minutes away, we walked to get ice cream from the Frigidarium ice cream parlour. By then we knew so much about gelato that we could write a blog all about Rome's ice cream shops.
Our friend had booked us in for an experience that we were eager to try. It was an Italian food cooking class. On the way to the location, we asked the taxi driver to stop at the Basilica of Saint Paul Outside the Walls (San Paolo Fuori le Mura) which, together with that of Saint Peter, is the largest in Rome. Inside, you can find the tomb of Saint Paul.
At around 6:00 p.m., we arrived at Sveva's house, a woman who opened the doors of her home to us and taught us, as her grandmother taught her how to prepare fresh pasta.
Upon arrival, she opened a bottle of wine and offered us a snack, and then, we got down to business.
Making this famous food was a wonderful and fun experience we'll never forget. The best thing is that we ate our own culinary masterpieces, accompanied by a bottle of good wine and the best company. An experience that you shouldn't miss if you visit Rome. You can book your Italian experience by contacting Sveva on this email.
Day 6 in Rome – South of Rome
This was our last day in this city that we loved, and although our transfer picked us up at 12:30, we made the most of the day, and this is what we did.
Via Appia Antica and Gate of San Sebastiano
We caught a taxi that would take us to the Gate de San Sebastino. The ancient Rome gate from which the Via Appia Antica, the ancient Romans' road that connected this city with Pompeii and Naples, started.
We were very excited to see remains of this road which dated back to 300 BC. However, upon arrival, we were disappointed to see it was still in use today and full of traffic, whereas we expected to see a completely secluded and protected road.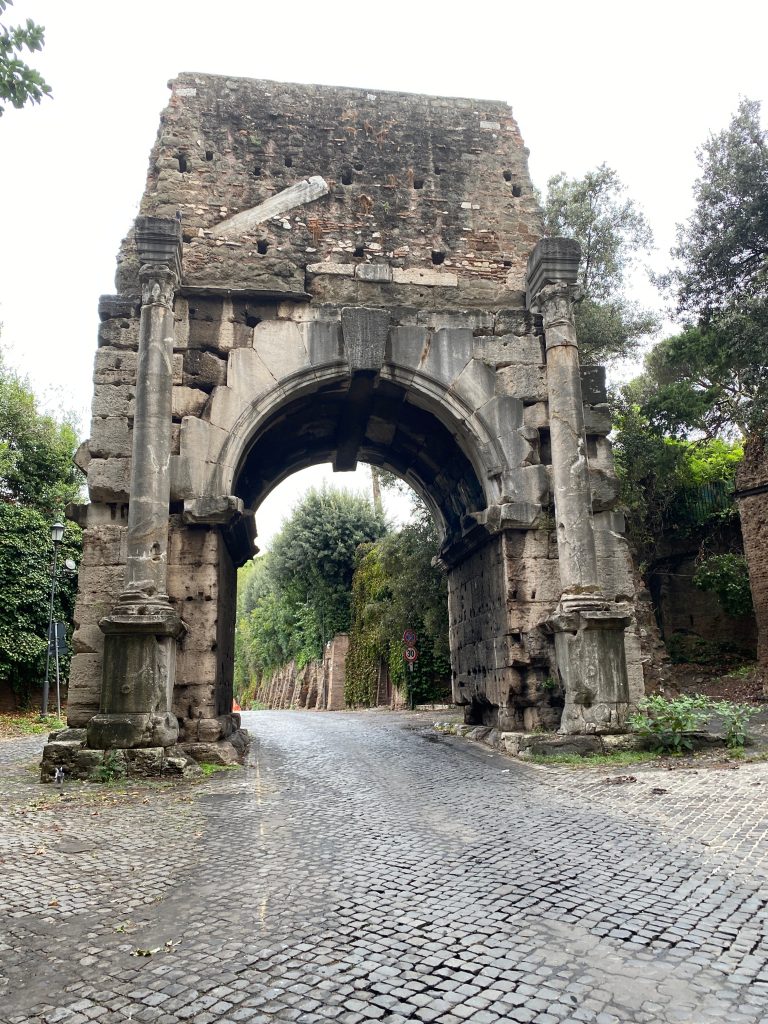 Right there, you can find the Museo Delle Mura and also, from that point, you can walk to the Parco Regionale dell'Appia Antica, but as we didn't have much time, we got back into the taxi to take us to our next stop.
Catacombs of Saint Callisto
The taxi dropped us off right at the gates of the Catacombs. Our trip from the hotel cost about 15€, although it can also be reached within 40 minutes on lines 118 and 228 of the urban bus.
Before going inside, we decided to walk down a beautiful path with cypress trees on either side, where, right at the end we found a sign with the name of the street called Via Appia Antica.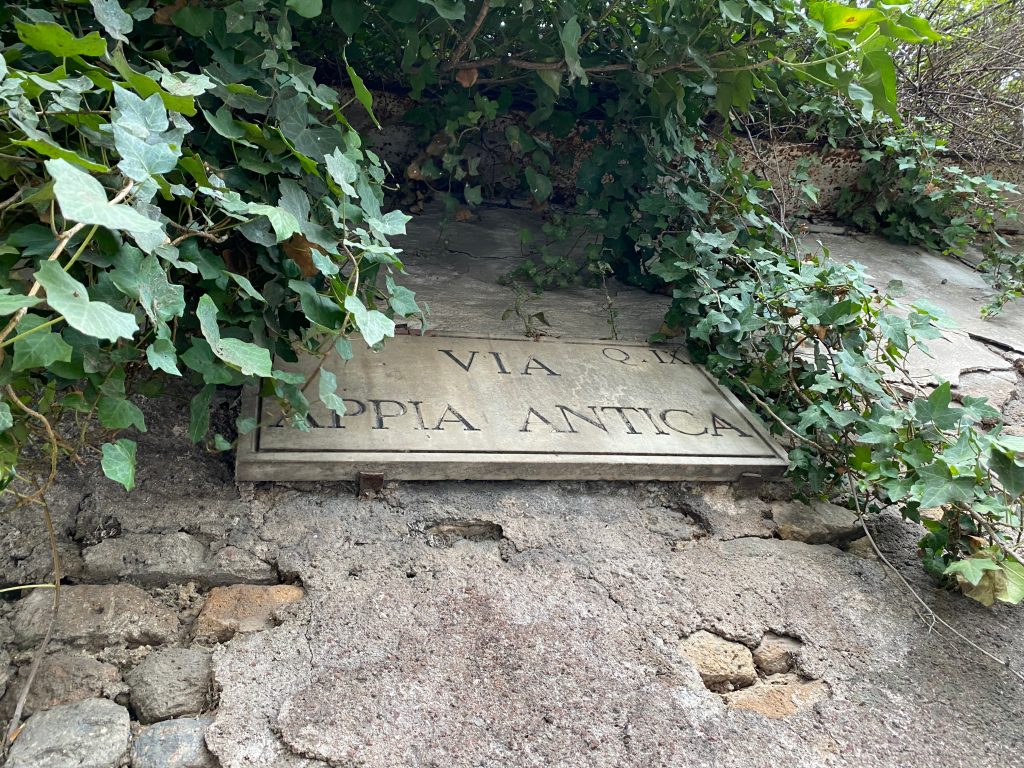 After this pleasant walk through what looked like an area of mansions, we returned to the ticket offices, where for 8€ each, you could buy the admission to the catacombs that also included a 45 minute guided tour which could be in several languages. The English tour started at 09:30 am, and at 10:15 am the tours in other languages started. You need to take advantage of these tours because the catacombs can't be accessed without a guide.
Our guide, Don, told us that these Catacombs, which you can't photograph, get their name from the Pope Saint Callisto, who, whilst still dean, managed these catacombs composed of 4 levels, which are 20 meters underground, carved in volcanic rock. They are the largest of the 60 found in Rome, as it was home to more than half a million buried bodies.
In these catacombs, in the Hall of the Popes, the remains of 6 popes from the year 200 were found and frescoes still in good condition.
At the end of the visit, we understood why it wasn't possible to visit it without a guide. It's a labyrinth in which it's easy to get lost, so we recommend that you don't separate yourself from your tour guide and take a jacket because it's colder once inside.
Baths of Caracalla
Closer to the city centre, we find these hot springs that were undoubtedly the 5-star public baths of their time.
These springs are open from 9:00 a.m. to 6:30 p.m. and on Mondays until 2:00 p.m. The price of admission is 10€, and we visited without a guide.
They are composed of a landscaped spaces and enormous buildings with several areas in which you will need a lot of imagination to be able to "see" the Romans taking their bath, chatting and enjoying these rooms full of statues, mosaics and other luxurious details.
Useful Information
| | | |
| --- | --- | --- |
| Currency: Euro | Type of Tourism: City | Safe to Drink Tap Water: Yes |
| Weather: 25ºC in September | Average Cost: 3/5 | Driving Side: Right Hand Side |
| Time Zone: UTC/GMT +2 | Socket Type: F/L | Best Form of Transport: On foot |
| Population: +- 2.87 Million | VISA Required: No | Safety: 3/5 |
| Languages: Italian | Veggie Friendly: 4/5 | Children Friendly: Yes |
Tips
The city of Rome allows you to visit the vast majority of its tourist spots on foot, and you will be surprised how close they are to each other.
There are some lines of the subway, although most people travel by scooter, taxi or bus.
All the churches and basilicas in Rome that we visited were free. We recommend go inside and walk around because almost all of them have famous works of art and small relics worth visiting.
We visited almost everything on our own, although we feel it's necessary to visit the Vatican Museums with a guide due to their sheer size and the Colosseum and Pompeii for all the history they are home to.
If you have time to spare, we missed: the Gianicolo, a park with beautiful panoramic views, the Domus Aurea which was Nero's mansion and which you can visit for 14€, the Archbasilica of San Giovanni in Laterano, stroll through Tiber Island that connects the two parts of Rome and Eataly, a place where they say that you will indeed find the best souvenir.
In this city, Uber is more expensive than standard taxis, so we recommend traditional taxis if you can choose.