We visited The Bahamas onboard Royal Caribbean's Navigator of the Seas cruise ship and docked in the capital, Nassau, and on Royal Caribbean's private island, A Perfect Day at CocoCay.
This is what we did during our two-day visit:
Day 1 – Nassau, Bahamas
We woke up ridiculously early because we were excited about the thought of the big buffet breakfast that was waiting for us on the cruise. Once we had an overly-full stomach, we decided to start our day in Nassau, the capital of the Bahamas.
We had planned to visit the city centre and then spend the day at Paradise Beach, which is extremely popular and came highly recommended and is located just a 10-minute taxi ride from the cruise terminal and which only costs about $10 each way. Unfortunately, the weather wasn't great, so this is what we visited in half a day:
Straw Market
As we walked out of the cruise terminal, we came across the famous Straw Market, which is a market full of colourful shops where you can buy souvenirs or braid your hair in the traditional Nassau style.
The Supreme Court
We only walked 5 minutes to reach the Supreme Court, which was a pink colonial building located in a pretty square with a statue of Queen Victoria.
We were a bit unfortunate because during the months of December and January they celebrate their Carnival, so everything was full of stalls and seating, so we couldn't really admire the architecture and could hardly take pictures. But without the stalls, it's a beautiful place because each façade is painted in a very striking colour that gives any passer-by a sensation of joy and happiness.
The Supreme Court
While in the area, several tour guides approached us to offer guided tours of the city. As the weather was lousy, our plan to spend the day on the beach was falling apart, so we decided that the best thing to do would be to go on a tour and learn little more about the capital.
We were looking at the options and locations each of the guides offered until we finally decided on a tour which cost $25 per person.
The Queen's Staircase
The guide who sold us the tour took us to a bus with free wifi where we were left entertained checking our social media while he found more tourists who may be interested in doing the tour.
Once the bus was full, we headed to our first stop, and we stopped in a large square where we visited the Queen's Staircase.
The staircase was full of tourists taking pictures with locals using the steps to train and exercise "Rocky Balboa mode" (only suitable for the brave, motivated people who have not had a large breakfast on a cruise ship).
The Queen's Staircase
The guide told us that the stairs had been carved by slaves and that they were used to escape when the city was under attack.
At the bottom of the stairs, there was a path with plants and tall stone walls on either side. We walked until the end of the walkway and ended up at much more benevolent stairs which took us back to the square where the bus was waiting for us.
Fort Fincastle and Water Tower
In that same square, we found Fort Fincastle, built by Lord Dunmore in 1793 to protect Nassau from the pirates and also the Water Tower, surrounded by souvenir stalls.
Fort Fincastle Canon and the Water Tower
In this market, you will have to put your haggling skills to the test, if not, they will ask you for truly abusive prices for any souvenir.
Since we're terrible hagglers and after a lot back and forth with the seller, we only managed to find a pretty ugly magnet for an expensive $3.50 and as our free time was running out, we decided to buy it on Aliexpress instead.
Rum Cake Factory
Afterwards, the bus drove us to the Rum Cake Factory, where we learnt how the typical rum cake is prepared, taste it and buy it.
Rum Cake Factory
There were many varieties to choose from and typically, we are not fans of cakes with liquor, but they were delicious and were being sold to tourists left, right and centre.
Atlantis Hotel
Our last stop was the Atlantis Paradise Island Resort, a luxurious hotel with a replica in Dubai.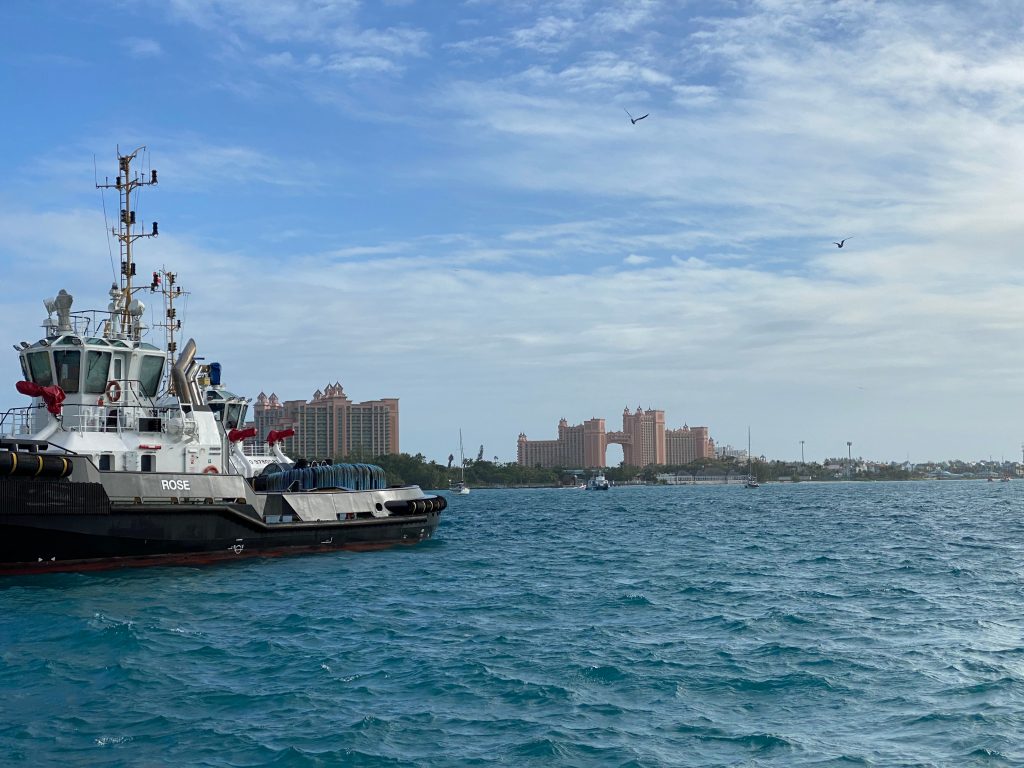 We had 30 minutes to visit the hotel. Walking through it we came across some fountains in the middle of the luxurious and well-maintained corridors, expensive shops, exhibitions… Suddenly, on the left, we saw a glass door that led us to a large artificial pool, where we continued our visit.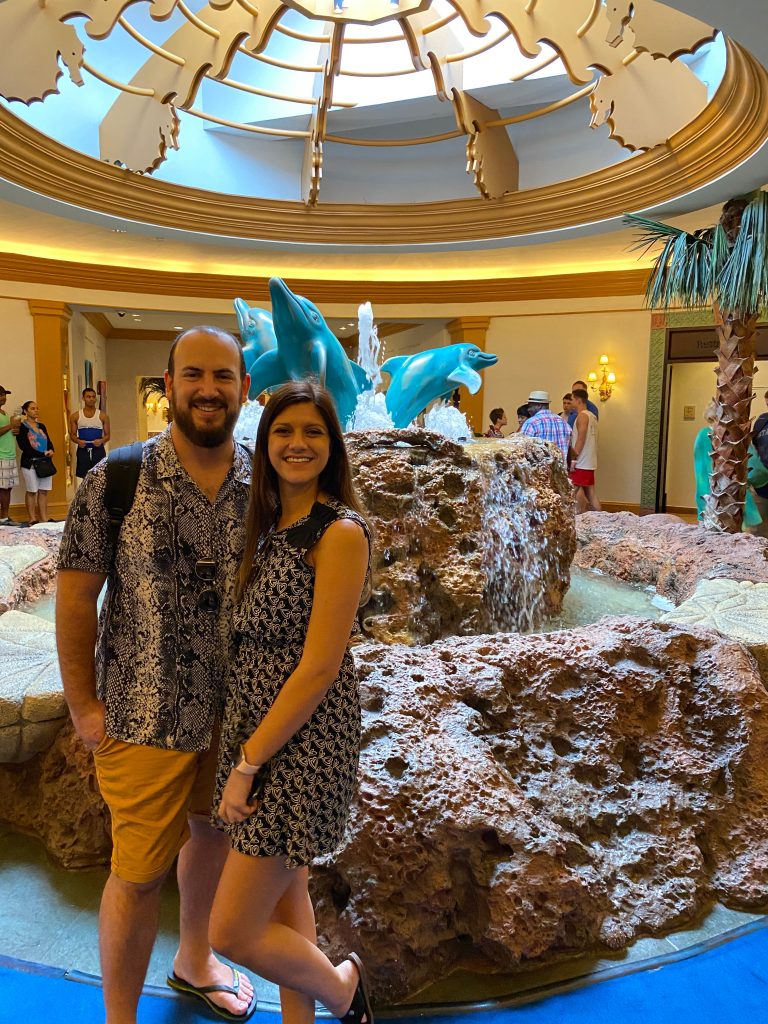 It looked incredible, and right next to it, there was a cave with an aquarium inside. We quietly admired all of the colourful fish and walked right through the cave to the end, from where we could see the ocean.
Cave, pool and aquarium in the Atlantis Resort
We went to the beach and took thousands of photos with the white caribbean sand and turquoise waters of the Bahamas.
The heavy rain was getting in our eyes, but that didn't stop us from posing for our pictures, which made us look like we were having the time of our lives on the beach in the Bahamas.
Nassau beach next to the Atlantis Hotel
To be honest, we made the most of the 30 minutes we had and when 25 of those minutes had already passed, we remembered that we still had a long walk back to the bus, so we started heading back.
Next to the cave, one of the hotel security guards told us that we were in a restricted area since it was for guests only.
We explained that we came from the beach and that no one had told us that it was forbidden. Still, he clarified that the beach was public and that we could be on it, but we could not be on hotel grounds, nor walk through it, and that, if we wanted to leave the hotel, the only way was basically to swim around it.
We imagine that he thought, because of how wet we were, that we had swum to the beach, so when we told him that our tour bus stopped at the hotel entrance and explained how we got there, we saw his eyes almost come out of their sockets.
As he was in shock, we clarified that no hotel staff or security had previously stopped us or told us that it was forbidden and asked that if he could do us a favour and let us through that we would greatly appreciate it. The bus was leaving in 2 minutes, and we didn't think that we would arrive on time going around the outside of the resort as he kept suggesting.
You could tell he seriously considered all options about what to do with us. After telling us that what we were saying was impossible and that we were probably lying, he finally allowed us to return through the hotel.
At the time, we felt like we were in Ocean's Eleven, Twelve and Thirteen, all the films harmoniously in one single scene, because without knowing how, we managed to enter restricted areas of one of the most luxurious and expensive hotels in the world. A group of 4 people, wearing flip flops and taking pictures of every feature in the resort!
We ran through the cave, and as we got to the other side, it was throwing it down with rain. The walkway which connected the pool and cave to the hotel was rapidly flooding, and our flip flops were floating as we ran through the puddles. We took off our flip-flops, and with them in our hands, we ran through the same sliding door we exited earlier, and again, there was nothing or no one there to stop us.
At last, we could see the bus in the distance, as we ran barefoot and wet on the fluffy and expensive rugs, we gestured for them not to leave without us.
It started to rain even heavier, and by the time we got to the cruise ship, the streets were already dangerously flooded, so we decided to put our sightseeing day in Nassau to an end and head back to the cruise ship.
Even though we had done something illegal (unknowingly), we were happy to have been able to enjoy the beaches of Nassau, even if it had only been for a few minutes.
Day 2 – Perfect Day at CocoCay
The Perfect Day at CocoCay island is an island in the Bahamas that Royal Caribbean bought years ago, so if you sail on one of its ships through the Bahamas, one of the stops will be at Perfect Day at CocoCay.
Although we enjoy the beach and the sun, our trips are never exclusively focused on spending the day at the beach. Perhaps because we live close to the coast in Spain, the sun and the beach are a part of our day-to-day, so whenever we go on holiday, we always prefer to do activities that we are unable to do at home. Maybe because of this, this activity day was not something we were looking forward to, and because we weren't expecting it, we ended up having an incredible and relaxing day, which, when it ended, we were left wanting more.
First thing in the morning, it was cloudy, and we were worried that we would have another rainy day like the previous one, but around 11 am, clouds cleared and the sun started to shine brightly. As the temperature was high, we had a perfect day in CocoCay (this is the name of the island, and I was looking forward to using it as part of a sentence).
On the island, we found many incredible beaches where we could sit back and relax. Still, if you are not a beach person, you can spend your day playing beach games and sports, see the island from above on their helium balloon, search for iguanas or go to the pool and swim to the bar to order an incredibly tasty cocktail.
There is guaranteed fun for everyone! For children, it's a very safe island because it is quite small. Additionally, if you purchase a ticket (about 100€ per person), you will be able to enjoy the water park. This is home to the Caribbean's largest wave pool and North America's tallest waterslide, which, just looking at it from the ground will give you a mix of adrenaline and goosebumps!
We spent most of the day relaxing on a sunbed, reading and chatting.
Oasis Lagoon in the middle of A Perfect Day at CocoCay island
At lunch, we went to a large hut on the beach where they offered a free buffet, just like on the cruise. The food was much lighter than what was usually served onboard but just as delicious, such as sandwiches, fajitas, fries… Exactly what you would eat on a hot day at the beach.
After lunch and hoping to feel more fulfilled, we decided to go for a walk on the beach but soon returned to our hammocks by the pool in the middle of the island.
Beach in CocoCay
At the pool, we were surrounded by palm trees, so the wind was a light breeze, and we could enjoy the sun, but next to the ocean, the wind was quite strong, and it wouldn't have allowed us to take the long nap we took by the pool.
We took loads of pictures of this incredible island and in the end, against all the odds, we enjoyed a relaxing day in the sun to the fullest. For the first time, we understood those who dedicate their whole holidays to doing the same.
Useful Information
| | | |
| --- | --- | --- |
| Currency: Bahamas Dollar | Type of Tourism: City/Beach | Safe to Drink Tap Water: Yes |
| Weather: About 22ºC in Dec. | Average Cost: 3/5 | Driving Side: Left Hand Side |
| Time Zone: UTC/GMT -5 | Socket Type: Type A/B | Best Form of Transport: Cruise |
| Population: Approx. 385,000 | VISA Required: Yes (as the cruise leaves from Miami) | Safety: 4/5 |
| Languages: English | Veggie Friendly: 3/5 | Children Friendly: Yes |
Tips
We visited the Bahamas on a cruise because we felt that it did not take much more than a day to visit some of its islands.
But as always, when you go on a cruise, the downside is that you can only visit the places where the cruise stops and only during the time it's docked. That is why we only visited Nassau, the capital of the Bahamas and a private island owned by Royal Caribbean, Perfect day at CocoCay.
If you are looking to really get to know the Bahamas and visit several of its more than 700 wonderful islands, this will not be the best method of transportation for you. You will have to fly to Nassau, and from there, book excursions or boats that will take you to any island you may want to visit.
You will be able to find any type of island that you can think of: paradisical islands, pink water beaches and even a beach full of pigs.
Another reason we decided to take a cruise, was due to the price of hotels in Miami. We found this cruise for about $ 400 each (final price for 3 nights) and our apartment 40min from Miami cost us a similar price on the dates we visited, which was New Year's Eve.
Our cruise left Miami, so if you come from Europe, even if Miami is only in transit, you will need to apply for the ESTA visa. You can arrange your visa online from the official website. It is very easy and costs $14 USD with validity for 2 years: https://esta.cbp.dhs.gov/ At the top right you can select the preferred language.
If you visit Nassau, you should be prepared to negotiate and haggle for absolutely everything. They start selling souvenir magnets for $4 and $5.