In this jump across the Atlantic, we decided, that aside from Orlando, to visit Miami and also jump on a cruise to the Bahamas and this gave us 3 days to spend in Orlando during which we did as much as we possibly could.
We had been told that, if we had a few days to spend here, the best thing we could do was visit the incredible theme parks and although Universal Studios was one of the most recommended parks, we ended up visiting: Walt Disney World, NASA and spend a whole day shopping at the outlet malls.
1st Day in Orlando – Walt Disney World Magic Kingdom
We spent Christmas Eve in Walt Disney World and we found out that this was something typical to do on that date, so we were fully prepared to endure the crowds and long queues, however, in the end, it wasn't that bad and we could tell that the theme park was well organised to prevent any sort of crowding.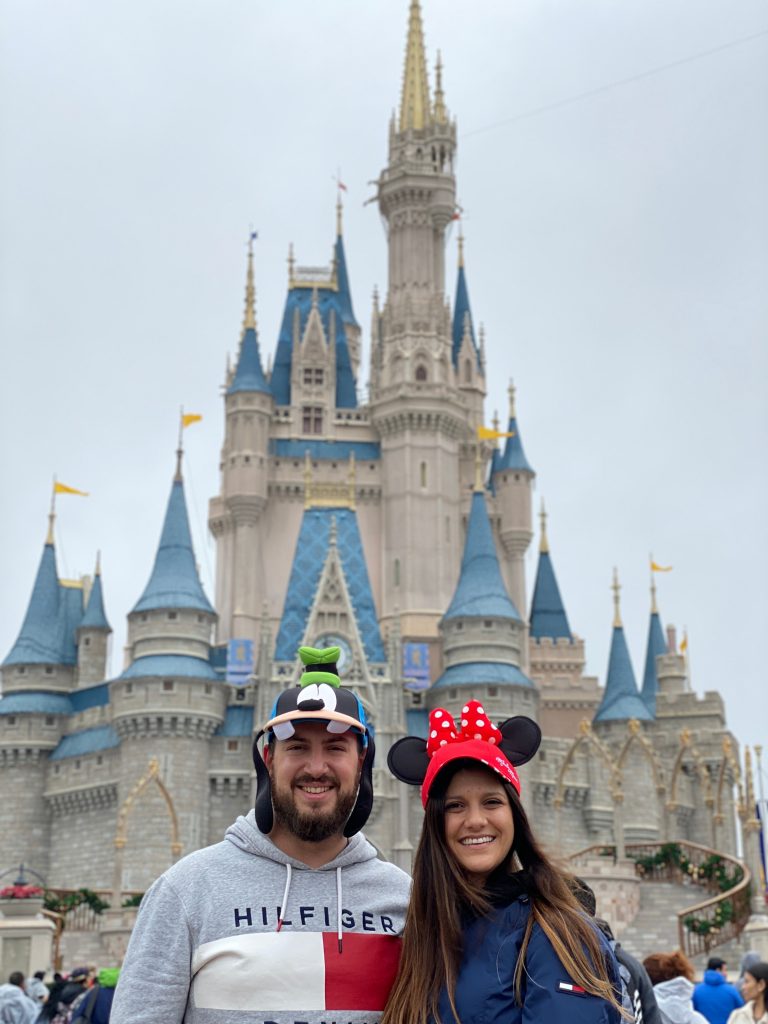 Before our trip, many friends and family highly recommended Universal Studios, but as we have visited every Disney theme park, we felt that we couldn't miss the one and only world-famous Orlando Walt Disney World.
You can purchase your day passes via this link from the official website: https://www.disneyholidays.com/walt-disney-world/tickets/
When we arrived, we paid $25 for parking and it started to heavily rain, so, as we got inside, we headed right to one of the shops to buy a rainproof poncho coupled with the typical Mickey and Minnie ears for the four of us. This set us back about $200 within the first hour.
But without a doubt, we can say that after that, the magic began.
FastPass
One of the fantastic features we discovered before our trip to Disney World is that 30 days before our visit (60 days if we had stayed in a Disney Resort Hotel), we could pre-book a time to ride three attractions of our choice.
For the attractions that we chose, we selected a time slot to avoid the long queues, very similar to booking an appointment, which told us when to arrive at the rides.
The most famous rides, with the longest queues and for which we had the option to booking a slot with the FastPass are:
Splash Mountain (Water ride)
Space Mountain (Futuristic Roller Coaster)
Big Thunder Mountain (Roller Coaster)
Peter Pan (Story-telling ride)
Seven Dwarfs Mine Train (Mine Train Ride)
After various votes and a process of elimination, we had chosen our rides and signed in at https://www.disneyworld.eu/fastpass-plus/ to book them. It's very straightforward, you will have to create an account and select the FastPass rides of your choice.
We did this 29 days before our visit to the theme park and the Seven Dwarfs Mine Train was already fully booked, and at the park, the queue always exceeded the 2 hour wait time, so unfortunately, this was one of the rides we had to miss.
Bibbidi Bobbidi Boutique (for children)
I can truly say that this is the place where dreams come true.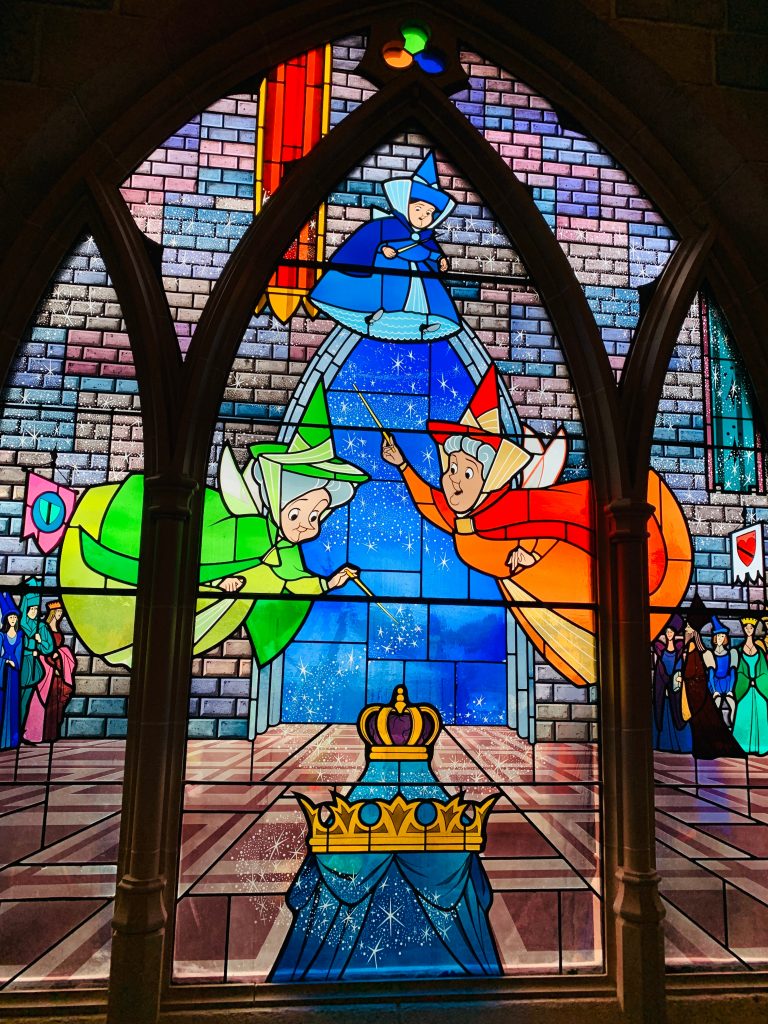 We couldn't enjoy it but once at home, I wanted to learn more about it, because 20 years ago (and now, if I'd have been allowed), it would have made my dream come true and I believe that it's a great experience, which will make your day at Disney even more magical.
It's an experience entirely aimed at children where they can enjoy a magical make-over, and just like Cinderella, they can become princesses for a day.
You can book an appointment (well in advance) to be pampered and dressed up by a real fairy godmother. They will comb your hair, paint your nails, apply your make-up and to top it all off, they will dress you in your favourite Disney Princess dress.
You can book this experience here: https://www.disneyworld.eu/shops/magic-kingdom/bibbidi-bobbidi-boutique-park/
I wish I was a child again!
Attractions
We managed to do a lot, bearing in mind that the park was pretty full. These were the attractions we managed to enjoy:
The parades: in our opinion, you can't miss these! Every single time, at least one of the participating characters will wink or wave at you, making you feel like the happiest child in the park.
As it was Christmas Eve, Father Christmas's float appeared at the end, and it was lovely to see the excitement and joy in the children's faces when he announced that he would drop by our houses bearing gifts that same night.
Have you picture taken with Goofy and Donald Duck
Splash Mountain (FastPass): This futuristic roller coaster is not for the faint-hearted. We can assure you that it will free you from any accumulated stress!
Peter Pan (FastPass): For riders of all ages, you will fly through all of the scenes in Peter Pan. The queue was long, even for those of us with the FastPass and the ride is short, but full of Disney magic.
It's a Small World: For riders of all ages and a MUST in your day at Disney. They say that this is one of the oldest rides of all of the Disney parks. You will navigate through a river which will take you all around the world whilst you listen to a song which you will be humming for days.
Mickey's PhilharMagic: We went because it didn't have a long queue and we were surprised because we really enjoyed it. It's a 4D experience for all ages.
In the "It's a small world" and Merry-go-round rides
Lastly, the Disney Merry-go-round where we had tons of fun as we looked at each other on the horses laughing like children with our Mickey ears on.
Christmas Eve Firework Display
As it was Christmas Eve, we enjoyed a great firework display scheduled at 10 pm, which we loved!
Everything was magical! From the moment that Tinkerbell announces the start of the fireworks at the top of the Disney Castle to later fly away over the crowds, till the moment the display ends, combined with the most realistic snow we've ever seen cover the park (even though it was 17 degrees Celcius), this was the perfect idea of a magical Christmas Eve!
Christmas Eve in Walt Disney World Orlando
During our visit, we had the sensation that this theme park was very similar to Disneyland Paris, so sometimes we had a slight feeling of regret that we didn't go to Universal Studios instead. However, on our way home and thinking about the fantastic day we've just had, we were happy to have chosen Disney, as it never disappoints. We enjoyed every minute of it as if we were kids.
2nd day in Orlando – Kennedy Space Centre (NASA)
At the very entrance and in front of the famous sphere with the NASA logo, we couldn't contain our excitement, especially Josh, as this was the day that he was most looking forward to of the whole trip.
NASA, here we come!
This is the official website where we bought our tickets: www.kennedyspacecenter.com/info/tickets
On a billboard at the entrance, we saw that you could dine with an astronaut, we all looked at each other and we agreed that this is something Josh would want to do for sure.
For $29 each, we booked this activity for lunchtime. The experience started at 12:30, pretty early for Spanish people to have lunch!
The rest of the activities and experiences we lived that day, with the exception of "Dine with an Astronaut" were included in the standard day-pass.
This is what we saw during our visit to NASA:
Rocket Garden
This was the first thing you will see when you arrive. A small garden full of massive rockets which you can almost touch! This will be one of the main photo opportunities of the day!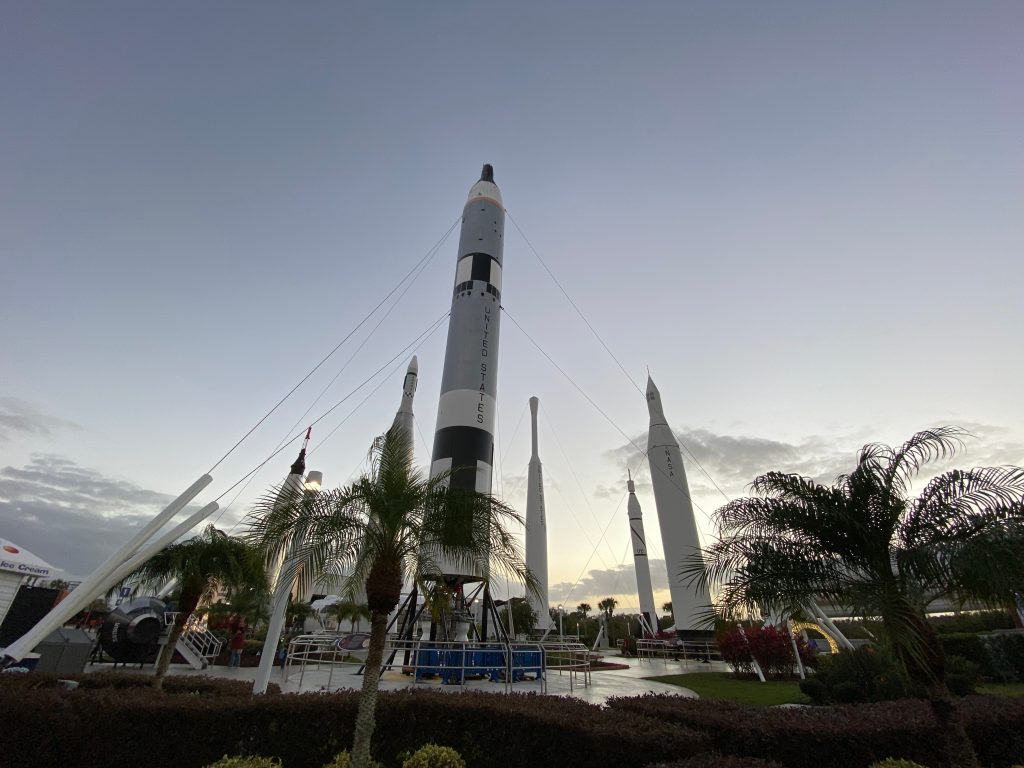 Journey to Mars: Explorers Wanted
This is the first stop we did. Here, you will be able to demonstrate your skill and attempt to land a rocket on Mars, see the Curiosity Rover, read all about very interesting topics and enjoy a live presentation (for adults and kids) where we learnt all about Mars and NASA.
Journey to Mars: Explorers Wanted
From this moment, we had the urge and need to become astronauts.
Souvenir Shop
This is one of the places you need to visit and explore fully during your visit.
Here we we found almost everything branded with the famous NASA logo: freeze-dried astronaut food, amazing jackets, astronaut clothing, moon dust and everything you can possibly imagine which will serve as a truly special souvenir from your visit.
NASA Gift Shop
On the first floor there's a computer where you can take a selfie and your face will appear pasted on to an astronaut's suit and which will be displayed on screens throughout the gift shop.
You can also email the picture to your self, free of charge, to remind you of your visit.
Dine with an Astronaut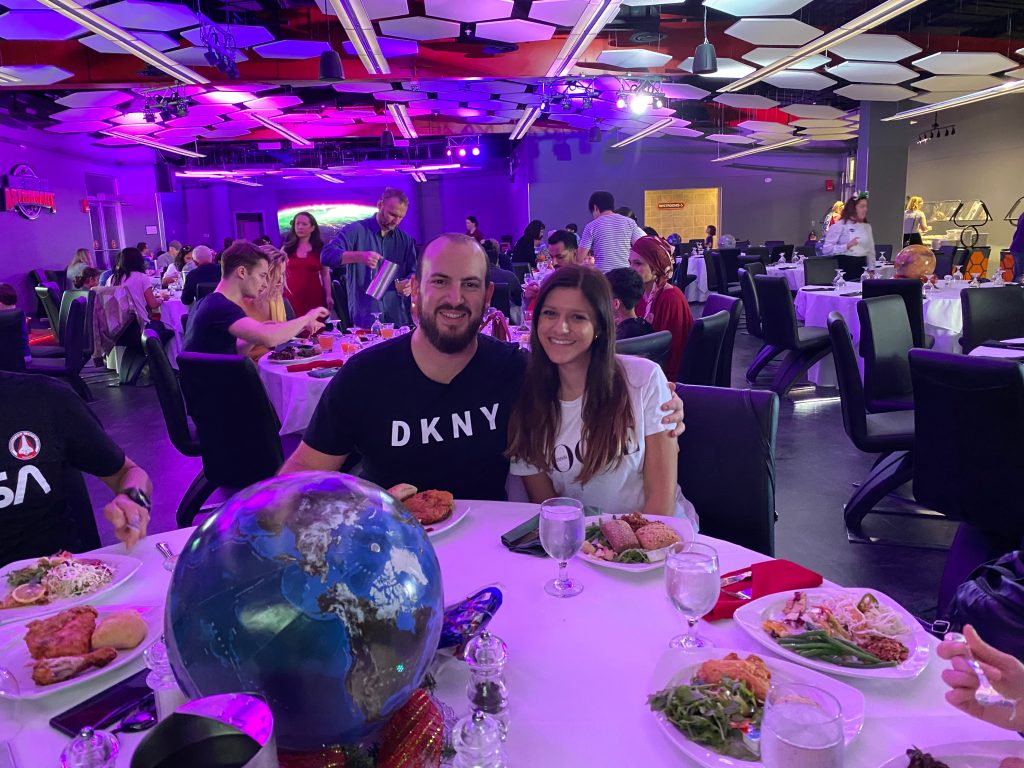 We were the first to arrive and we were taken to our table (about 12 round tables had been prepared for this experience) and were also told where the buffet was and that we only had 20 minutes to eat.
We left our bags of souvenirs on the table and ran to see what the buffet consisted of. There wasn't much for vegetarians, but the rest of the group loved it.
After the 20 minutes had passed, we had the pleasure listening to the astronaut Woody Springs who talked about his experiences in space, his tasks, what his training consisted of, the food he ate and other really interesting and fun stories from space. At the end of the experience we had the opportunity of having a picture taken with him in front of the restaurant (we highly recommend you run to be the first in line, as this will save you quite a bit of queuing time).
Kennedy Space Center Bus Tour
A bus will take you to visit restricted areas of the Kennedy Space Center, such as: the control rooms, the launch pads and the VAC (Vehicle Assembly Building). During this tour you can also enjoy a video on the bus which explains all about the achievements, history and other very interesting facts about NASA.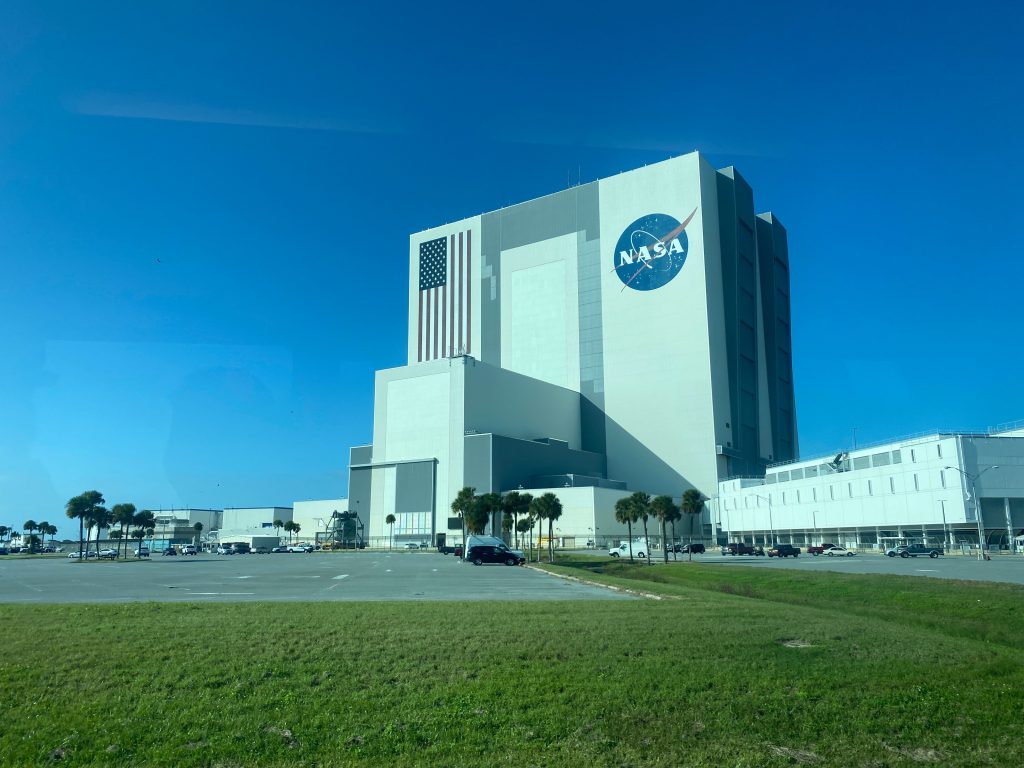 Apollo/Saturn V Center – Race to the Moon
The bus will stop here and it's one of the activities you can't miss.
The first attraction is "Apollo 8 and the Firing Room" in which you will live and breath the 3-minute countdown of the launch of the Apollo 8.
It's so well done that you will be able to feel the emotion and pressure as if you were there at the very moment it happened. After that, we walked into another room with a lunar module where we learnt more about the moon, a tribute to the astronauts who lost their lives with the launch of the Apollo 1, interactive exhibitions, the Saturn V rocket and much more!
Apollo/Saturn V Center – Race to the Moon
Space Shuttle Atlantis – Shuttle: A Ship Like No Other
Straight after the Apollo and Saturn V experience, we jumped back on the bus back to the Kennedy Space Center, and we headed towards the Space Shuttle Atlantis demonstration where we enjoyed the "Shuttle: A Ship Like No Other" experience.
Here, we learnt all about the Atlantis Shuttle, visited a memorial honouring the astronauts who lost their lives during the space shuttle missions, found out more about how astronauts train in the simulators… But the highlight was that we got a chance to see the REAL Atlantis Shuttle and learnt more about it in a free guided tour.
Atlantis Space Shuttle
Also, if you're lucky, you'll get the chance to meet someone who worked on the Atlantis. He told us all about his adventures and experiences first hand. In our case, we had the honour of speaking with an engineer who worked on the Atlantis Shuttle.
After that, we headed to the "Shuttle Launch Experience", a flight simulator which allowed us to experience what a real launch feels like, experiencing the sights, sounds and all of the sensations in one.
Heroes & Legends
To top off this fantastic day, we went to the "Heroes & Legends" experience, where we had the opportunity of learning more about the lives of various astronauts in incredible 4D detail.
It was around 6 pm and with the famous quote from JF Kennedy in our head: "We chose to go to the moon and do these other things, not because they are easy, but because they are hard" we can say that we thoroughly enjoyed today, even more than we expected. We also concluded that nobody knows how to sell a product better than the Americans and didn't buy the yearly pass because we live 7000km away!
3rd Day in Orlando – Vineland Premium Outlet
Just like every other time we've visited the United States, we always spend a full day visiting an outlet mall as it's really worth doing some clothes shopping in the US.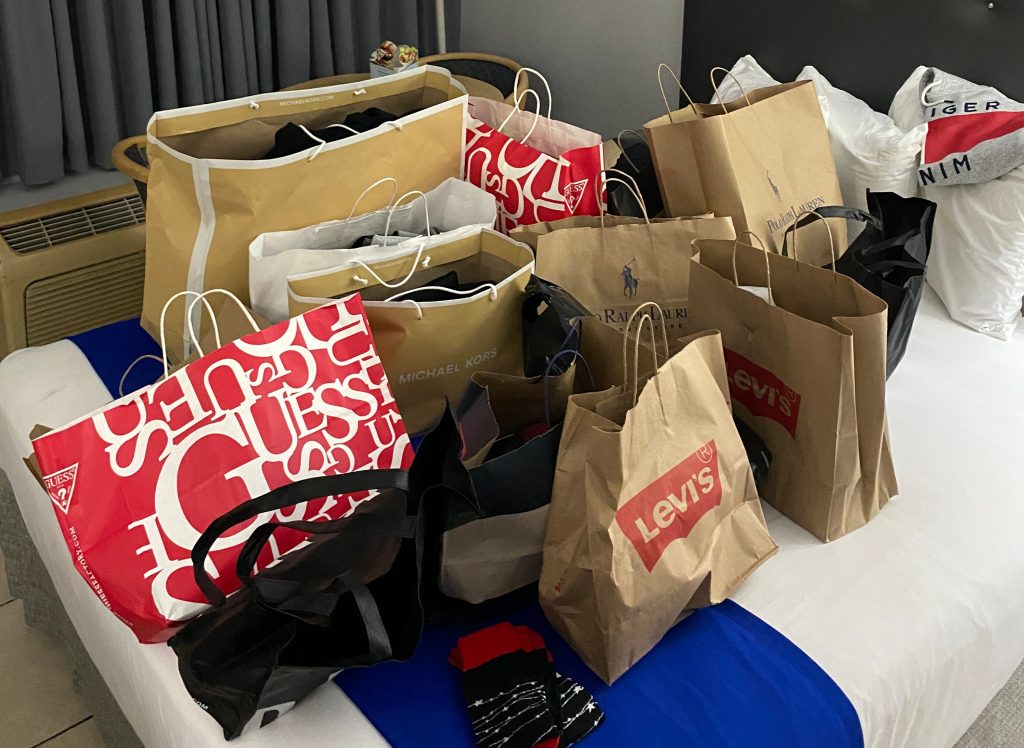 The price is considerably lower in comparison to Europe, and you have the chance of picking up some bargains from big brands, and better quality (the majority of the time).
This trip was no different, we shopped till we dropped.
We chose to visit the Vineland Premium Outlets because they were located about 30 minutes away from our hotel and because it had every store we usually shop in.
This is the official website where you can browse all of the stores they have, the address, opening times and everything you may need to know in order to plan your visit: https://www.premiumoutlets.com/outlet/orlando-vineland
Useful Information
| | | |
| --- | --- | --- |
| Currency: USD Dollar | Type of Tourism: City | Safe to Drink Tap Water: Yes |
| Weather: About 17ºC (December) | Average Cost: 5/5 | Driving Side: Right Hand Side |
| Time Zone: UTC/GMT -5/-4 | Socket Type: Type A/B | Best Form of Transport: Car Rental |
| Population: Approx. 285,000 | VISA Required: Yes | Safety: 5/5 |
| Languages: English and Spanish | Veggie Friendly: 5/5 | Children Friendly: Yes |
Top Tips
Orlando is a perfect place to rent a car, as the distances between the theme parks are so large that the liberty your own car grants you will allow you to spend more time wherever you want.
We booked our car through Economy Rental Cars for a great price.
Also, at the Dollar Rent a Car counter, we encourage you to ask if they can give you an upgrade on your current conditions, as sometimes, it's cheaper to rent a luxury car than a standard class car. We booked a Chrysler 300C Sport for the price of a Hyundai Elantra.
We booked our flights through Skyscanner. We always find affordable flights and which are the same price as when you book through the airline directly.
The hotels can be much cheaper if you stay on the outskirts of the city, which isn't an issue if you have a car. We stayed in the Baymont by Wyndham Kissimmee as it was well located for the activities we had planned and we booked it through Booking.
If time permits, you can't miss the incredible city of Miami. If you rent a car, you can be there in about 3 to 4 hours.
If you have even more time to spare, we strongly recommend a cruise to The Bahamas, which depart from the Miami Cruise Terminal and can be an excellent and fun option.