Our visit to this city in South Korea was not purposely short. For our honeymoon, we did a cruise through China, South Korea, Jeju Island, Japan, Taiwan and Hong Kong, and we only had a few hours to spend in Seoul.
Despite having lived through a what can best be described as a "religious experience" with our guide, we ended up seeing a lot of the city, which helped us get an idea of the wonders that this country is home to, and of course, leaving us wanting to return.
Presentation of our tour guide (it deserves its own space in this post)
Undoubtedly one of the strangest tours we have ever been on in our entire lives.
When we got to the bus, we were struck by how clean it was compared to the coaches in China. It was (also) decorated with lots of lights and fancy curtains, so we relaxed and leaned back in our seats.
This moment of zen only lasted a few minutes, precisely until the tour guide got on the bus.
He picked up the microphone and bluntly introduced himself as the tour guide who lost an Australian couple a while back and who had allegedly been kidnapped by North Korea for use in propaganda.
After that initial shock, overcome by amazement and surrounded by a sepulchral silence, chatter began to spread throughout the bus. We overheard several Australian co-travellers confirm that this was a true story. They also explained that the couple had been seen on North Korean television, describing how happy they were living in North Korea and how they didn't want anyone to come looking for them.
Over the chatter and noise in the bus, which was increasing in decibels per second, we could hear the guide's voice trying to continue his extraordinary presentation. He explained this was the first day back at work after what happened and that he had been on a leave of absence after that incident and needed to seek help from professionals to deal with it.
However, it didn't end there! He also later outlined that North Korean spies frequent tourist attractions and kidnap tourists when they stop to take pictures. However, we didn't need to worry about a thing, as he could quickly identify them!
Unfortunately, we didn't take more than 50 photographs during our entire visit, as every time we did, we wondered whether it was worth being kidnapped or not for wanting to take a quick snapshot of what we were visiting.
National Folk Museum
After an hour on the bus from the cruise terminal, we arrived at our first stop, a closed area with a large park and several traditional buildings. The first building we were going to visit was the Folk Museum, and the guide gave us 15 minutes of free time to visit it on our own.
We were all scared and concerned after the last hour on the bus listening to stories about kidnapped tourists in North Korea, so we weren't really up for walking around or being left behind. In the end, we only went to the souvenir shop, bought some magnets and immediately returned with the tour guide as if we were chicks following their mother-hen.
Suddenly, large groups of people walked past us, laughing and enjoying their day, all dressed up in the traditional Korean outfit. They told us that if they were dressed like that, they had free admission to the temple area and it was cheaper for them to rent the costume in a store rather than pay for the ticket to enter.
We all immediately forgot about the "spies", "hijackers" and "secret tunnels" and ran to take pictures with all of them. We were all struck by how friendly and how willing they were to have their picture taken with the more than 50 people on our tour.
At the National Folk Museum
During all of this, the tour guide's face of disapproval was unmistakable, and it was not long before he approached us one by one to remind us that with that type of behaviour, we only exponentially increased the chances of being kidnapped.
Gyeongbokgung Temple
In that same location, we found the Gyeongbokgung Temple. The guide headed to the ticket office and purchased our admission tickets. For reference, we believed it was very similar to the Forbidden City in Beijing but following the Korean style of architecture.
Gyeongbokgung Temple
Throughout the tour, our guide explained all about how South Koreans lived, what they do, their traditions… It was fascinating to learn more about the history of this country that, unfortunately, and at least for us, is always found in the shadows of its northern twin.
Lunch in a typical Korean restaurant
We were only back on the bus for a few minutes and heading over to our next destination when the tour guide came to our seat and told Sonia how beautiful she was, pointing at her face. We were already starting to wonder if, in the end, the one who was going to kidnap us was actually going to be the guide!
The bus stopped and we started walking to the restaurant where we had lunch included. What was supposed to be a short stroll, turned out to be a long nightmare! The guide was running everywhere like a headless chicken, getting lost and returning to the starting point, while all of us followed him from one place to another. It was a perfect recipe for disaster because the group was mainly composed of older people. Soon, our group was getting smaller by the minute, as we started losing the slowest and the most elderly, who couldn't keep up with us.
Then, within 5 minutes of running around, even the youngest members of the group were becoming disoriented and started panicking because they had no interest in getting lost, being approached by a spy, to be made to smell chloroform and starting a new life in North Korea.
Finally, we arrived at an incredible and typical Korean restaurant, located near one of the main shopping streets, Insadong-Gil, and where we all enjoyed delicious and traditional Korean food.
The waiters brought plates full of meat to our table, and we each cooked it to taste on a grill in the middle of the table. Josh still remembers it as one of the best culinary experiences he has ever had, and the vegetarian option wasn't too shabby either, they served tofu soup, salad and rice.
Dining in a traditional Korean restaurant
Insadong-Gil Shopping Street
After lunch, the tour guide gave us some free time to visit the area and do some shopping. We agreed to meet in 20 minutes in a Starbucks which is located on that same street.
We enjoyed our walk on a street that, if it were not for the writing, which we weren't able to work out, it quite reminded us of a European city, with clothing stores, souvenir shops, restaurants and cafes.
Insadong Shopping Street
When about 15 minutes had passed, we decided to go to the meeting point and on the way, we met several people on our tour who were concerned that they couldn't find it.
Here's a photo of the Starbucks in which the 40-50 tourists had to meet.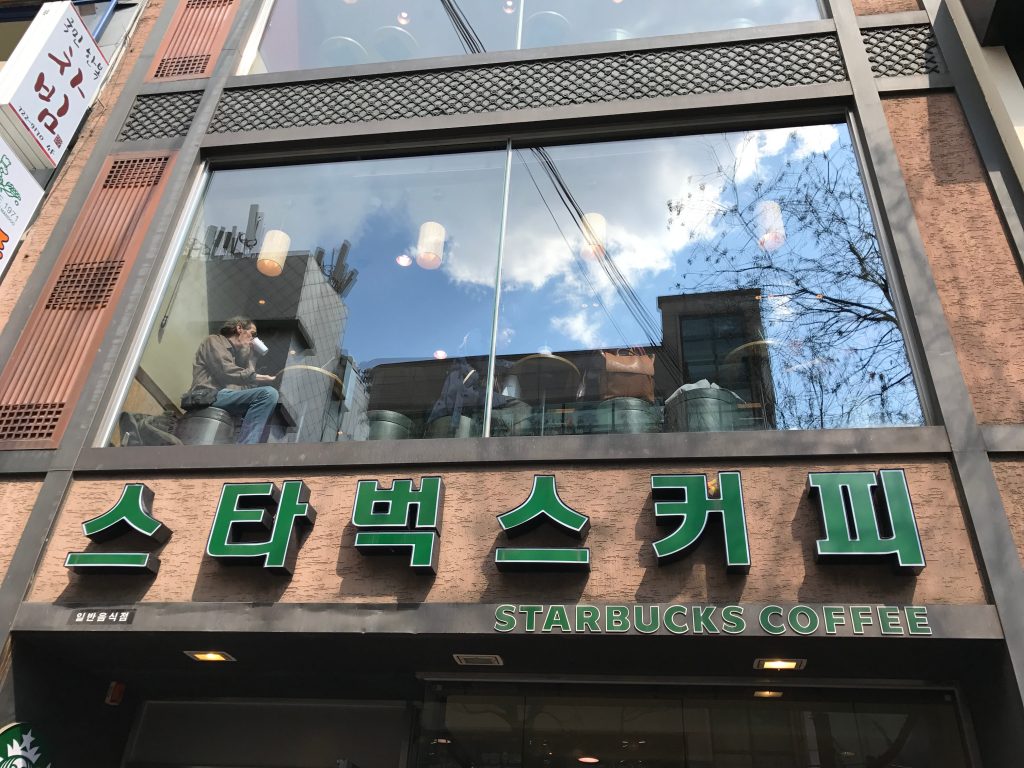 In order to get a good night's sleep, still today, we convince ourselves that all of the members of the tour arrived at the right spot and in time to continue the tour.
Street Market
And to finish one of the most unforgettable tours (really, it's one we will never forget), we visited a street market.
We strolled down the street, crowded with locals and tourists, where you could find anything you could imagine.
Seoul Street Market
On the way back to the cruise terminal and on the bus, we had the feeling that what happened that day was a thing of nightmares. Now, we look back and think about how much we enjoyed Seoul as a city and how it was actually the tour guide who made it unpleasant.
After this incredible experience, we returned to the Celebrity Millenium to continue our cruise.
Useful Information
| | | |
| --- | --- | --- |
| Currency: South Korean Won | Type of Tourism: City | Safe to Drink Tap Water: Yes |
| Weather: 15ºC in March | Average Cost: 3/5 | Driving Side: Right Hand Side |
| Time Zone: UTC/GMT +9 | Socket Type: Type C/F | Best Form of Transport: Tour |
| Population: +- 9,7 Million | VISA Required: No | Safety: 3/5 |
| Languages: Korean | Veggie Friendly: 4/5 | Children Friendly: Yes |
Tips
They accept credit card in most places, but not in street markets.
We loved the typical Korean food, and it is much more elaborate compared to Chinese.
We only spent a few hours in the capital of South Korea, but it gave us the impression that it was a relatively modern and technologically advanced city.
The locals are very open, friendly and willing to help you with everything you need.
Near the Gyeongbokgung Temple, there is a traditional Korean costume rental shop. We recommend that you rent one to visit this incredible site since it will be cheaper than paying the admission fee and you will also enjoy this magnificent experience.
We don't know how much of what our tour guide told us was true. It's certain that if we'd had a different tour guide that our experience would have been entirely different. Either way, we can say that the city always gave us the feeling of being very safe.