This destination was the start of our Honeymoon. Josh really wanted to visit Asia, and I agreed, but only if we visited on a Cruise. Our trip lasted just under a month, and we visited: China, South Korea, Jeju Island, Japan, Taiwan, and Hong Kong.
China has been the country with the biggest cultural difference that we have ever had the pleasure of visiting, and when this happens, there are things that you love and others not so much.
We read dozens of blogs in preparation for our visit to Shanghai, and all of them were limited to mentioning places we should visit and points of interest. Still, we believe that we would have loved to read, learn and know more about the culture itself before arriving. We think that this would have helped us anticipate and prevent several situations we experienced. We don't want to spare a single detail so that when you visit this magnificent land, you are ready and with the mind prepared to enjoy it to the fullest.
1st Day in Shanghai – Flight & Shanghai Disney Resort
Trip
We arrived at London Heathrow, and we had a long wait until the flight, so, like we always do when this happens, we just find a VIP lounge where can we eat, drink and repeat.
It's a great option when you have time to kill and are hungry because you will be stopping somewhere in the airport to have lunch anyway. In a lounge, you can just eat and drink whatever you want while also enjoying a fast wifi signal sat on comfortable sofas.
It entirely depends on the airport; however, we only ever access a lounge when they cost around 30€ per head. At this price, we believe that if we need to stop for food anywhere in the airport, followed by a coffee and buy a magazine, in the majority of situations, we likely end up paying more.
In this situation and making the most of the fact that it was our Honeymoon, we asked various airline staff, multiple times, if we could get a free upgrade to our flight and travel in business class.
We did this because we're always reading that other travellers get an upgrade when they ask a member of staff politely; however, we can openly say that we have never been amongst those lucky passengers and this time was no different.
Instead, we had a newborn in front and two six-year-olds behind us. Karma. Just because we considered we deserved special treatment because it was our Honeymoon, karma front and back.
Even then, and refusing to lose hope, Josh asks one last time and this time prices replace the "sorry Sir": £2000 or £6000 depending on the category chosen.
After that, we just make ourselves comfortable in our cheap seats and sleep for about 1 hour.
Landing in Shanghai
We landed in Shanghai first thing in the morning, find and meet our transfer who drove us for 1 hour to our hotel called Radisson Blu New World in the city centre. The room was fantastic and had amazing views, but unfortunately, we couldn't see much due to the amount of smog which hovers covers the city.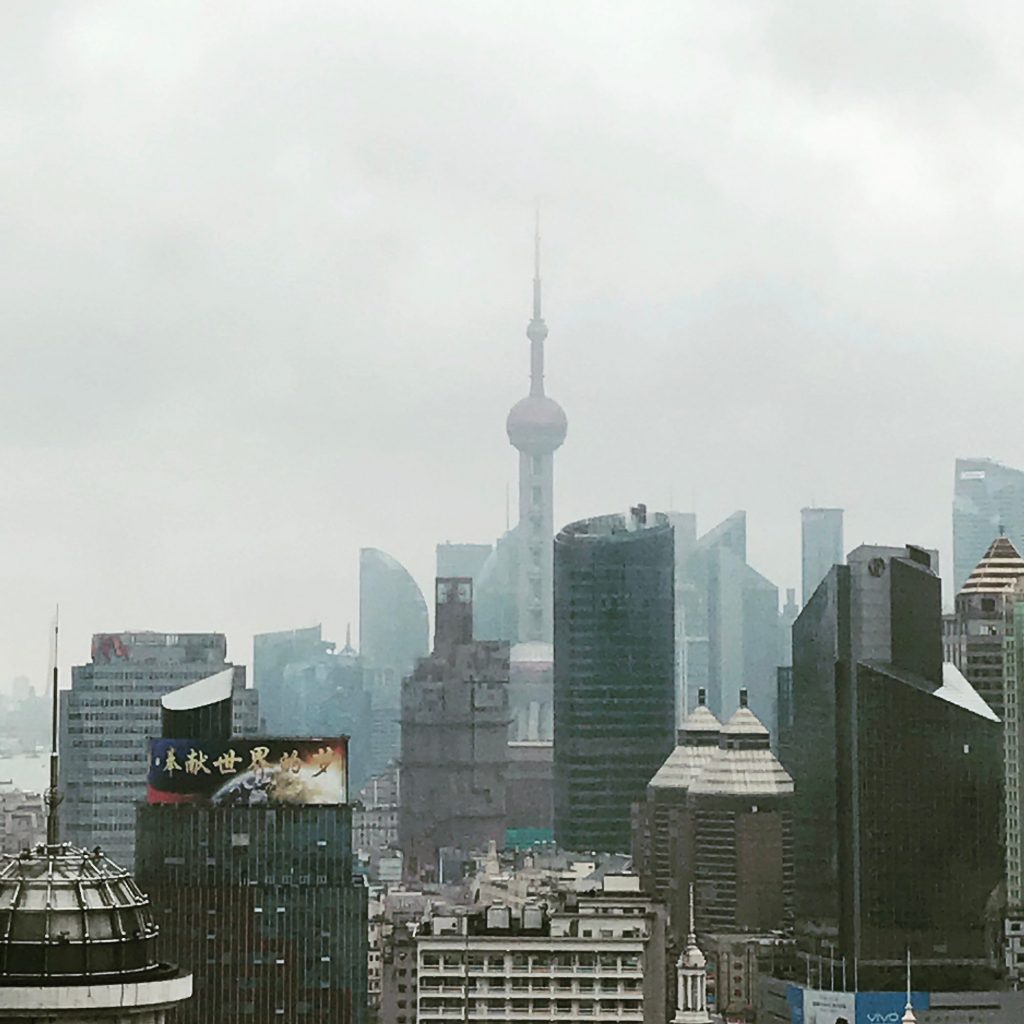 Shanghai Disney Resort
It was our first day, and we really wanted to visit Shanghai Disney Resort, so for 12 yuan (around 1,5€), we jumped on the metro, which took us directly to it.
It's when we first realised that:
1 – Nobody understands or speaks English.
2 – As a Westerner, you will be stared at by everyone. It's a constant stare which doesn't stop if you stare back. But you have to bear in mind that for them, it's not rude at all. They just feel curious about you, as it's not a common occurrence for them to see Westerners and in some cases, they will take pictures of you. We felt as famous as Justin Bieber and almost had more pictures taken than on our wedding day.
I am pretty sure half of Shanghai have my picture on their phones. In the beginning, I was asking Josh to just stand in front of me. Still, the people were just going around him or moving him out of the way to take my picture, so in the end, I decided to give my image rights to the People's Republic of China.
We finally made it to Shanghai Disney Resort, where we paid 800 yuan for our two tickets (around 100€).
We loved the parades and enjoyed listening to every Disney song in Chinese.
The best ride without a doubt was Tron, and even though we were exhausted from our flight, we had a fantastic time, as we always do when visiting a Disney Theme Park.
Shanghai Disney Resort
On our way back to the hotel, we stopped at one of the shops inside a near-by station and bought sushi, two tartlets and ice cream, and had diner in our hotel room.
2nd Day in Shanghai – Shanghai City
We booked our cruise, flights, hotel, transfers with a travel agent called Iglu Cruises from the UK. It's a company which we've used a few times and that we love because they make sure that it's all perfectly organised, so your only responsibility is to enjoy every minute of your holiday.
Tour of the city
Included in our holiday was a scenic tour to learn more about the city of Shanghai.
It started a little late because we waited half an hour for a group to arrive, who ended up not making it. However, as we decided to leave without them, the guide made such a racist comment that it left us all quietly sipping our matcha tea and trying to stay on our best behaviour.
During the tour, we visited the impressive Yuyuan Neighbourhood and Yuyuan Gardens, which is a combination of traditional houses, ponds and typical architecture.
A walk through Yuyuan
It's also one of the few places, if not the only one in the whole city of Shanghai where you can buy souvenirs and postcards, so make sure you don't leave before you buy them here!
We then headed towards The Bund, which is a long promenade with sculptures, gardens and great views of the city. It also faces the modern skyscrapers such as the famous Oriental Pearl, Shanghai Tower and the Shanghai World Financial Center.
Closeby, we were also taken to visit a Pearl and Jade Factory where I bought, for an excessive price (I am sure about this but still in love with my purchase), a ring and some earrings and Josh bought a small Jade Dragon.
We ended this tour in the French Concession which is an excellent area to have lunch or dinner.
We then started the route we had planned ourselves, and the first place we visited was Fuixing Park where supposedly, aside from a large open park, we read that there was also a Pub called Pub 97 with a fish tank with sharks. We walked and looked everywhere but, unfortunately, there was no way to find it.
We jumped on the metro and headed to our next stop, Longshan Temple. The metro station was undergoing some renovations, so we ended up exiting out on to a field on one side and a tall wall on the other.
Quite a few locals on bikes would drive past, and some would stop to look at us curiously, but finally and all of a sudden, we reached the main road which took us directly to the temple. It was full of Buddhas, and we loved absolutely everything about it!
The Fake Market
Once we completed our visit to Longshan Temple, we decided to go and experience the world-famous Fake Market located in the metro station called "Shanghai Technology & Science Museum". Before our trip, we spent some time researching to try to find the locations for the best fake market as there is many. It was quite challenging, as we couldn't understand where they were; however, when you get there, you know you are in the right place.
It's a maze full of shops with people buying and selling high-quality fakes and replica items. At the entrance to that "shopping centre", you will be welcomed by the typical question that will accompany you during the whole time you spend in that underground, pretty dirty and dark but very much alive world of bargain shopping: "Bag or watch?"
The moment you answer: Yes. You will almost be carried away by what can we can only describe as a personal shopper who will take you to buy everything your heart desires. So, if you want a watch, he will take you to a shop where he probably gets a commission for every sale where they sell fake luxury watches, and then, the same for bags, smartphones, clothes, scarfs, trainers and anything else you may want, is somewhere in that place.
For more than 2 hours, we were something like the illegal Pretty Woman of Shanghai, and we were bargaining like we have never bargained before.
Josh wanted a fake luxury watch which started at 3250 yuan (approximately 420€).
After an intense negotiation where the seller was grabbing him and pulling his arm, the price still wasn't what Josh was willing to pay, so we decided to leave that store. Finally, in that same moment, as we were walking away, the seller screamed his final offer at us.
Josh turned around, returned to that store and ended up buying a fake, but fantastic quality, luxury watch for 200 yuan (about 25€), with one great feature; each month lasts 39 days!
Then, it was my turn, and I wanted to buy a handbag, so, our personal shopper took us to another store, however, I didn't like the bags because I could tell they were fake and of inferior quality. The store owner came to me and asked me what was I looking for, so I explained that I was looking for big brands, high quality and new season designer handbags. Before I could finish, he suggested that we follow him through a maze until we reached a black metal shutter, he opened it. We were expecting to be kidnapped and sold in pieces; however, he opened a door which was completely invisible to the naked eye. We ended up in a boutique full of fellow shoppers, spotlessly clean, with mirrors and with well presented, excellent quality designer handbags. There I bought a bag for 200 yuan.
We finished our shopping spree purchasing thirteen designer silk scarfs (all with their branded bag, fake labels and even a fake receipt) for just 600 yuan.
We could have bought so much more! Jackets, trainers, smartphones, sunglasses and a long etcetera, but we didn't, as this was still the first stop of our holiday and we had also read good things about the Fake Markets in Hong Kong, which was the final destination of our Honeymoon Cruise.
But now that we've visited both, we can say that the Hong Kong Fake Markets have nothing on the ones in Shanghai. If you want to buy high quality at an affordable price, Shanghai is the place to go.
The Oriental Pearl
Exhausted but happy with everything we bought, we decided to go to the Oriental Pearl for dinner.
For the last 24h, I was only living on tea from Starbucks because I couldn't find a place to eat where I was 100% sure that I was not going to eat meat or fish. I am vegetarian, and it was challenging to find food because, in the majority of places, neither the food or the ingredients had labels and the waiters weren't able to answer my inquiries either.
One thing's for sure; I am happy I am not allergic or intolerant to anything, as otherwise, eating would have been like playing Russian roulette.
As we decided to eat properly, at least once during our stay in Shanghai, we dressed up, jumped on the metro and headed to the Oriental Pearl to find the rotating restaurant buffet with panoramic 360 views of the city.
At the entrance to the complex, there was a security checkpoint where we needed to leave our lighter in a cardboard box, and then, we were able to access a square where the Oriental Pearl is.
We have no idea how, but we found out that we needed to purchase the tickets before going up the lift which would take us to the restaurant at the top.
We decided to try our luck in reception, but unfortunately, they didn't understand English and didn't seem too keen to want to help us. It's essential to bear in mind that in this culture, to not reply or ignore your question, is not considered as rude. A tour guide explained that they consider that, as they are such as large population, it's impossible to respond and resolve everyone's queries and needs.
So we downloaded the Google Translator App, which is the one where you can translate any text by just hovering your camera over it to translate it in real-time. We noticed there was one option which roughly translated into "lift and restaurant".
Hoping that the translation was accurate, we got back into the queue.
When it was our turn, we pointed at the option we wanted to purchase, and suddenly our card wouldn't process the payment. For some bizarre reason, in Shanghai, our cards only worked when we used the chip, but didn't when we used the magnetic band. We tried explaining this to the member of staff, but she wasn't willing to try it and asked us to step aside and allow other clients through.
At this point and determined not to miss the opportunity of dining in such an emblematic location, we decided to look for an ATM to withdraw some money so that we could pay in cash, as we believe this would be the easiest option for everyone involved. So, we exited the tower, went through the square and passed the security checkpoint and walked until we found a bank. Excited and with our cash in hand, we headed to purchase our tickets which cost about 45€ per person.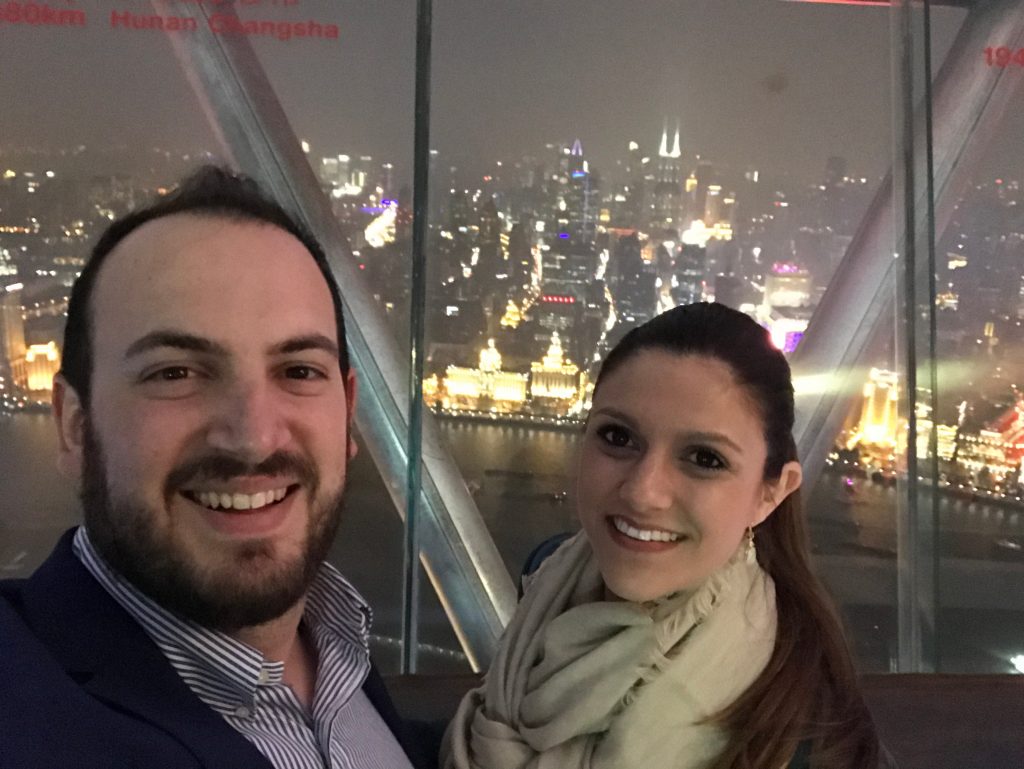 Finally, the lift took us up to the restaurant! We were hungry but excited to be there, and as they gave us our table, we went to take a look at what the buffet had to offer.
The variety was incredible, but again, none of the dishes labelled the ingredients they contained, and I can assure you that we were not able to determine what it was just by looking at it, sometimes even when we tasted them, we couldn't tell.
As we were in the most famous tourist attraction in the whole of Shanghai, I asked a waiter who was standing behind a buffet table, and again, I got nothing more than a stare out of him. So, I filled my plate with peanuts and enjoyed the most expensive peanut meal of my life. We did, however, we have the amazing 360-degree panoramic views of Shanghai to appreciate.
Once we finished dinner (I finished mine very quickly), we decided to head back to the hotel; however, we weren't allowed to take the lift back down. Part of the tourist attraction, which is the Oriental Pearl, was walking down and visiting every floor which had panoramic views of the city.
On the way back to the hotel, I knew that or me at least; I would be spending the rest of my time in Shanghai drinking Starbucks tea for breakfast, lunch and dinner.
3rd Day in Shanghai – Shanghai City & Cruise
This day, we only had a few hours to sightsee because our transfer was picking us up at 9:45 a.m.; however, we didn't want to miss out on the chance of discovering more about this city and its culture. We woke up at 6 a.m., grabbed a drink from Starbucks and headed to the Jade Buddha Temple, and we just loved it. Even though we weren't allowed to take pictures of the Jade Buddha, we knew that waking up early for this was worth it.
On our way to the hotel and with plenty of time left for our transfer pick up, we decided to jump off the metro one station before our hotel to find a postcard which we always send to our family whenever we travel.
We walked for almost 1 hour in a straight line until we reached the hotel, as were oblivious to how big this city is. During that time we stopped in various shops with the word "postcard" on our phone written in Chinese, but unfortunately, we couldn't find any to buy.
What we did come across in one of those stores was a lovely little tea set which only cost us 25 yuan (approx. 3€).
We arrived at the hotel just in time to be picked up by the transfer who took us straight to the Cruise Terminal to board the Celebrity Millenium.
We arrived way too early; however, we had previously called the transfer company to ask if we could delay our pick-up time because there was a long wait until our allocated boarding time. Unfortunately, they couldn't help us as they didn't speak English, so we were the first ones to arrive.
In the middle of the road, in front of the terminal entrance, we saw a group of people who looked like cruise terminals workers, so we asked them if they knew what we needed to do and they pointed at our suitcase. Without being sure if we were doing the right thing, we just left our bags with them, under the rain, and headed inside.
Fortunately, there was a Starbucks inside the cruise terminal, which fed us for the next 6 hours we waited to board the cruise.
Once on board, we said goodbye to the most bittersweet destination we have ever had the honour of visiting. Still, we are looking forward to going back to visit the Terracotta Army and do a spot of shopping at the Fake Markets again.
Especially when visiting China (which is the most culturally different country we've ever had the opportunity of visiting so far) and after experiencing many incredible and diverse situations, we are reminded that:
– What we consider as "normal", may not be for everyone else
– What we consider as a delicacy, may not be for everyone else
– What we consider to be completely unbearable, is something that others, don't even give a second thought.
It all depends on what we've seen, experienced and lived throughout our whole life and the combination of these factors are what determine our idea of "what's normal".
When we travel, all those things that don't fall within our idea of being "normal" will pop up constantly to remind us that we always need to be open-minded, to embrace others' customs and traditions and most importantly, learn to respect others' cultures.
Because, even though it may seem weird, surprising, uncomfortable or fabulous, it's their "normal". By being a guest, they offer us the best of gifts, the chance to be one of them or to live just like they do during the time that we're visiting their home, and also, even start considering other things in our lives as "normal things".
Useful Information
| | | |
| --- | --- | --- |
| Currency: Renminbi/Yuan CNY | Type of Tourism: City | Safe to Drink Tap Water: No |
| Temperature: About 15ºC in April | Average Cost: 2/5 | Driving Side: Right Hand Side |
| Time Zone: UTC/GMT +8 Hours | Socket Type: Type I | Best Form of Transport: Metro |
| Population: Approx. 24.3 Million | VISA Required: Yes | Safety: 4/5 |
| Languages: Shanghainese/Mandarin | Veggie Friendly: 1/5 | Children Friendly: Yes |
Top Tips
When travelling to China you need to be completely aware that the Chinese culture is completely different to ours.
Some of the cities like Shanghai which is such an enormous metropolis as we are not used to it, we decided to go for a walk and stop one metro station before our hotel, and we ended up walking for almost 1 hour.
Being western, you will be just the centre of the attention everywhere you go and you will be stared at by everyone: elderly people, children, women and men…
Eating in China is like eating in of those restaurants where you dine in complete darkness, you will never know what you are eating and even though you ask, you will likely never receive a response.
Whilst walking down the street you'll come across people who will be spitting on the floor, wearing masks (something that pre-COVId 19 was unusual for us westerners), people burping… In luxury shopping centres, it was forbidden, but it still happened.
In several places, the WC is a latrine and when you finally find westernised WCs, you will notice that the toilet seat is full of footprints, because even though it's not a latrine, they will still use it like that.
In Shanghai, we exhaustingly looked for a postcard and even though we were asking the locals for help, we just realized that none of them was willing to help us, look at us or even respond to our inquiries.
We later discovered that for them it is not rude not to help other people, as they live in crowded societies and they consider it "impossible" to help everybody who may have a question.
In China, they don't speak English at all, not even in very touristic places.
Bargain, bargain and bargain
Google Maps is one of the forbidden apps in China, so we recommend to download offline maps if you are planning to do tourism on your own