During the 14-day road-trip through Mexico, we stopped at various locations on the route from Mexico City to Cancun.
One of those locations was the city of Puebla, officially called: La Heroica Puebla de Zaragoza, the city where our friends live and where we made a stop and embraced their day-to-day and learnt all about the wonderful tradition of the Día de los Muertos (Day of the Dead).
Day 1 in Puebla, Mexico
For 2 of the 14 nights of this trip, we woke up in Puebla, a city from where you can see the Popocatépetl volcano, also known as Popo.
Those two mornings, we felt the urge to get up at dawn, just to look out of our window to see it.
The volcano is in phase 3, which is when a high activity is registered at the volcano, such as strong explosions, smoke, ashfall and the release of gases. Unfortunately, we did this for 2 days and we never even got a chance to spot its silhouette in the distance.
Mexican Breakfast at "El Almorzero"
It was at this restaurant where we went to enjoy a typical Mexican breakfast. We drank "Café de Olla", which is a coffee with brown sugar and cinnamon, churros with sugar and dulce de leche, hot chocolate thickened with cornflower… Everything tasted amazing, but it was so filling! But, of course, you're in Mexico, so there was a lot more to come. Believe us when we say that this was just the beginning.
We continued with enchiladas, fajitas, eggs, casseroles… (trucker rations) and salsas, very spicy sauces that made us realise what "enchilarse" really meant.
"Enchilarse" basically means that you have eaten something so spicy that your lips swell to the point that they will need to be amputated.
Luckily, before placing our orders, we asked for something that wasn't spicy, although of course, for them this level of spice could not even be categorized as "spicy".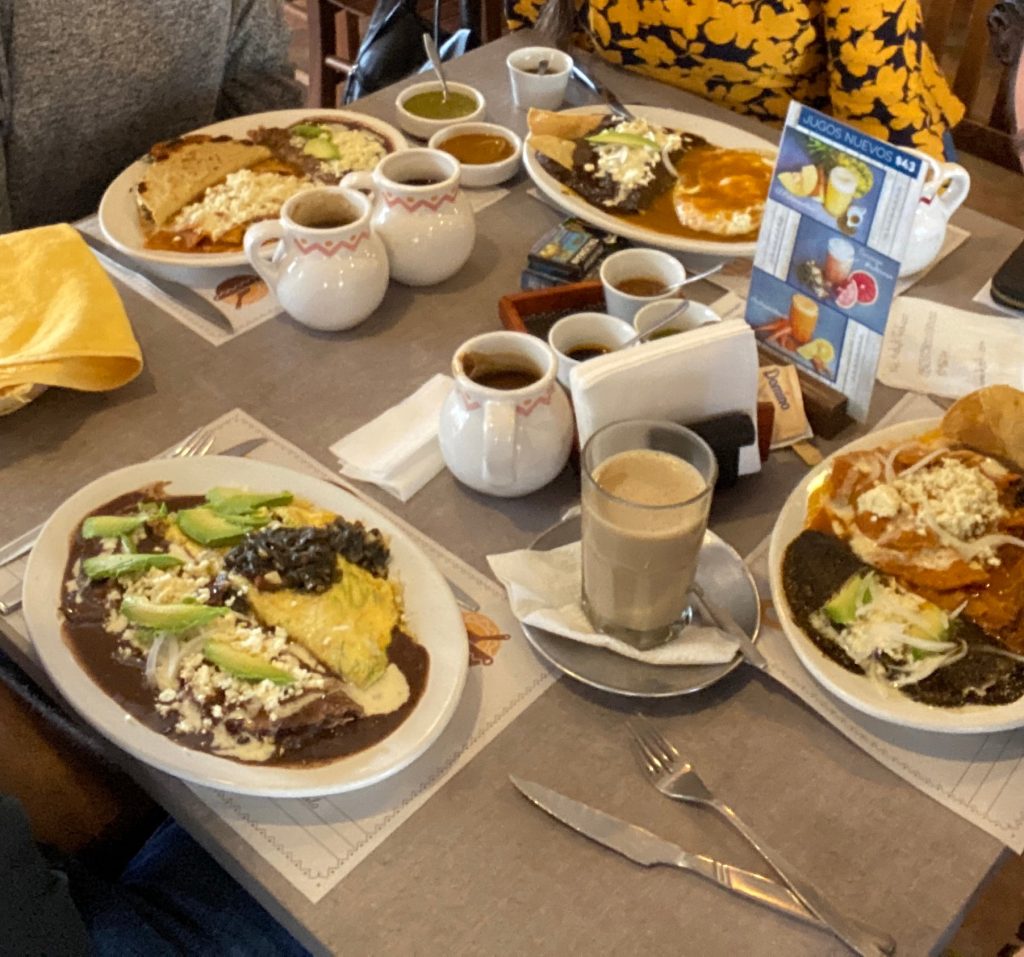 As we left the restaurant, they gave us some sweets, and guess what? Yes, they were spicy too!
And to finish with the Mexican breakfast, we went to an ice cream parlour next door where we ate the typical "nopal" ice cream (Prickly Pear or Cactus Fruit).
Cholula
After spending the first hours in Puebla eating, we decided to start the with tour of Cholula, a colorful area full of artisan markets.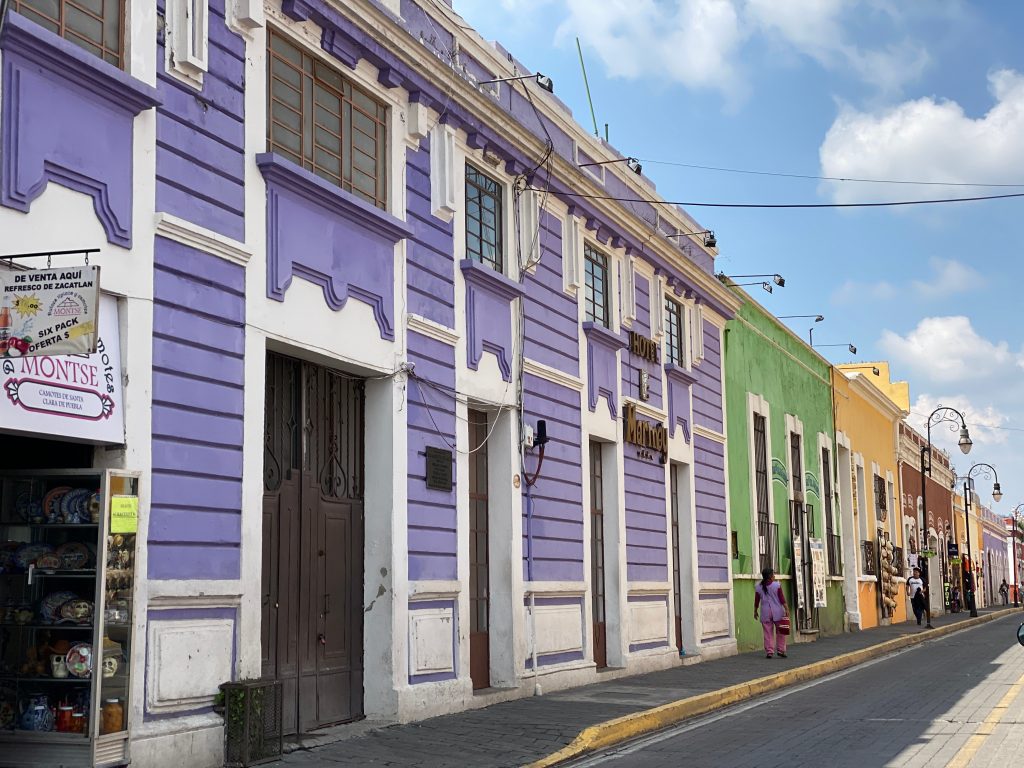 In the same square where the market is located, many sellers were carrying large buckets full of fried crickets "Chapulines" that are normally eaten with chilli and lime. You walk over, pay a few pesos, and you can eat an abundance of "tasty" crickets.
We were fortunate to see Los Voladores de Papatla in that same square.
It's a traditional Mexican show, where 5 professionals climb to the highest part of a pole. While one of them plays the flute at the top and dances, the other 4, tethered to the pole by a rope, hang head-first and spin as the rope unravels completely until they reach the ground.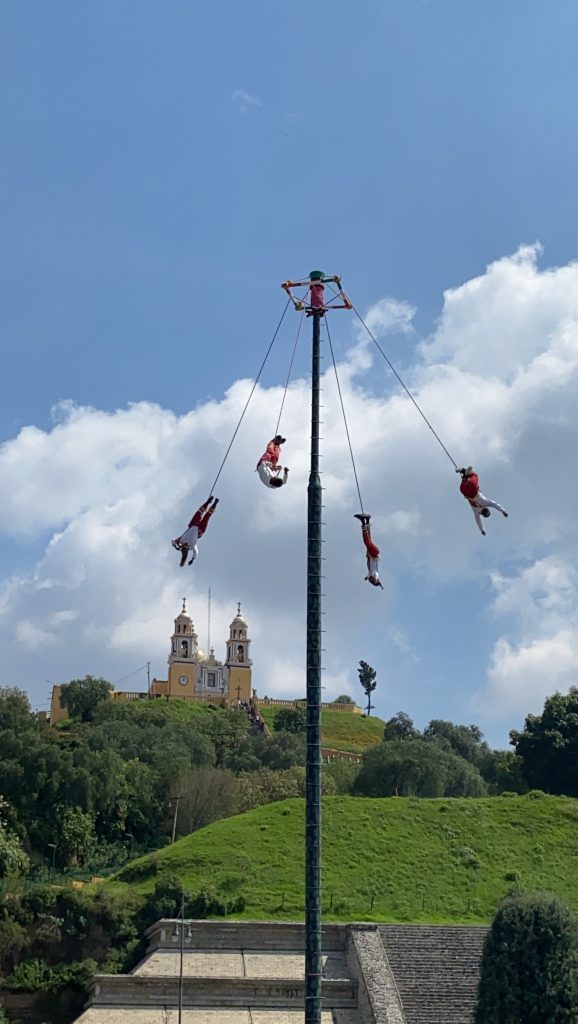 Next to the square is a hill where, at the top, is the Church of Cholula.
This is the famous yellow church of Puebla that appears in all of the tourist brochures with the volcano in the background.
We got to the top and took a pleasant walk around the church, its interior, and also enjoyed wonderful views from that high point of the city.
Church of Nuestra Señora de los Remedios
Forts of Loreto and Guadalupe
We continue our tour of the city and visit this fortress where on May 5th, 1862, the Battle of Puebla took place.
Forts of Loreto y Guadalupe
The City Centre
Our friends took us to the Iglesia del Rosario, a beautiful church that we loved, followed by a walk through El Parian, a street full of small stalls where we bought souvenirs to take back to Spain: baskets of traditional sweets, a handmade clay nativity scene… there you can find just about everything you can imagine. Everything is in bright, happy colours, so prepare your wallet because you will want to take it all home. Don't forget to haggle to get a good price!
In these same streets, we stumbled upon the famous Talavera pottery (originally from Talavera, Spain). In Puebla, you'll find true artists who have continued with this beautiful craft and tradition.
Inside the Church del Rosario, El Parian street and Talavera pottery.
From there, we visited Puebla Cathedral and right next to it, Los Portales, which is a building with large arches where you can sit, relax and enjoy good coffee.
In one of those coffee shops, we met up with another couple of former co-workers who, coincidentally, also live in Puebla. We all enjoyed a warm drink and caught up!
Los Portales of Puebla
We hadn't been there for a full day and we were already surrounded by acquaintances and old friends who we consider as part of the family. It felt like home.
Wrestling in the Arena
The last stop of the day was La Arena de Puebla, the stadium which hosts wrestling matches, what an experience that was!
Watching the wrestling in La Arena de Puebla
Here is where we learned that fights are always between the Técnicos (the good guys) and the Rudos (the bad guys) and above all, that it is very fun to watch. You will also learn the essential Mexican vocabulary for your stay, while you enjoy some popcorn (with chilli of course).
Preparing for the Día de los Muertos
We were so in love with this tradition that we wanted to dedicate a whole section of this article to explain the most important aspects of this Mexican holiday.
This tradition, full of colour, allows you to see death in a very different way. It makes you not dread it or live it with the extreme sadness with which we in Spain do.
This holiday eliminates that terror. After all, it gives us that hope that there is something more to come and full of joy because, in the end, it is a perfect occasion to meet up with your ancestors, once a year, for dinner, for drinks, to sing and relive the best stories and adventures of those who you love and who are no longer around, at least, in this world.
In the afternoon and on the way home, we stopped next to a field of Cempasúchil (the typical flower used in this festivity) where the workers were harvesting them to sell them in the markets. There and then we bought 3 huge bouquets (all for 100 pesos, about 5€).
Once at home, we arranged them and placed them in several vases. From the oldest flowers of the bunch, we plucked their petals, with which we prepared a path leading from the front door of the house straight to the altar, so that the spirits can find their way to the altar.
A Cempasúchil and Moco de Pavo field
Our friends were determined for us to live the full Día de Los Muertos experience, so we also prepared our own Altar at their home.
The altar is used to invite the dead, and they have several tiers: two, three or seven, which is the full-sized altar, and each one of them has a different meaning.
If your altar has only two tiers, it symbolizes earth and heaven, those with three tiers incorporate the underworld or purgatory, and a seven-tiered altar symbolizes all of the necessary steps to rest in peace.
The seven-tier altar is the most traditional, and this is everything you need to include:
Fragrances/Smell: Symbolize the purification of the soul and acts as a guide or to attract spirits. For example, a herb or spice like rosemary, copal resin, incense…
Arch: placed on top of the last tier, which symbolizes the gateway to the world of the dead, it is the eighth level, decorated with cempasúchil (the traditional orange flowers) generally paired with sweets.
Air: represented with the typical Papel Picado, a colourful and die-cut paper with various symbolic designs.
Fire: represented with candles. It is the guide for the soul on its way back to the world of the dead. Four candles are placed to represent a cross and the four cardinal points.
Water: used to quench the thirst of the spirits, for example, a glass of water and toiletries can also be added to this level.
Earth: it must include several seeds, fruits, spices…
Flowers: They will decorate the entire altar, the most common are Cempasúchil, Nube and Amaranth or Moco de Pavo
Skulls: Skulls should be colourful and made from sugar, to remind everyone that death is sweet and also as a mockery towards death.
Food: Add the favourite food of the deceased who are meant to visit. Very traditional foods include oranges, tamales, mole and the bread of the Dead (which is a typical sweet bread of this festivity)
Alcoholic drinks: You also have to add the drinks that the deceased liked the most. It's common to put a bottle of tequila so that they can "drink" it that day.
Personal belongings: clothes or something that really identifies the deceased such as their favourite objects or even music.
Ornaments: yellow and purple crepe paper representing life and death, flowers or fruit arrangements.
Religious elements: a cross will always be placed on top of the altars, with religious images of the venerated saints of the family and a rosary.
Photograph of the deceased that you are inviting into the world of the living that day, if not, they will not be able to cross into this world.
A sculpture of a dog, the Mexican dog breed is the Xoloitzcuintle (a hairless dog) that will help the spirits cross into the world of the living.
Coins that will pay for the boat trip to cross between the two worlds
Día de los Muertos Altar
Once your altar includes all of these elements, you will be ready to call the deceased members of your family to join all of you on that night. Although you should keep some things in mind:
– The spirit will have to spend their first Día de Muertos without visiting the world of the living, but they will be welcome to visit on the second year.
– The spirit will be in the World of the Dead, as long as there is someone in the World of the living who still remembers them. The moment that person who remembers the spirit dies, the spirit will disappear completely. This helps us understand that no one is dead if they are still remembered.
– Many families will go to the cemetery on that day and will hire mariachis, decorate the graves of their relatives, have dinner and will spend the whole night with them.
This incredible tradition is very well explained in the Disney Pixar film: Coco. We really recommend it because it's suitable for all audiences and, as always, Disney represents it to perfection, but also adding tons of magic.
Tips
The chilli is used with the same assiduity that we use olive oil in Spain. We recommend that you try everything, it is delicious! But always with measure, otherwise, your stomach will request a leave of absence for a few days.
Don't leave without buying Talavera Pottery.
You will have to haggle to buy just about anything. It is something that is expected of you and if they see that you are a tourist, you will have to haggle a little harder.
We were surprised to learn that Puebla used to be a city that never appeared in the violent headlines that reign in Mexican newspapers, but for no less a surprising reason. Puebla was a safe-place agreed by the drug lords so that their families could live peacefully. But a few years ago, something suddenly went wrong, and this harmonious city became a battlefield, turning it into one of the hotspots of the Mexican geography.
Talking about the safety of the area where you live, the safety of your family, safety at your job … is the most common topic of conversation here. We were taken back at how people spoke about it so often, as, in Spain, despite having lived under the veil of terrorism, it's not such a recurring topic which defines our day to day, our place to live or what our children are going to do on the weekend.
Despite all of the above, it is a culture of people who look at life with positivity. You don't need to look far to see all of the colours with which they adorn their streets, their things and their festivities.
Get ready to feel at home from the moment you arrive.
Useful Information
| | | |
| --- | --- | --- |
| Currency: Mexican Peso | Type of Tourism: City | Safe to Drink Tap Water: No |
| Weather: 17ºC in October | Average Cost: 2/5 | Driving Side: Right Hand Side |
| Time Zone: UTC/GMT -5 | Socket Type: A/B | Best Form of Transport: Car |
| Population: +- 1.58 Million | VISA Required: No | Safety: 2/5 |
| Languages: Spanish | Veggie Friendly: 3/5 | Children Friendly: Yes |