In our trip to Florida, United States, we chose to visit Orlando and it's Theme Parks & Shopping Outlets and also go on a 3-day cruise to The Bahamas, which only gave us 2 days to spend visiting Miami.
As Miami is such a large and diverse city, we had to make a choice of activities that we simply could not miss and, sadly, save the rest for our next visit, so, this is what we did in 48h:
Day 1 in Miami
We arrived at Miami from our Bahamas cruise and we jumped straight on a free Shuttle bus (if you rent a car with Dollar, and if you select the car pick-up at Miami Cruise terminal) which took us at the speed of light to the Miami International Airport, where we were going to pick up our car rental. This was good because due to the speed of the Shuttle we actually went back in time 5 minutes which just gave us more time to enjoy the marvellous Miami!
We arrived at the Dollar Rent a Car check-in desk and got an upgrade for less money (Check more in our Tips at the end of the post), this must only happen in America because we have never experienced anything remotely similar to this in Europe, we could just feel the American breeze on our skin.
One of the main reasons we decided to rent a car, was that we weren't going to spend much time in Miami, so by driving ourselves around from location to location, we felt we could really make the most of it and see more in less time.
We got to our hotel Candlewood Suites Miami Airport and quickly dropped off our suitcases so that we could start our tour of the city.
In order to pay an affordable price on New Year's Eve, our hotel was about a 30 to 45-minute drive from Miami's South Beach.
Key Biscayne
Key Biscayne is a key which has 2 natural parks, for which to get in, you need to pay (around 8$ per car) and pay again to park, but you forget all of that when you take a walk and arrive at a lighthouse located at Bill Baggs Beach. To get there, you walk down a path with palm trees on either side which takes you to Cape Florida Lighthouse and you can go up into the lighthouse!
Cape Florida Lighthouse and the views from the top
Your cardio will be tested here as there are quite a few steps, 109 to be precise, and the staircase is very narrow and used by visitors going both up and down the steps, however, when you reach the top, you get to see the amazing 360º views of the beach, forest and if you're lucky, manatees and sharks in the ocean below.
We recommend that you go up the final staircase (around 10 more steps) which will take you to the huge bulb at the very top of the Lighthouse. We found many visitors were just overlooking this and it is actually incredible to see and it's allowed by the Park's Rangers.
From there, we took a short drive to Crandon Park, also located in Key Biscayne and the moment you step out of your car, you find yourself in a big park surrounded by wildlife like large birds of prey (similar to Eagles), squirrels and majestic peacocks. All of them seemed to be quite used to having people visiting all year round, as they were calmly walking around the parking lot looking for some tasty snacks from the tourists.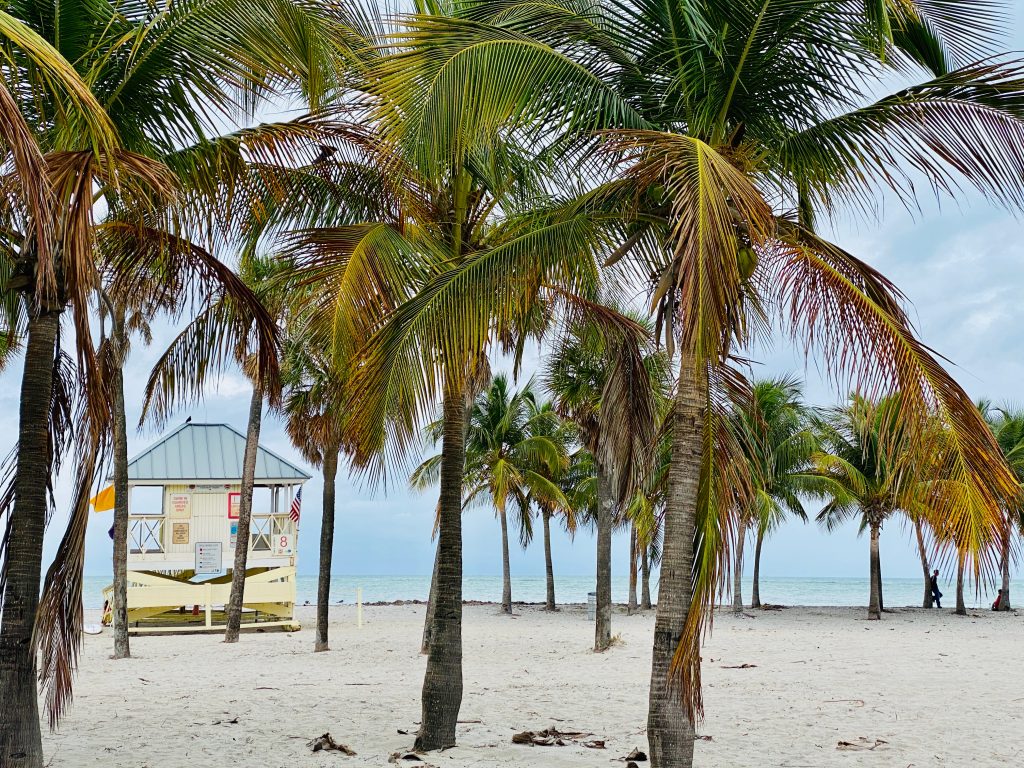 We then walked to Crandon Park Beach and even though it is considered one of the best beaches in Miami (it's big and wide with palm trees that would protect you from the strong summer sun), we visited it in December, so it was not the ideal time to have a swim and sunbathe and, unfortunately, it was full of seaweed and dried coral right on the shore. But still, it was well worth the stop!
Downtown
We actually drove through Downtown where you can drive through the towering skyscrapers "decorating" the Miami skyline. We also saw a few monuments but just on the move and from the car itself.
In Biscayne Boulevard you will find the Freedom Tower and the American Airlines Arena and in Bayfront Park (Next to Biscayne Boulevard) you will find Pepper Fountain, the Torch of Friendship, the Second World War Memorial and a Park where you find skyscrapers on your right and the beach and ocean to your left.
Miami Beach & South Beach
It was time for the world-famous Miami Beach & South Beach!
The moment you arrive you will feel like ripping off your clothes to wear only a red swimsuit that will immediately make you run in slow motion on the hot sand!
Miami Beach is located on the north coast and South Beach is the same coast but at the south and it's all full of restaurants, loud music, people exercising and supercars driving up and down Ocean Drive… exactly like you imagined it would be.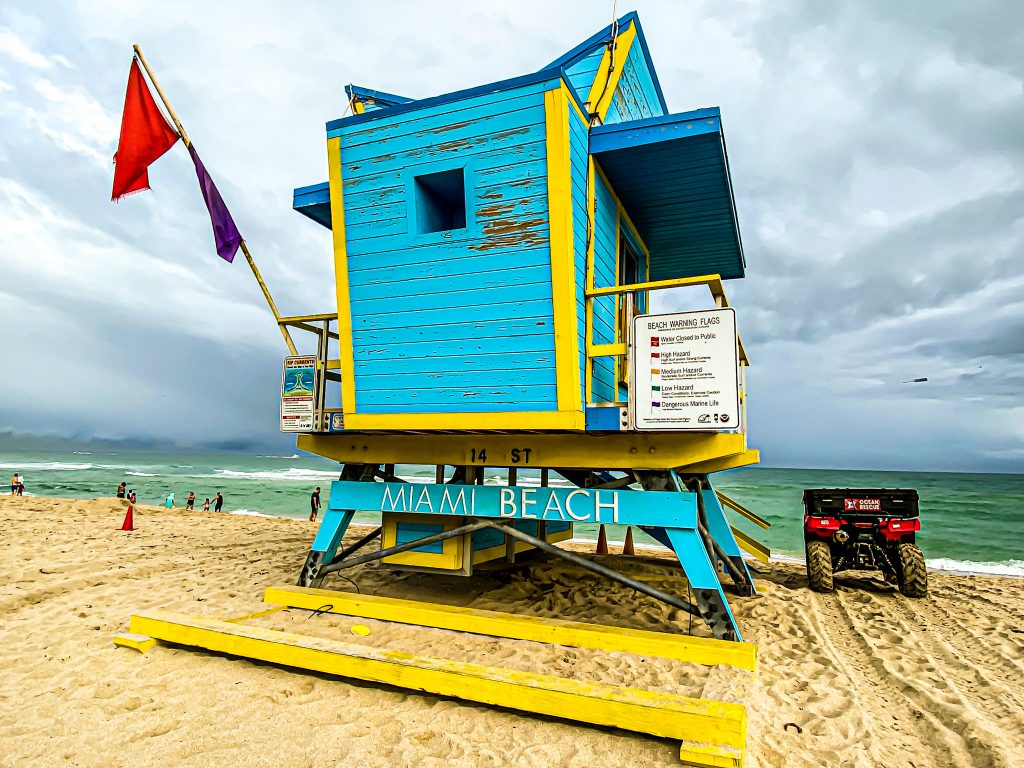 Even though it's usually quite tough to park due to the sheer amount of traffic in South Beach, we struck gold and managed to park right on Ocean Drive, paying around 5$/hour (this is the normal hourly rate for parking in the Miami Beach area).
We walked to the beach and did what can best be described as a photo shoot in front of the very famous Lifeguard Huts, again, trying to control every single impulse to not recreate a Baywatch scene.
Ocean Drive and Main Streets
We headed back to Ocean Drive to find a place to grab some food and we stopped in Il Giardino Restaurant which served pasta, pizza, salads… almost every restaurant in Ocean Drive offers the same kind of food and with similar prices (20$ for a pizza and 24$ for pasta) and the quantities of food are huge, so, it's highly recommended that you share.
A highlight for most of the bars and restaurants on Ocean Drive is that they also serve enormous 79oz/2,34 litre cocktails, which you can't miss!
After lunch, we walked down to 1116 Ocean Drive which is the address for Versace's Mansion and also the location where he was murdered on its very doorstep. An extravagant home now converted into a restaurant which you can visit if you order anything that is no less than a beer (that is the exact rule according to the doorman).
From Ocean Drive, you can easily stroll to Washington Ave. and Collins Ave which are the renowned Art Decó streets packed with shops starting from 5th St. to 17th St. You'll also stumble upon Española Way known for its European buildings and restaurants, it's a small narrow street full of life and music located on 14th St. to 15th St. and lastly Lincoln Road on 16th St. to 17th St. where you will find plenty of dining options.
Little Havana
We jumped in the car and we drove to Little Havana where it is very easy to park and actually cheaper than Ocean Drive and let us tell you, what a lovely and vibrant area!
We visited at night and we were greeted by streets full of colours, lights, music and a delicious smell of food.
Images taken in Calle Ocho
If you visit Little Havana, you cannot miss SW 8th Street or better known as "Calle Ocho" where you will find the best restaurants and Coffee Shops, grab a taste of the real Cuban Coffee, the Colourful Rooster Statues, Dominos Park which is crowded with people playing Dominoes in the mornings (you can also join in if you like!) and last but not least, admiring the incredible street art decorating the buildings.
After a schedule-filled day, we were ready to call it a day, so we took the car back to the hotel and to our surprise, we had left our suitcases for the day at a hotel which was not the one we booked!
They explained to us that they had had the same issue with other guests 5 times that day, so it made us feel much less stupid, which is always a great feeling!
This hotel was called Candlewood Suites Miami Airport – 36 St and our hotel was Candlewood Suites Miami Airport – Doral, which was about 10 minutes further down the street!
Seriously? We could only imagine the hotel owner thinking to himself: "On my way to the building site that will one day be my new hotel, I have seen another hotel called Candlewood Suites Miami Airport and I have just loved that name so much so much, that I am going to give my hotel the same name!"
To end the day, we made it to the hotel (the right one), and got a great night's sleep in preparation for day 2!
Day 2 in Miami – New Year's Eve!
Everglades Natural Park
After a quick Starbucks "pit-stop" for breakfast, we arrived at Everglades Natural Park at around 9 am and because our Alligator Sighting tour started at 9:30, we decided to spend a few minutes visiting the souvenir shop where you could find anything you can think of but in the shape of an alligator – we promise!
Our cousin bought a "genuine" dinosaur tooth for a little under 5$ USD. We're still not 100% sure if it was a real tooth from an extinct creature which roamed the earth 65 million years ago which, instead of it being in a Museum, can easily be found in a cardboard box full of other teeth, in a souvenir shop, in the Everglades for less than 5$ USD. To be honest, the lady in the shop swore it was real…
It was time, we jumped on the airboat and even though we wanted to feel like Horatio in CSI Miami (Sunglasses on, singing "We don't get fooled again…"), in all honesty, the feeling was far from it.
The weather wasn't great and it kept trying to rain, so, as it was quite chilly, we didn't see a single alligator, as they prefer sunny days. Instead, we enjoyed a nice airboat trip surrounded by an amazing landscape listening to the airboat driver's life story, who was embracing all the typical American characteristics that you normally find in the American movies, not The Avengers kind, but more like Crocodile Dundee.
After the tour, we found a small picnic area with tables and a couple of food trucks where you could try Alligator meat and of course, Josh couldn't wait to give it a taste closely followed by Sonia's mum and cousin. It tastes just like chicken!
Close to the picnic area and down a narrow path is an Alligator Demonstration area which was included, which ended up being a small zoo. It was pretty sad as the few animals that were there were all living in small spaces, repeatedly walking around in circles like they were crazy.
They called it a sanctuary which means the animals have all been taken in or picked up after being abandoned, so we dread to think where these poor creatures were before they were rescued, and hopefully not extracted from their natural habitat just to be displayed to tourists.
At around 11 am we were back in the car and we decided to change our clothes. Due to the horrible weather, we had decided to wear warmer clothes, raincoats and trainers ready for the airboat tour, but the sun was finally starting to shine and the temperatures were on the rise!
Wynwood Walls
We parked in Wynwood District to visit the famous graffiti works of art which fill the streets of that neighbourhood. It was an awesome place to visit and we genuinely felt like real influencers posing in front of graffiti, on every corner, several times. #blessed #takemeback
After a few hundred (or thousands) of amazing graffiti pictures it was coming up to 2 pm, so we jumped in the car and drove for about 15 mins and arrived at Honey Uninhibited, which is one of our Food recommendations of this trip (See more about it in our Tips) where we ordered an indecent amount of food that we embarrassingly, finished all up.
Coral Gables and Coconut Grove
We drove through Coral Gables which is full of expensive and equally impressive mansions where you can also find The Biltmore Hotel inspired by La Giralda Cathedral in Sevilla, Spain.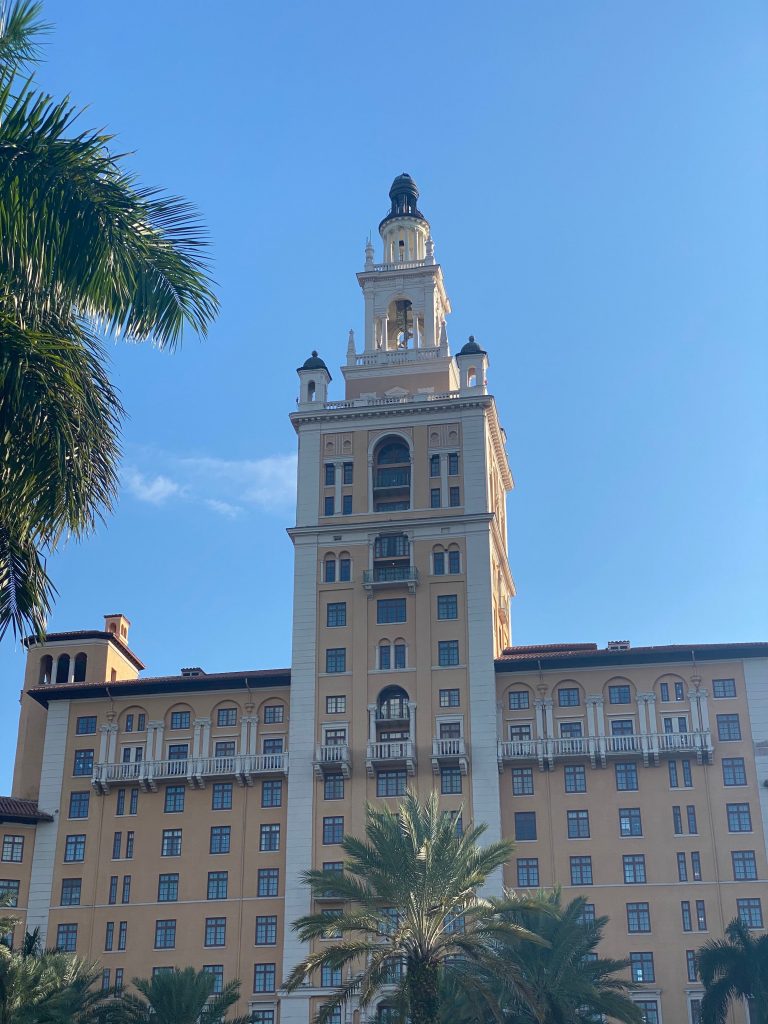 Also, in that same area, you can find the Venetian Pool which is a swimming pool with waterfalls that costs between 15$ to 20$ USD depending on the time of the year. We didn't go, even though the weather was better than the Everglades, it was still not nice enough to swim.
Close to Coral Gables, you can also visit Coconut Grove which is an area full of shops, restaurants and great nightlife.
New Year's Eve
The day was passing by quickly, and it was already 5 pm, so we decided to head back to the hotel to relax in the (heated) swimming pool and jacuzzi in preparation for New Year's Eve.
The clock struck 7 pm, and we were all dressed up and ready, so, we decided to have a family chat to determine how to get to Miami Beach on New Year's Eve, precisely to Española Way, where we had the dinner reservation.
Public transport from our hotel is was going to be a mission, and Uber was suggesting around 45$ USD one-way and, from experience, we knew that at about 1-2 am it would be difficult to find a free taxi and at a much higher price.
So we took the risk and drove our car to Miami Beach and much to our surprise, it was the best decision!
We found a parking space close to the restaurant, which cost around 4$/hour; alternatively, there was plenty of private parking for 50$/a few hours too.
We think we were that lucky with parking because we arrived at Miami Beach at around 7:30 pm and the majority of people, who were later going to be in the area, were still getting ready for NYE.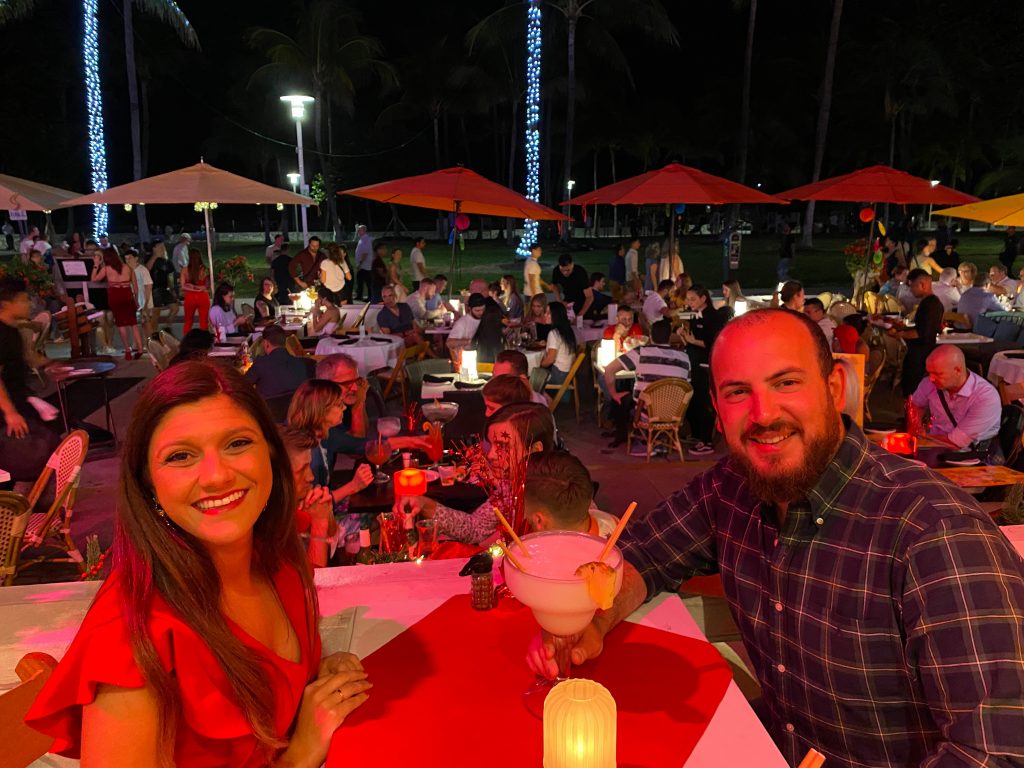 After we parked, we decided to walk to Ocean Drive for a pleasant stroll, but we soon stopped in our tracks at The Carlyle Restaurant to enjoy one of those large cocktails, this time smaller than the day before, "only" 39oz/1'15 litre. The price for each one was 40$ + taxes + tips. While we were drinking them, we laughed and couldn't stop thinking that one of the reasons we decided to take the car "to save money", when just 10 minutes after arriving we had already spent those savings without giving it a second thought!
We had our dinner reservation at 9:30 pm at Pane e Vino Restaurant, and it's very easy for us to say, it's the best Italian restaurant we have ever dined at (Find more info about this restaurant in our Tips).
We arrived, and the decoration was perfect, the waiters were very polite and professional, a chef preparing pasta in the window facing the pavement, the bathrooms were quirky, and they even prepared some dishes right in front of you (such as the Tiramisu and the Spaghetti Alla Ruota). Every single dish, the wine (chosen to honour a family member in Argentina, who due to an accident, and who was already recovered couldn't join us on this trip) and every bit of that restaurant made our New Year's Eve dinner just perfect.
The price was very reasonable too; we paid 45$ USD each which in Miami is already good and on New Year's Eve (when lots of Restaurants were offering a closed fixed menu) it was a fantastic price.
When we were looking for a restaurant for NYE, many were just asking for 60$ to 100$ USD/per person and others like the Restaurant Sylvano (also an Italian), which was one of our first choices due to the location, even after exchanging several emails for weeks, never answered us back with the menu and that gave us the chance to have dinner in the best Italian restaurant in the world.
Midnight was fast approaching, and it was 11:30 pm, so we walked to see the Ocean Drive fireworks.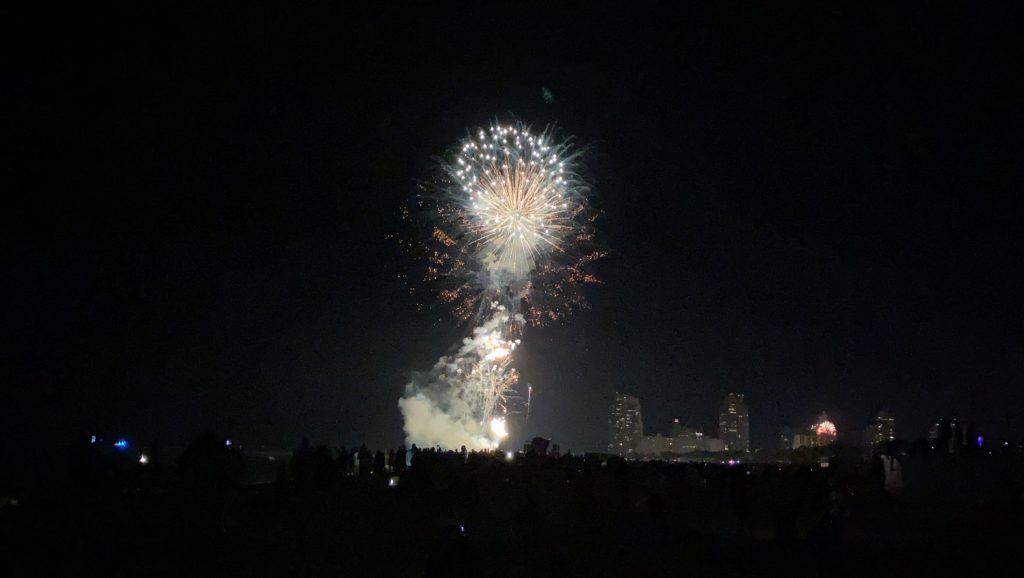 We saw loads of people heading to the beach, so we decided to start the new year with the feeling of sand beneath our feet, and it was perfect because, even though it was full of people, it wasn't too crowded, and you could still sit comfortably and relaxed on the sand.
It struck midnight, and the fireworks came and went, and we started the new year by dipping our toes in the Atlantic Ocean on Miami Beach! What else could we ask for? In 10 minutes, we could have answered that question easily: To be legal!
As we left the beach there were police on quads telling everyone off who was leaving the beach and much to our surprise, the gate was closed, so, we needed to jump over it to get out of the beach, all dressed up and running like teenagers who were getting caught skipping a class.
After our first adventure of 2020, we walked down Ocean Drive and, from one of the restaurants we suddenly heard the "La Bamba" song playing and within seconds, everybody who was walking on Ocean Drive stopped and gathered to dance to this song that everyone knew!

We already knew our year could not start any better than that!
What we missed
Because we were going to be in Miami for just two days, we knew that we would miss out on loads of attractions and activities which we would have loved to enjoy, so, we've listed them here, and if you have time, you can live the full Miami experience!
West Key: It's a long key for which you will need about 4 hours to drive to the end and 4 hours back, but everyone says that the best thing is not at the end of the key, but the trip itself, as you will cross over many bridges which connect the islands with fantastic ocean views.
It is also the most southern point of the US, and it's only 150km away from Cuba.
There you can visit Hemmingway's house, Mallory Square and a beach with old railway tracks (the entry fee is 15$ USD)
Coral Castle: Located outside Miami, you'll find sculpture made from Coral Stones.
Jungle Island: A park full of Chinese lanterns and lights which is voted as one of the top spots to visit for influencers.
South Pointe Park Pier from where you can experience the best sunsets.
The typical boat tour that takes you to see celebrity mansions around Miami from the water.
Botanical Museum and lots of other fascinating museums around the city.
An Urban Oasis on 40th Street which is free.
Useful Information
| | | |
| --- | --- | --- |
| Currency: USD Dollar | Type of Tourism: City/Beach | Safe to Drink Tap Water: Yes |
| Weather: About 26ºC | Average Cost: 4/5 | Driving Side: Right Hand Side |
| Time Zone: UTC/GMT -4 Hours | Socket Type: Type A/B | Best Form of Transport: Car Rental |
| Population: Approx. 470,000 | VISA Required: Yes | Safety: 4/5 |
| Languages: English and Spanish | Veggie Friendly: 5/5 | Children Friendly: Yes |
Top Tips
Miami is a great place to Rent a Car. The distance between tourist attractions is quite extensive, so getting behind the wheel of your car will allow you to visit much more in less time. Also, at the rental desk, don't be shy to ask for an upgrade as sometimes it is cheaper than the standard car you booked. We hired the car with Dollar Rent a Car through Economy Car Rentals and got a fantastic deal on a "luxury class" car. We ended up with a Chrysler 300C Sport for the price of a Hyundai Elantra.
There is a down-side, though, public and private parking is costly (about 4$ USD per hour for public)
If time permits, you cannot miss Orlando and its Theme Parks (Disney, NASA, Universal…) and, of course, the Shopping Outlets for all you shopaholics out there! If you decide to drive, it will take about 4 hours from Miami.
If you are in Miami for about a week, we would highly recommend doing a 3-day Bahamas cruise, as the hotels and apartments are quite pricey in Miami, the Cruise can be a fun and affordable solution for all types of travellers.
On New Year's Eve, we arrived at South Beach around 19:30, and we parked on the street easily.
Civitatis is an online booking platform for activities and guided tours that we tend to use for all of our trips for several reasons; the prices are great, they offer a wide variety of activities, they only use licensed tour guides, the second you pay for the tour you receive an email with everything you need to know about your activity, they always offer Free Tours in every city for which you pay a tip of your choice to the tour guide and lastly, they usually have tours in Spanish which are very useful when we travel with our Spanish family as we did on this trip. Take a look at everything you can do with Civitatis in Miami!
The standard tip is 15%. If you are dissatisfied with the service, you may leave less, but if you were well served 20% is appreciated. Taxis work the same way. It is considered very rude not to pay the gratuity.
Best Places for Food
The Italian Restaurant Pane e Vino in Española Way – 1450 Washington Ave, South Beach Miami 33139 (around 40$ per person), the food is fantastic and probably the best restaurant we have ever eaten at. We recommend you book your table in advance as the place is very small.
The decoration is perfect, the waiters and service staff are great, there was a chef preparing pasta in the window, the bathrooms were quirky, and they even prepare some of the dishes right in front of you at your table. Try the Tiramisu and Spaghetti Alla Ruota!
Honey Uninhibited – 1777 SW 3rd Ave, Miami, FL 33129 (around 30$ per person) is the best place to catch Brunch! The Waffles, Pancakes or Eggs Benedict are out of this world.
Ocean Drive is full of Restaurants with the menu on the doorstep. Massive variety of food but almost all of them offer pasta for about 24$ and Pizza for around 20$. If you like your cocktails, grab your favourite giant 39oz/1.15 litre cocktail for about 25$ to 40$.