This was the start of our second honeymoon and a 20-day, 7-country trip. By the time we arrived at Singapore, 26 hours had gone by since we left home, despite the direct flight; however, we couldn't spend a single second at the hotel resting and knowing that we were in this wonderful city.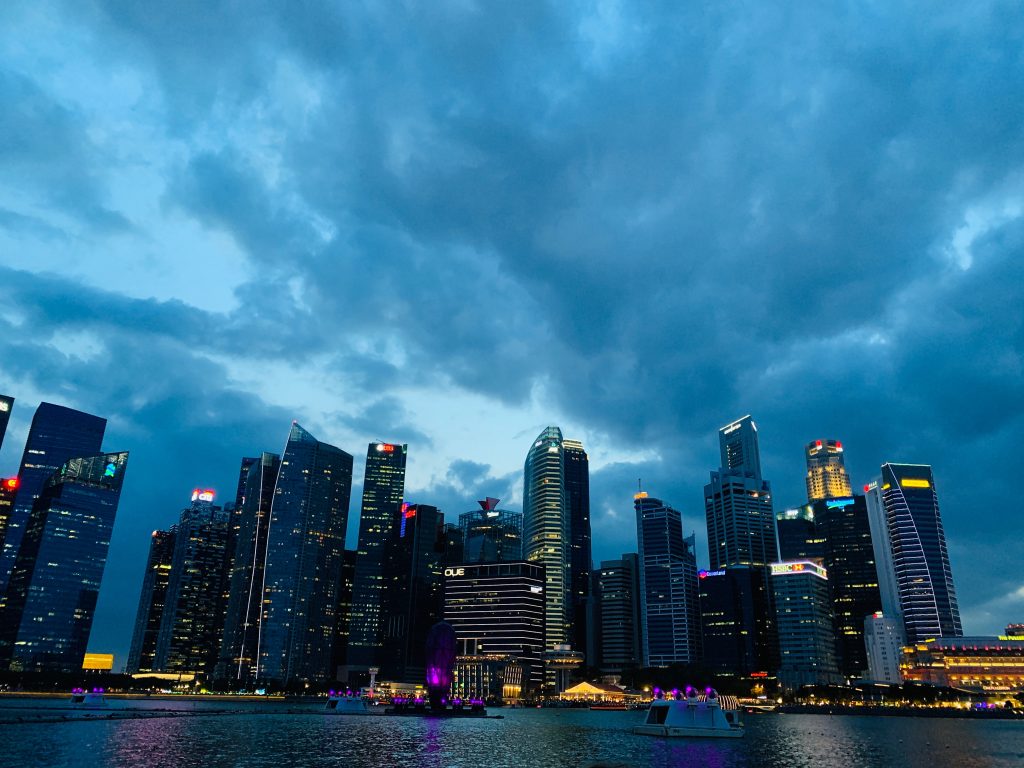 This country has stringent laws that may seem odd to us, so before you go, we recommend that you memorise the laws that you will probably break without even realizing it.
Laws in Singapore
In Singapore, you can be fined if you:
stare at a person too much and spit (widespread acts in countries like China, Taiwan…),
eating or drinking on public transport,
jaywalking or crossing the road where there is no zebra-crossing,
imagining the death of a person of power,
using e-cigarettes,
not flushing the toilet,
buy chewing gum (although you can carry it for personal use)
or even carry durian on public transport, which is a fruit that has a strong smell or as they say, it tastes like heaven but smells like hell.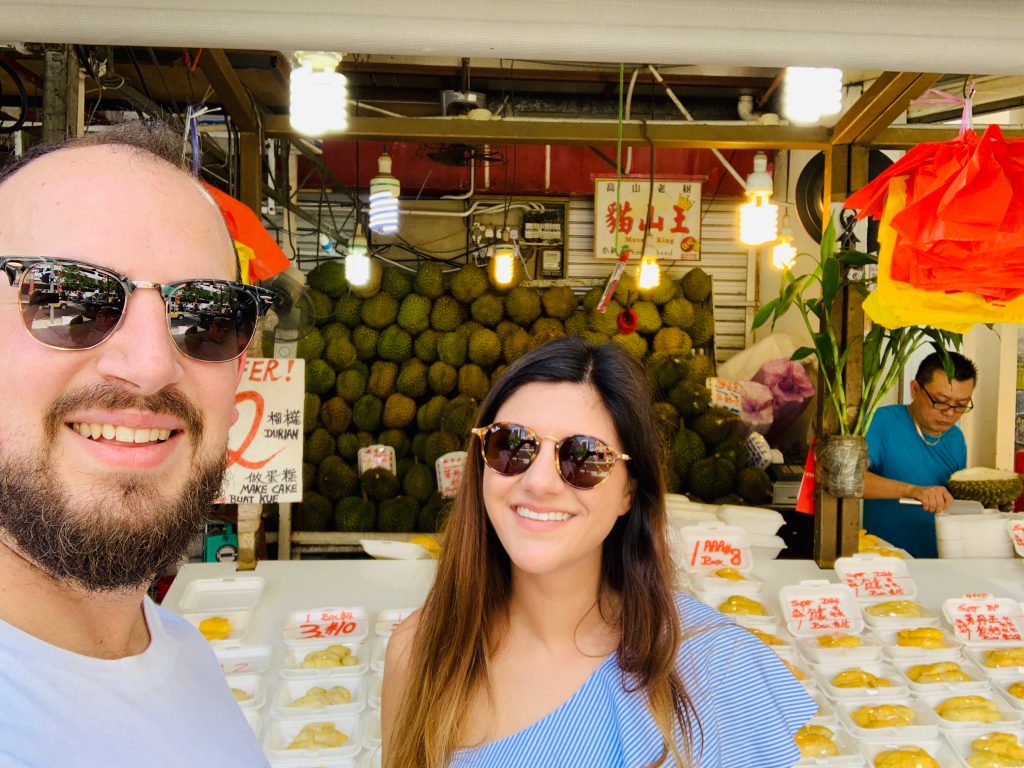 The truth is that the city caught our attention, but all for good things. It was an immaculate and safe city with a cosmopolitan touch just like any big European city.
Little by little and as our stay progressed, we realized that it was probably because the sanctions for breaking laws in Singapore are of the order of the day: jail, monetary fines, and the one that most surprised us: caning.
We feel that it is important to emphasise, as the authorities did, employing posters distributed throughout the city, that canings are performed by people of great size and "professionals" in the field. So, don't expect any someone small and weak to slap you with a cane!
Day 1 in Singapore – Visiting the city
With the law well embedded in our minds, we started our sightseeing tour.
Airport
One of the things you have to do in Singapore is, without a doubt, dedicate a few hours to its airport. Here, you can go to the cinema, swim in its pool, visit the butterfly enclosure and many other things. Ideally, your flight should depart from Singapore so that you can spend those last hours of your trip making the most of this incredible place.
Marina Barrage
On the way to the hotel, we asked our transfer driver to take us to this viewpoint, a secluded place full of people having a picnic, flying kites or playing sports.
Views from the Marina Barrage
We stopped to enjoy the panoramic view of the city, from where you could see the Ferris wheel, the immensity of the city and the Marina Bay Sands Hotel. This hotel is the one with the infinity pool at the top floor which is popular amongst influencers; however, you can only use it if you are a guest and the night costs about €400 so, we just imagined what it would be like to swim there.
Little India
We reached this beautiful area of the city by subway. We bought an EZ Card that cost us $12 Singapore Dollars and came loaded with $7 of credit.
When you exit the subway, you get the feeling that you have left the cosmopolitan city behind, and now everything was full of colour and small market stalls. We walked down Serangoon Street and into a food court that didn't smell all that great… and it wasn't because of the durian.
We visited the Sri Veerama Kaliamman temple, a temple that you had to enter barefoot, with many altars, colours, incense… and a group of people who made an offering with food while another group played instruments and sang.
In that same area, we took the opportunity to purchase all of our magnets and postcards, as we noticed that the prices were quite low, which wasn't very common in the rest of the city.
While we were walking, we got hungry, and we stopped at the Komala Vilas vegetarian restaurant.
This is an authentic Indian restaurant, nothing touristy about it and simply delicious. They served food on a banana leaf, and if you aren't brave enough to ignore the stares when you say you don't want it too spicy, the food will heat you up a lot. And for dessert, ask for a Mango Lassi, it's delicious!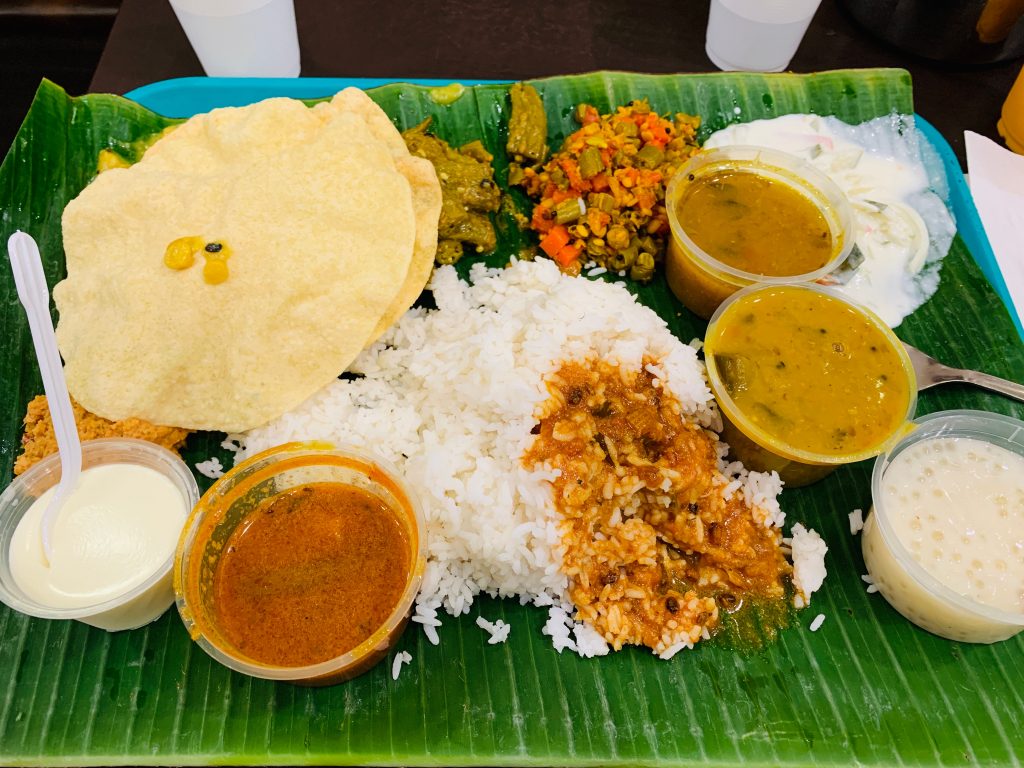 Garden on the Bay at night
We took the subway to the Bayfront station and headed to the Garden on the Bay, the giant park where the SuperTrees are located.
Entrance to the park is free of charge, and every day at 8:45 p.m. they also perform a light the show for free, which you can't miss. We recommend you go early to find a good spot and if possible, lie down to enjoy the show to the fullest.
Day 2 in Singapore – Visiting the city
After having breakfast at the hotel's all-you-can-eat buffet, and eating until we were embarrassed, we headed to the subway station to start our second day of sightseeing.
Bugis
This is a gorgeous area, and here, we visited the Great Masjid Sultan Mosque. It was a hot day, like every day here, so Josh was wearing shorts, but, apparently, he was dressed too indecently to go into the mosque, so at the entrance, they gave him a long skirt and me, a shirt.
Right next to the mosque, we found this pretty street with colorful houses.
We continued our itinerary and arrived at Bugis Village, an area full of Chinese temples and a large Chinese market.
Chinatown
We reached this station on the Subway and headed to the Sri Mariamman Temple.
Next, we went to the Temple of the Buddha's Tooth Relic, this had 4 floors with an abundance of rooms full of buddhas, and on the top floor, they kept what they believed to be the Buddha's tooth, but, we have our doubts… that tooth was enormous and measured 8cm!
This temple even had a terrace called Ten Thousand Buddhas and, as its name says, it had 10,000 buddhas. In this peaceful terrace we sat down to enjoy the immense tranquillity of this temple.
Lunchtime was approaching and what we saw on the street, wasn't too appetising.
Sun-dried Lizards and Seahorse in Chinatown
So, we decided to go to the cheapest Michelin Star restaurant in the world, Hawkers.
This restaurant is located in a very dirty and crowded Food Court with small food stalls, restaurants… with tables and chairs in the centre. We don't know how or from where, but suddenly, a dancing dragon appeared from the crowd.
When we found the small restaurant that offered take out, we saw that there was a 2 to 3 hour-long queue, so much to our regret, we decided to continue our adventures in Singapore.
The Merlion
Our next stop was Singapore's famous Merlion, a large statue of a lion-fish that has become the symbol of the country.
We then took a nice walk across the bay and crossed the DNA bridge until we reached the Marina Bay Sands Shopping Center. This mall was one of the three buildings that make up the Marina Bay. Welcome to luxury.
Flower Dome
We arrived at the Flower Dome which is a Botanical Garden with plants and flowers from all over the world.
Cloud Forest
Next, we visit the Cloud Forest, where you'll find a tall artificial waterfall. An elevator will take you up to the highest part, and down some walkways which will allow you to descend slowly so that you can enjoy the views of the Cloud Forest and the SuperTrees.
Garden on the Bay by day
Although we had already been the night before, we believed that such a structure, like the SuperTrees, was worth also visiting in daylight, and that's where we went.
Spectra Lightshow
At the end of our walk through the park, we set off to find a good spot from where to see the light show that they perform from the bay.
We sat on the Louis Vuitton dock, and as we were rocked by the waves, we enjoyed the Spectra Light Show
Marina Bay Sands Shopping Centre
At the end of the light show, it was time for dinner, and we had seen an Italian in the mall that we wanted to try, so we headed up to the restaurant and sat on the terrace overlooking the Singapore Museum of Arts and Sciences, a building shaped like a lotus flower that changes colour.
An ideal place to spend our last night.
Useful Information
| | | |
| --- | --- | --- |
| Currency: Singapore Dollar | Type of Tourism: City | Safe to Drink Tap Water: Yes |
| Weather: 25 to 30ºC Year-round | Average Cost: 4/5 | Driving Side: Left Hand Side |
| Time Zone: UTC/GMT +8 | Socket Type: G | Best Form of Transport: Metro |
| Population: +- 5.64 Million | VISA Required: No | Safety: 4/5 |
| Languages: Malay or English | Veggie Friendly: 4/5 | Children Friendly: Yes |
Tips
The Subway is a great mode of transport. It was straightforward, well connected and 100% recommended to visit this city. With the EZ cards, it was simple, we bought them upon our arrival, and on the last night, we returned them to get what we hadn't spent on trips back.
Check the laws before your trip and save yourself a few strokes of the cane!
We stayed at The Elizabeth Hotel, which offered a tasty and varied buffet breakfast. Additionally, it has a private swimming pool and sunbeds, which are perfect for relaxing in after a long day of tourism.
If you stay longer, you can't miss the chance to visit the Night Safari, Universal Studios theme park, Madame Tussauds, or even have dinner on the Sentosa Island cable car. You can book these activities and many more at Civitatis.